Thursday, August 7th, 2014 ( 4 years ago )
At The End of The Racing Day, Stewards are People Too
By Hank Wesch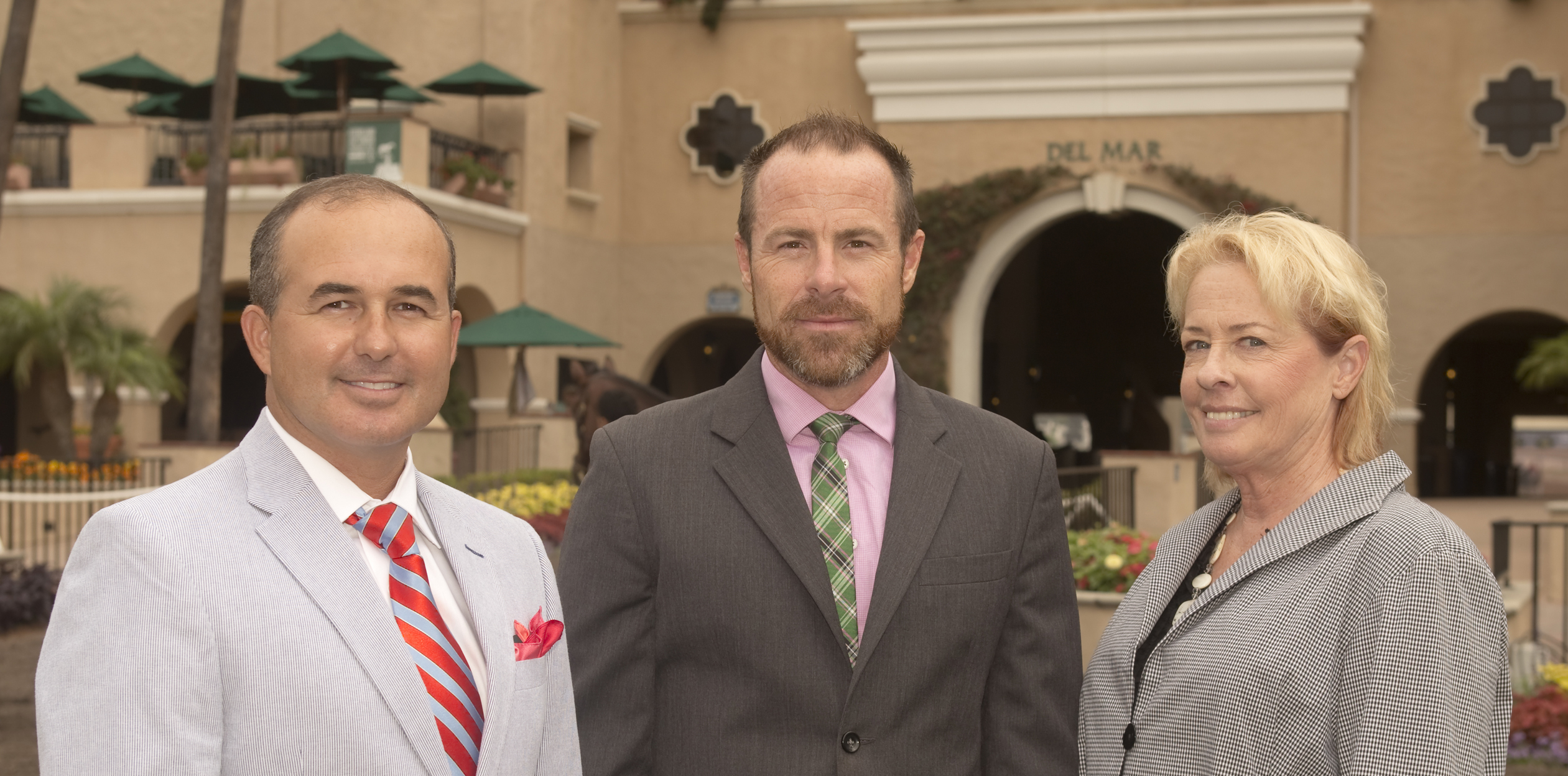 Del Mar stewards (from left) Luis Jauregui, Scott Chaney and Kim Sawyer.
---
There is undeniable power and responsibility that comes with being part of a three-person judge and jury that rules over all things racing at a Thoroughbred meeting.
There's also unavoidable subjection to criticism and animus because of the unwritten but understood part of the job description.
"At the end of the day, you're almost always delivering bad news," said Scott Chaney, the senior (nine years) member of the Del Mar Board of Stewards. He is joined by Kim Sawyer, in her sixth year, and first-year member Luis Jauregui.
"You're penalizing a trainer, an owner, a jockey, some licensee," Chaney continued. "You're fining them, you're giving them days, you're taking a horse down. You're enforcing the rules which -- on a daily basis -- is not the most fun thing. But you get used to it."
And at the end of the day, when they leave their booth high above the track, stewards are unquestionably people, too. With backgrounds, back stories and personal interests of which supporters and critics can be widely unaware. In that regard, Del Mar's stewards are no exception.
Chaney is qualified, for the third time, for the Iron Man World Championships in October at Kona, Hawaii. He also coaches tri-athletes.
"So all of my time, outside the job, is spent training," he says with a laugh.
His first Iron Man Championship, in 2011, was a learning experience. Aspirations of qualifying again in 2012 were quashed by illness. In 2013 he not only qualified but had "the race of my life." He completed the 2.4-mile ocean swim, 112-mile bicycle ride and 26.2-mile marathon run in 9 hours 24 minutes, finishing ninth in his age group and in the top 200 of nearly 2,000 competitors overall.
From a horse racing family in the east, Chaney grew up as "the annoying owner's kid," around the racetrack, but loved the sport and being involved. Chaney went to law school at USC and, through a law firm connection, met trainer/lawyer Darrell Vienna and went to work for him summers at the track, starting off doing the basic tasks of a stable hand.
"Once I graduated, the prospect of getting a corporate law job was just not appetizing," Chaney said. "I passed the bar exam but then went to work for Darrell for seven years as an assistant trainer."
When Vienna's stable had dropped to an uncomfortably low number of horses, the trainer took the stewards' exam and suggested Chaney do likewise, for a possible fallback career position.
"It was a tough decision because I really liked the horse part; it's kind of like being a coach for an athlete" Chaney said. "The reason I like the horse racing business is the horse itself. But there was a downside – getting up at 4:30 every morning seven days a week – for low pay.
"It was definitely a lifestyle change and fortunately I was suited for the (stewards) job because of my horse background and my law background. Unfortunately, stewards these days increasingly have to deal with legal issues."
Sawyer started riding show horses when she was three years old, got her jockey's license at 18 and rode for two years, 1970-72. Her first race was at the Northern California Fair circuit meet at Ferndale. She later rode at Sacramento and journeyed to Ohio, Michigan, West Virginia and several other states.
The love of the horses still abides.
"If I could get paid what I do now, I'd be back on the backside rubbing horses and cleaning stalls," she said. "I really miss the animals. They're great. They have their own individual personalities and I do miss that part of the industry."
Sawyer was once married to a jockey, but is divorced with two grown children of whom she says she's very proud but also says she purposely raised to not follow her into racing. Her son, Randy, is a computer animator and daughter, Kandace, a fashion designer, photographer and hair stylist.
She is the only female full-time steward in California and one of only a handful nationwide. But being a pioneer, or one of the few, seems to be a family tradition.
Her mother, Pat Sawyer, became a trainer and her sister followed in the 1950s and '60s, a time "when women weren't allowed in the stable area after dark."
"When my mother got her license, she had to wear a dress in the paddock and she was not allowed to saddle her own horses," Sawyer recalled. "That's how times have changed. When she first got stalls at Santa Anita, they assigned her to a barn next to Buster Millerick, who had a kind of spicy personality. And they became the best of friends.
"I'm sure they were trying to convince her that she shouldn't be there. But it backfired."
Following her short riding career, Sawyer had stints as an assistant trainer between a period as a trainer on her own. She held various positions in racing offices before going to steward accreditation school in 1999. She started as a steward in 2000 in Ohio, but a call from California Horse Racing Board Executive Director Ingrid Fermin presented an opportunity to return to her roots which the native of Los Angeles, who grew up in Hemet, hastened to accept.
"I always aspired to the racetrack. As you get older and smarter you realize you should improve your position wherever you are. That's why I transitioned to the frontside," Sawyer said.
"I realized that I'd like the steward's position – because I'm kind of bossy. And I thought I could really help racing."
In 2005, Jauregui, nearly 20 years into a riding career, was injured in a race at Santa Anita. "I had a horse go over the rail, broke my back and was laid up for months," Jauregui recalled "I started thinking about what would come next after riding."
He thought about being an agent or other jobs around the track. Then it was suggested there could be a need for an ex-jockey in the judges' stand.
"I'd been a director and a representative for the Jockeys' Guild, so I decided maybe I'll take the stewards' test. I studied hard and I passed it."
Healed and back to riding, albeit just a few horses per card, Jauregui was in the jockeys' room at Hollywood Park for a Friday night program in December of 2006 when he received a call from Fermin. There was an opening for a jockey-turned-steward and Jauregui was the choice. But his services were needed the next day.
Jauregui had one more mount that night. A long shot named Charming Dot for trainer Roger Stein. Jauregui notified his family. They were somewhat disappointed to not be at the track for his last ride.
He guided the horse to a win that paid $160.00 and walked away to the career he now pursues.
Jauregui rose from "associate" to "assistant" to a new designation as "safety" steward, a position which is part watchdog and part advocate for the safety of riders and horses. "I took it on and tried to do the best I could and it has caught on," Jauregui said. "New York just adopted the position and it looks like it's catching on around the country – which is good. We need to protect our horses and riders."
A few months ago, Jauregui, 45, was elevated to full steward status and assigned to Del Mar.
Married and a father of two sons, one college-age and the other six years old, Jauregui said that away from the job his life revolves around family. His oldest son, Taylor, a recent graduate of Citrus College bound for USC, works in the equipment room for the Chargers, making his dad a huge fan and supporter of the team. His youngest son, Hunter, is a wrestler and baseball player that Luis helps coach.
Five days a week the accomplished triathlon competitor, the proud mother and horsewoman, and the ex-jockey and dedicated dad gather in the booth and make the decisions, popular and unpopular, which bring and keep order to the game. It's their job. It's what they do.
8/7/14 ###