Saturday, November 14th, 2020 ( 3 months ago )
Astute Romps in Desi Arnaz Saturday at Del Mar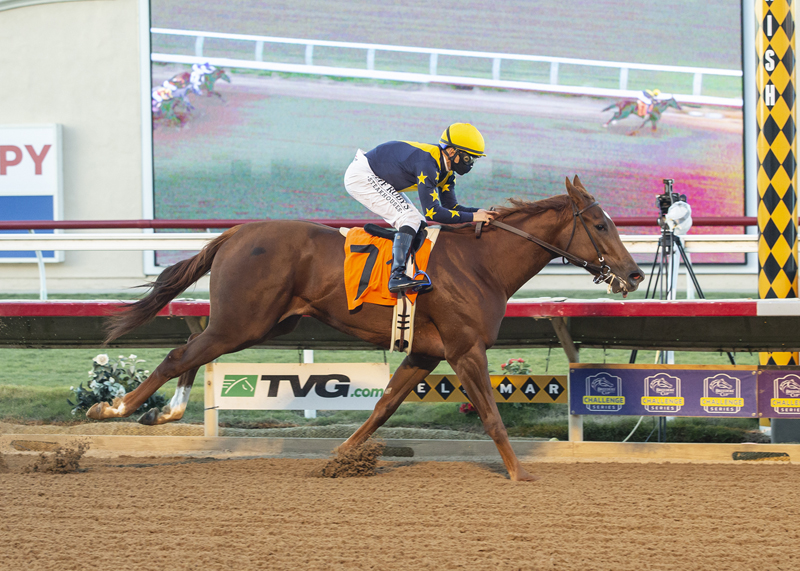 Astute © Benoit Photo
LNJ Foxwoods' Astute, a chestnut filly by sprint champion Speightstown who fetched $425,000 at the Keeneland September Yearling Sale last year, had all of her speed Saturday at Del Mar as she ran away and hid from five rivals in the featured $100,500 Desi Arnaz Stakes.
Taking her cues from a pair of Hall of Famers -- trainer Richard Mandella and rider Mike Smith – Astute went head-and-head with the odds-on favorite Private Mission through splits of :22.21 and :45.30 for the first half mile of the six and one-half furlong dash, shook that one off turning for home, then drew out to a sparkling seven and one-half length tally in a final time of 1:17.28.
Finishing second was Saragol Stable Corp and Johana Viana's Queengol, a nose in front of Watson, Pegram and Weitman's Heels Up.
Astute was making only the second start of her career and her first in a stakes. She had won a straight maiden race on grass at Santa Anita last month in her debut.
Astute paid $12.20, $5.40 and $5.20. Queengol returned $5.60 and $4.20, while Heels Up paid $6.00 for the show.
LNJ Foxwoods is the nom du course of Jamie Roth of Great Neck, NY. Mandella also trains the top grass horse United for the outfit.
Leading rider Abel Cedillo added a pair of winners to his totals after seven days of racing and now shows 12 firsts. Trainer Mandella won another race on the card and now has five firsts for the meet, second in the conditioner's standings to Peter Miller's six firsts.
Racing resumes at Del Mar tomorrow starting at 12:30 p.m. with a nine-race card.
---
MIKE SMITH (Astute, winner) – "Wow, That's what I've got to say. I knew she was good; I just didn't know she was this good. She was good on the grass the other day (winning a straight maiden race at five and a half furlongs on the green at Santa Anita on October 12), but she's even better on the dirt."
RICHARD MANDELLA (Astute, winner) – "The owners and the manager -- Alex Solis, Jr. -- told me before I ever saw her that she's special and it's kind of held true. She got a little sick on me in the summer and I had to give her a month off, so that's why she's a little late (starting her career). I only put her in the maiden turf (debut win on October 12 at Santa Anita) because I knew she could do turf and I was afraid a dirt race the next day wouldn't fill. I expected she'd run well today, but maybe not this well. We'll think about the Starlet."
---
FRACTIONS: :22.21 :45.30 1:10.58 1:17.28
The stakes win was the first of the meet for rider Smith and his first in the Desi Arnaz. He now has 72 stakes wins at Del Mar, 10th most all time.
The stakes win was the first of the meet for trainer Mandella but his second (Lucky Folie in 2015) in the Desi Arnaz. He now has 66 stakes wins at Del Mar, sixth most all time.
The winning owner is Jamie Roth of Great Neck, New York who races under the name LNJ Foxwoods.