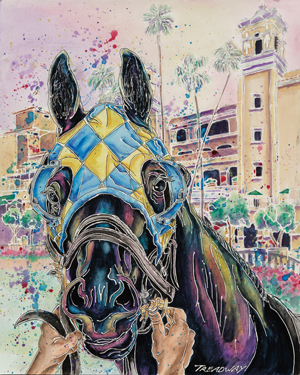 Amy Treadway's "Dark Horse"
Once again the popular "Artist of the Week" program will be part of the Del Mar season as five separate artists each will get a week to show off their equine-related wares during the 2019 summer season.
The sessions will be featured in the entranceway to the Clubhouse/Turf Club area of the grandstand, just inside the admission gates and alongside the picturesque fountain that graces the entry. Artists present their works for sale, sometimes even creating art right on the spot as they interact with fans throughout the afternoon. Each artist takes a full racing week – Wednesday through Sunday – to display and discuss their works.
This year's group of artists consists of Mark Sherman, Heather Roddy, Linda Manion, Amy Treadway and Dagmar Galleithner-Steiner. Roddy, Treadway and Galleithner-Steiner have taken part in the "Artist" program previously; the other two will be making their debuts.
They'll present according to this schedule:
Mark Sherman – July 24 to July 28
Heather Roddy – July 31 to August 4
Linda Manion – August 7 to August 11
Amy Treadway – August 14 to August 18
Dagmar Galleithner-Steiner – August 21 to August 25
Mark Sherman, a former professor of clinical psychology, has transitioned into the world of art, particularly working with transparent watercolor. He has gained recognition for his highly realistic depictions of local landscapes, portraits, wildlife and architecture, including a series of almost 100 paintings of the world's lighthouses. He also has done noteworthy equine art and that will be the focus of his Del Mar run.
Heather Roddy, a colorful individual who does very colorful work herself, grew up with the smell of oil paints and turpentine at her house, as both her parents were noted artists. Heather built her own reputation on her bold, vibrant paintings and has exhibited her works in Europe and at her own studio in San Diego. She was Del Mar's featured artist in 2018 when her whimsically splashy painting of a horse and jockey in the surf graced the covers of Del Mar's programs and other publications. She loves to create on the spot and teach art, and will be doing both during her Del Mar week.
Linda Manion, who grew up riding horses and competing in hunter/jumper events, found out early that she loved to draw her large, four-legged friends, too. Her early black and white sketches lay the groundwork for her later move to pastels, her medium of preference. She's lived and worked in New Mexico recently, specializing in selling paintings and taking custom commissions at Albuquerque Downs. She's also proud to have created the bronze that the Jockeys' Guild awards annually to the top Quarter-Horse rider at the $3-million All American Futurity weekend.
Amy Treadway, a locally based artist who especially likes horses and cars ("one horse under saddle or 450 horses under the hood"), has been featured in dozens of local galleries and also worked at the Booth Western Art Museum. She is into bright and vibrant colors that represent a strong feel of energy. She has been well received previously as part of several "Artist of the Week" programs and this year her striking painting "Dark Horse" was chosen as Del Mar's cover piece on its programs and several of its other publications.
Dagmar Galleithner-Steiner, a native of Bavaria who currently calls the horse country of Kentucky home, has been featured at Del Mar several times in the past, notably with her striking paintings of four different Pacific Classic winners. Her work was featured in "The Art of Old Friends," the most famous Thoroughbred retirement farm in the country, where she is the artist in residence. She takes special pride in donating her works to numerous equine after-care programs around the country.
Del Mar's 36-day season will run from July 17 to September 2. Racing will be conducted on a Wednesday through Sunday basis throughout the stand, including a Labor Day Monday card that will be closing day.