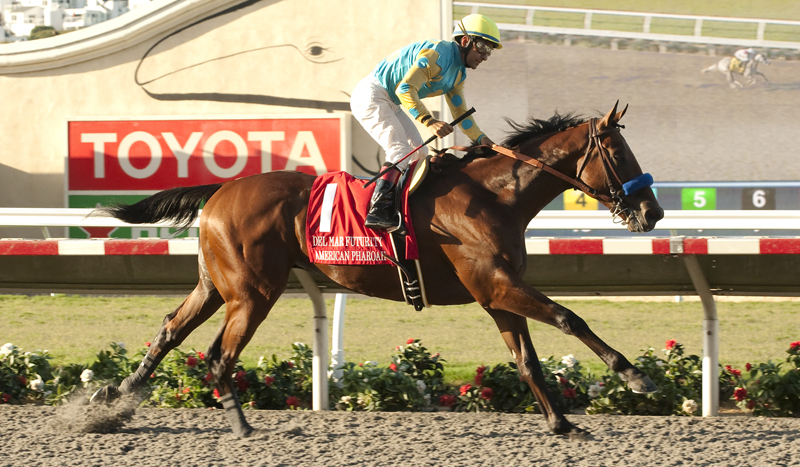 Zayat Stables' American Pharoah, a maiden who finished a well-beaten fifth in his only race August 9, was hustled to the lead after the break by jockey Victor Espinoza and never looked back as he won the Grade I $300,000 Del Mar Futurity in brilliant fashion on closing day of the 2014 Del Mar summer racing season Wednesday.
Becoming only the second maiden in the long history of the stakes event for two-year-olds to win, American Pharoah drew off in the stretch to score by almost five lengths in 1:21.48, the fastest Futurity since ultimate juvenile champion Declan's Moon set the standard of 1:21.29 in 2004.
Go West Young Man was the previous non-winner to win the Futurity, accomplishing the rare feat in l977.
Calculator, a 15-1 longshot, was second, 8 lengths in front of third-place Iron Fist, with Skyway, the 2-1 favorite after his triumph in the Best Pal Stakes this summer, another half-length back in fourth in the field of nine two-year-olds.
American Pharoah, a son of Pioneerof the Nile, gave trainer Bob Baffert an amazing record 12th success in the Futurity.
Second choice in the wagering, American Pharoah returned $8.40, $5.80 and $4 while earning a prize of $180,000. Calculator paid $11.60 and $5.40, while Iron Fist returned $3.80 to show.
In the first of three supporting features on the closing-day program, Ankeny Hill and jockey Tyler Baze recorded a $14 upset in the $97,900 Pirate's Bounty Stakes for older horses at six furlongs.
Ankeny Hill, owned by Rodney E. Orr and trained by Mark Glatt, ran the distance in 1:09.41 in scoring by a half-length over Ain't No Other, with 1-2 favored Seeking the Sherif third in a field of five. Ankeny Hill, a four-year-old son of Sharp Humor, earned $55,500 with his fifth win in 13 starts.
Reneesgotzip, a beaten favorite when fourth in the Rancho Bernardo Handicap August 17, returned to her best form as she ran the fastest six furlongs of the meeting, 1:08.51, in easily winning the $103,390 C.E.R.F. Stakes for older fillies and mares.
Edwin Maldonado rode the uncommonly quick daughter of City Zip as she won by 5 lengths over Top Kisser, with Go West Marie third in a field of eight.
Reneesgotzip went postward at 3-5 and paid $3.20 while receiving a prize of $56,400 with her eighth victory in 15 career outings. The mare is conditioned by Peter Miller and owned by the Lanni Family Trust.
Daddy D.T., a talented son of Scat Daddy owned by Hronis Racing LLC and trained by John Sadler, came on the stretch under Corey Nakatani to win the $100,000 Oak Tree Juvenile Turf for two-year-olds.
Next-to-last early in the one-mile turf race, Daddy D.T. slipped through between horses in the upper stretch and closed powerfully to win by a half-length in 1:36.35. Sky Preacher was second, with Papacoolpapacool third in a field of nine youngsters. There were three late scratches in the race, Increase, Visitation and Kenji's Thunder as well as an early withdrawal, Southeast Asia.
Daddy D.T. was second choice in the wagering and paid $7.20 for his first victory in two starts. First money was $60,000.
Apprentice Drayden Van Dyke climaxed his first Del Mar meeting with a riding triple. Also, jockey Kent Desormeaux and trainer Bob Hess, Jr. had their 14th successful collaboration of the season, winning the seventh race with All Indians.
Thoroughbred racing will return to Del Mar Nov. 7 for a 15-day fall session through Nov. 30.
---
Del Mar Futurity
(Grade I)
VICTOR ESPINOZA (American Pharoah, winner) – "Bob (trainer Bob Baffert) called me this morning and said 'Whatever you do, put him on the lead.' He broke a little slow, but I encouraged him and he made the front. Once he made the lead, I could feel he has that high cruising speed. He's a nice horse. He looks like a nice horse and he feels like one. He could be a good one."
ELVIS TRUJILLO (Calculator, second) – "A good try. The winner was gone."
MIKE SMITH (Iron Fist, third) – "I'm not sure, but you know I think this horse might go better on dirt. He's a big ol' leggy colt and dirt might suit him better."
COREY NAKATANI (Skyway, fourth) – "He ran so well the other day (winning the Best Pal Stakes August 3), that race might have taken a lot out of him. He's a big colt and he might need a little more time between."
JIM BARNES, assistant to Bob Baffert (American Pharoah, winner) – "I told Victor (Espinoza) in the paddock the rail seems to be golden today, so just break and go – and he did. Bob didn't give me any instructions he just texted me that he looked good in the paddock and he thought he had a good shot. We finished the meet strong and that's what we wanted to do."
BOB BAFFERT, (American Pharoah, winner) by telephone– "He was one of my best 2-year-olds coming down to Del Mar. But in his first race he acted up in the post parade, was really a mess and then ran poorly. After that my wife Jill looked at me and said 'That's one of your best 2-year-olds? It's going to be a long summer.' We took the blinkers off, put cotton in his ears and schooled him a lot. He trained well, we decided he was ready and we put him in there. Today, he behaved himself and showed what he could do. He did what we thought he'd do the first time."
---
FRACTIONS: :22.72 :45.23 1:08.95 1:21.48
The stakes win was the third of the meet for Espinoza and his third in the Futurity. He now has 80 stakes wins at Del Mar, eighth most among all riders.
The stakes win was the third of the meet for Baffert and his (record) 12th in the Futurity. He now has 108 stakes wins at Del Mar, the most by any trainer.
The winning owner, Zayat Stables, is the nom de course for Ahmed Zayat of Hackensack, NJ.
American Pharoah becomes only the second maiden to win the Del Mar Futurity. The other one was Go West Young Man in 1977. This is the 67th Futurity.
The final time – 1:21.48 – is the second-fastest running (Declan's Moon – 1:21.29 in 2004 – who was 2-year-old champion) of the race at the seven-furlong distance, both dirt and Polytrack. This is the 22nd running of the race at the distance and the last eight of them have been on Polytrack.
---
Oak Tree Juvenile Turf
COREY NAKATANI (Daddy D T, winner) -- "I worked this horse the other morning and I knew what he was about. My only real concern today was getting him to switch off during the running and settle. And he did that nicely for me. We had a nice run through them and got the job done. I'm riding some nice horses for John (trainer John Sadler) and his owners, and some nice young horses, too. I sure do like that."
TYLER BAZE (Sky Preacher, second) -- "This was a really good effort for him. He hadn't raced in a couple of months and he did well today. He's a nice colt."
JOSEPH TALAMO (Papacoolpapacool, third) -- "Good race for him. A good learning experience."
KENT DESORMEAUX (Dallas Skyline, fourth) -- "I put him to sleep out there. We were going so slow. He goes faster than that in the mornings."
LARRY BENAVIDEZ, assistant to John Sadler (Daddy D T, winner) -- "John has been high on this horse since day one. The (move to) turf helped. Kosta (owner Kosta Hronis of Hronis Racing) had a pretty good Scat Daddy turf horse in Lady of Shamrock. (Daddy D T) kept his cool through all the trouble at the gate and Corey (Nakatani) rode him perfectly "
---
FRACTIONS: :23.33 :47.82 1:12.05 1:24.19 1:36.35
The stakes win for Nakatani was his third of the meet and first in the Oak Tree Juvenile Turf. He now has 102 stakes wins at Del Mar, second all time.
The stakes win for Sadler was his second of the meet and first in the Oak Tree Juvenile Turf. He now has 50 stakes wins at Del Mar, sixth best among all trainers.
Hronis Racing is the nom de course for brothers Kosta and Pete Hronis of Delano, CA.