Thursday, May 14th, 2015 ( 6 years ago )
American Pharoah Stirs Del Mar Hopes, Memories
By Hank Wesch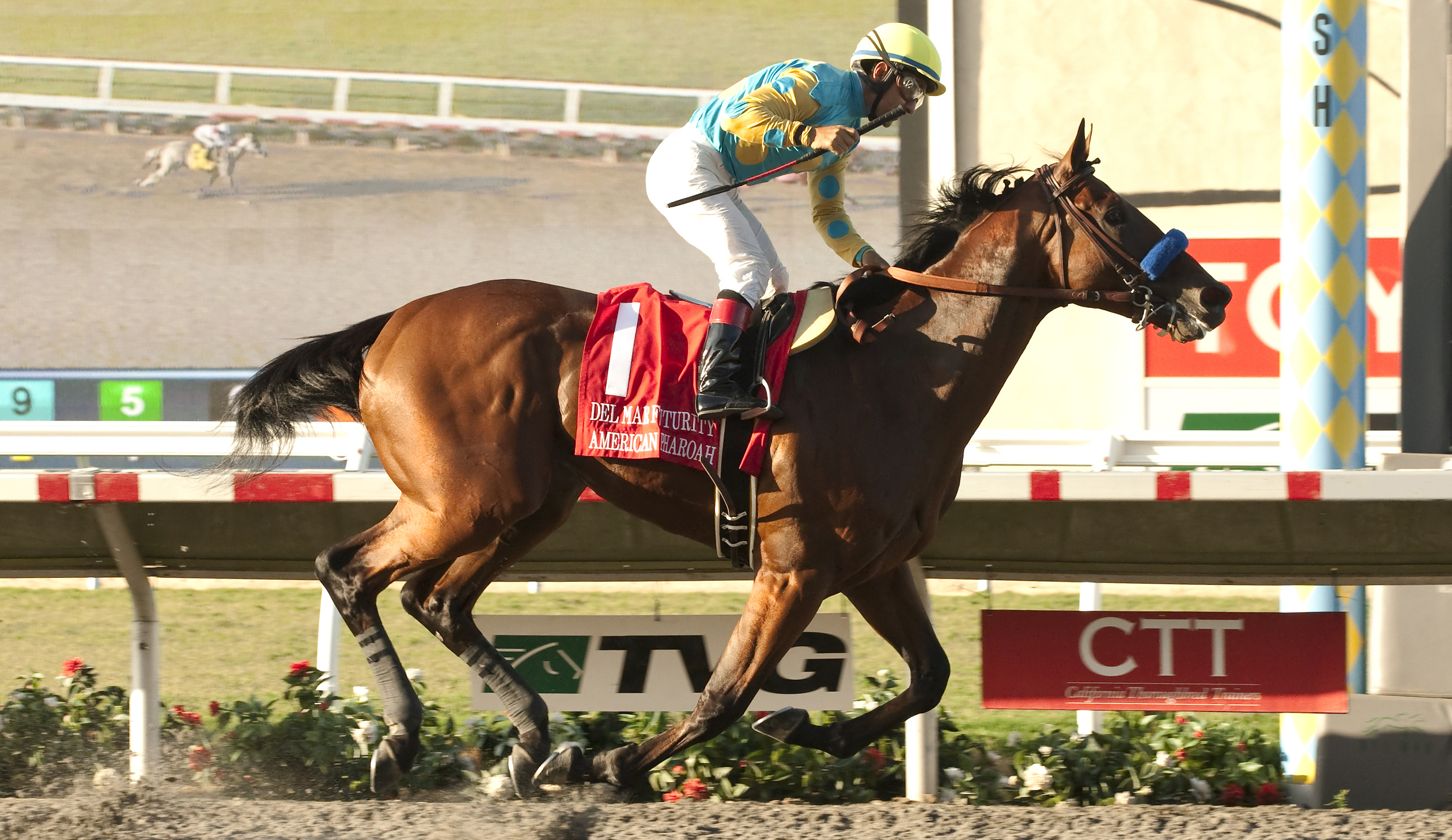 American Pharoah and Victor Espinoza win the 2014 Del Mar Futurity
The starting gates opened for the 141st Kentucky Derby and the crowd noise drowned out the announcer's call even though Westgate Las Vegas Hotel Race and Sports Book officials had appeared to turn up the public address volume dial as far as it could go.
No surprise to me or my traveling companions, Steve Bischeff and Kevin Modesti. Many times before, we'd experienced auditory sense deprivation for the running of the Derby. At Churchill Downs from the mid-1980s through the early 2000s and in Vegas for the past few years.
We'd been cohorts in coverage during Derby Week in Louisville for many years while Kevin and I were turf writers for the L.A. Daily News and San Diego Union-Tribune, respectively, and Steve sports columnist for the Orange County Register. We'd made, and kept starting in 2011, a vow to get together for the Derby in Las Vegas when duties no longer took us to Churchill Downs on the first Saturday in May.
Truth be told, there were Derbies viewed in both locations in which, with no guidance of a voice from on high, I didn't know who won until several seconds after the race. But that wasn't the case a week ago Saturday.
American Pharoah, who first showcased his talent winning the 2014 Del Mar Futurity, was the Derby favorite and obvious horse to watch. And it wasn't difficult to follow the yellow and blue dotted silks of owner Ahmed Zayat as jockey Victor Espinoza guided American Pharoah on a wide-but-clear trip from the No. 18 post and prevailed by a length over a game Firing Line and Gary Stevens.
Zayat, who had three previous runner-up finishes, got a long-sought Derby victory. It was No. 4 for trainer Bob Baffert, tied for second all-time, and the third for Espinoza. Stevens came up short in his quest for a fourth Derby victory which would have provided a first for trainer Simon Callahan and owner Arnold Zetcher.
Baffert. Callahan. Espinoza. Stevens. Zayat. Zetcher. All familiar names and faces at Del Mar for the summer and, as of last year, fall meetings.
American Pharaoah made his racing debut at Del Mar on August 9 and finished fifth of nine, making behavioral and competitive mistakes that haven't been seen since, then returned to shine in the Futurity. Firing Line broke his maiden in his second career start on the closing day of the fall meeting.
Now, for both of them, it's on to Saturday's Preakness, the second jewel in the Triple Crown series. A jewel which horses with strong Del Mar connections have both grasped, and declined to reach for.
American Pharoah is the fourth to complete the Del Mar Futurity-Kentucky Derby double. The previous three were: Tomy Lee (1958-59), Gato Del Sol (1981-82) and Silver Charm (1996-97). Connections for both Tomy Lee and Gato Del Sol passed on the Preakness, a rarity then, unheard of now.
Natalie Voss, in a story for The Paulick Report headlined 'Triple Frown': Derby dreamers who woke up before the Preakness - included the Tomy Lee and Gato Del Sol cases.
Tomy Lee's trainer, Frank Childs, changed his mind about Pimlico three days after the Derby, saying the colt was "kind of off his feed," although fine.
Twenty-three years later Gato Del Sol trainer Eddie Gregson, known for always putting the horse first and foremost, became the next to decide against a Preakness run. Gato Del Sol came back in the Belmont Stakes, finishing second to Conquistador Cielo, beaten 14 lengths.
Gregson's main concern about the Preakness were those of all Derby-winning trainers: The race was too soon, coming two weeks after the 1 1/4-mile Derby with a 126-pound impost.
"If Pimlico wants to move its race back a week later, it's all right with me," Gregson said. A suggestion often made since but never heeded.
The quick turnaround didn't bother Silver Charm. Baffert's first Derby winner, by a head over Captain Bodgit, took the Preakness by the same margin from Free House, before losing the Belmont by a half-length to Touch Gold.
Two horses that finished off the board in the Futurity went on to win both the Kentucky Derby and Preakness before having Triple Crown bids thwarted in the Belmont Stakes.
Kentucky-bred and Venezuelan-raced Canonero II finished fifth, 7 3/4 lengths behind June Darling in the 1970 Del Mar Futurity. The following May, however, he shocked the racing world with a 3 3/4 length victory in the Derby. Part of the six-horse "field" in a race with 20 horses but technology for only 14 betting interests, Canonero II paid $19.20 to win and left horse players to wonder what his odds might have been as a solo option.
Canonero II prevailed by 1 1/2 lengths in the Preakness, but finished fourth in the Belmont Stakes.
Memories are still fresh, of course, of California Chrome. Sixth with a troubled trip in the 2013 Futurity, he went on to stirring victories at Churchill Downs and Pimlico before a bloodied dead heat for fourth in the Belmont.
Now comes the question of the moment. Will American Pharoah win the Preakness? Despite drawing, on Wednesday, the dreaded No. 1 post?
In selecting American Pharoah, who had drawn No. 18, to win the Kentucky Derby for UT San Diego, my comment was: I'm not enamored with the post position, but he's given every indication he's good enough to overcome it.
I can say that again.
(Hank Wesch was the turf writer for the San Diego Union and Union-Tribune for 25 years. He authored a book on Del Mar's history "Del Mar: Where The Turf Meets The Surf," in 2011 and has written Del Mar's "Stable Notes" for the past four years.)