Thursday, August 25th, 2016 ( 2 years ago )
'All In The Family' Works Well for Young Trainer Shelbe Ruis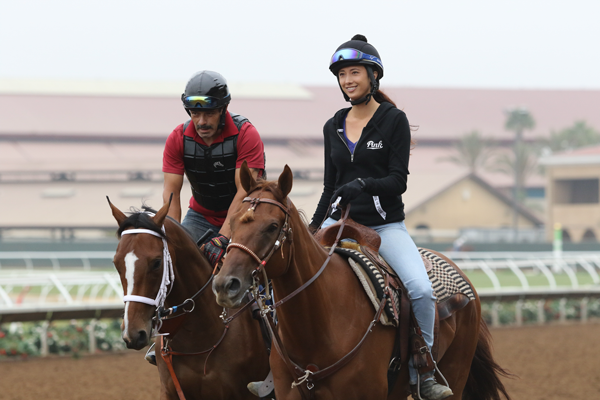 Shelbe Ruis © Zoe Metz for Del Mar Thoroughbred Club
By Hank Wesch
It's only been four months since Shelbe Ruis was elevated to a high management position in a newly-formed, but not brand new, type of family business venture.
She's only 25 years old.
But if the family business plan that has been mapped out by her father and mother, Mick and Wendy, and older brother, Mick, Jr., works out, she's going to be recognized for a lot more than one of the "new faces" of Thoroughbred racing in the not-too-distant future.
Shelbe Ruis took out her training license in April to be the conditioner for the family stable, Ruis Racing LLC, which spent more than $2 million in recent months at sales in California, Florida and Maryland on young horses to get back into, in an even bigger way, a business they had been part of in the early 2000s.
She opened the 2016 summer meeting, her rookie one at Del Mar, with a stable she described as "eighteen horses and growing." She enters the final 10 days of the 39-day meeting having saddled 14 starters with two wins, two seconds and a third — 14 and 36 win and in-the-money percentages, respectively — and $88,210 in purse earnings.
"It's going really well, I'm happy with it," Ruis said. "I've still got some horses to run in the next two weeks, so hopefully we can get a couple of more wins. I don't feel there's much pressure on me. My dad's here most of the time so we talk things over and he knows what's going on.
"Of course we all want to win, so we're working very hard to try and make that happen."
In the early 2000s, Mick, Sr. was a trainer and horse owner. Mick Jr., a decorated high school wrestler at nearby Poway High, became a jockey at 16 under the tutelage of Hall of Fame rider Gary Stevens.
"When Mick was 13 years old his dad brought him around the racetrack, introduced him to me and said he wanted to be a jockey," Stevens recalled. "I looked at him and said 'Are you a wrestler?' and he said he was. And a damn good one.
"There are a lot of great jockeys that were wrestlers (Stevens included) and I don't know what the connection is, but it's definitely there. Anyhow, I followed his (wrestling) career through high school and helped him get started riding."
Ruis started on the talent-laden Southern California circuit, and rode at Del Mar as an apprentice in 2003 and 2004. He moved on to Turf Paradise in Phoenix, where Gary Stevens' brother Scott took over as a mentor and Ruis was the meet champion there for the 2003-04 season.
Shelbe grew up around horses and the racetrack, riding lead ponies that took runners back and forth from the stable for Cliff Sise, Jr. and other trainers among her early jobs.
Her initial career choice was to be a veterinarian and she took college classes toward that end. But that profession couldn't overcome the lure of working at the track. And family circumstances outside of racing would provide the opportunity she has now.
In 2008, Mick Ruis, Sr., was looking into buying a company, American Scaffolding, which provides the titled product for among others, major Navy shipbuilding projects. He invited his son -- whose riding career hadn't hit the heights, who was having increasing difficulty maintaining low weight and who was contemplating leaving racing -- to join him.
"It was a small business based in San Diego that he thought we could get going," Mick, Jr., told the Thoroughbred Daily News in May. "I was thinking I could probably make about $200,000 a year."
American Scaffolding, Shelbe points out, expanded to service Navy strongholds in Virginia, Washington and Hawaii. Sale of the controlling interest in the company provided the Ruis family, now residents of Montana but still with ranch property in Descanso, California, with the wherewithal to get back into racing to the degree it has.
If the purchases at sales didn't resonate strongly enough, their purchase, for $1 million, of a starting spot in the planned $12 million Pegasus World Cup certainly did. The Pegasus World Cup, an innovation from racing magnate Frank Stronach, will match 12 horses whose owners have put up $1 million each to run at Gulfstream Park in Florida early next year.
Ruis Racing doesn't have a horse for the event – yet. But if they don't acquire one by the end of the year, they could exercise options of selling the space or partnering with someone who does have a horse of the caliber to compete in the world's richest event.
"It's like any feel-good kind of story," Gary Stevens said. "Never write yourself off. They've got passion for the business and have fought their way back to play at the highest level. It's pretty cool that it's a family operation.
"Shelbe's got support from her dad and her brother, but saying that, she's a horsewoman herself. She was raised around the business, she's pretty sharp and she's got a great opportunity ahead of her."
Shelbe took out her training license in April and won with the fourth horse she saddled, Rockport Babe, a 20-1 shot, at Santa Anita. A native of Descanso and graduate of El Capitan High in Lakeside, California, she now lives in Monrovia, near Santa Anita.
Her two victories at the current meeting, which ends on Labor Day, came with longshots Midnight Pleasure ($43.80) in the ninth race Sunday, July 24, the eighth day of the meeting, and Spud Spivens ($33.40) in the nightcap on Pacific Classic Day, Saturday, August 20.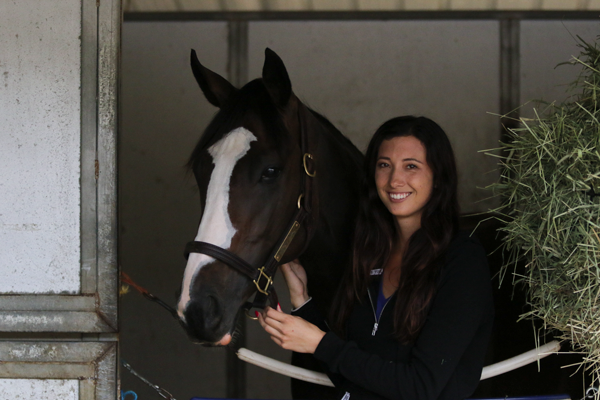 Union Strike and Shelbe Ruis
If everything goes well, Ruis said, Midnight Pleasure will go in the $300,000 Grade I Del Mar Futurity, the traditional closing day feature, and Union Strike, the runner-up to American Cleopatra, a full sister to American Pharoah, in a maiden race earlier in the meeting, in the Grade I $300,000 Del Mar Debutante on Saturday, September 3.