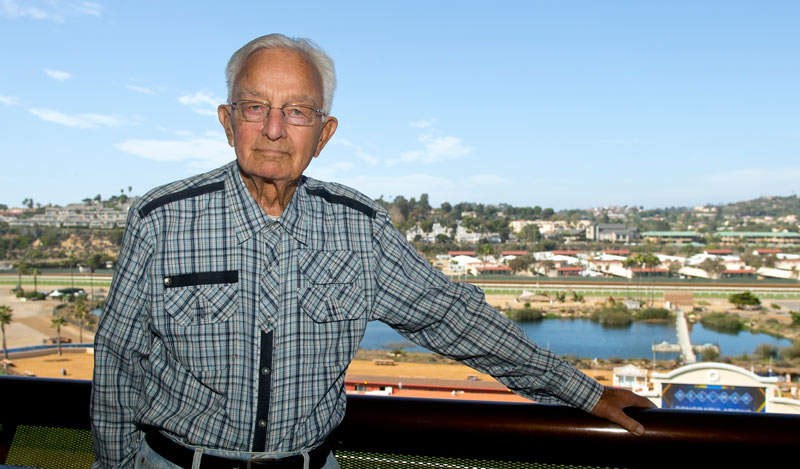 By Hank Wesch
Tom Whayne celebrated his 91st birthday on Wednesday, September 2, the start of the final week of the summer meeting at, where else, Del Mar.
The native of Oakland, educated at Cal, Harvard and Stanford, who spent his career teaching drama at Oakland Tech High School while pursuing personal interests in art, and music on the side, considers the seaside racetrack his home away from home.
So much so that he's been "home" for 64 straight opening days of the summer meeting. And where he plans to be, for the first time, for a closing day and its traditional feature, the Grade I $300,000 Del Mar Futurity this Monday on Labor Day.
"My wife (Phyllis) and I taught school in the Bay Area," Whayne said recently. "We would finish every June 15 and we could do whatever we wanted for the next two months. So we'd always be there for opening day, but we never saw the Futurity because we always had to go back for meetings before the start of school."
Starting in the late 1940s-early 1950s, the Whaynes came to Del Mar to further a passion for Thoroughbred racing which had been sparked at a track hard by San Francisco Bay.
"We were a young couple with no kids that didn't know a thing about horse racing, but Golden Gate Fields papered the Bay Area with free passes," Whayne said. "We went and fell in love with the game, both of us. My wife possibly more than me. She was a fanatic handicapper."
Whayne started his Opening Day attendance streak at Del Mar in 1951 and has kept it perfect through this year.
"Several years we stayed at 'Seaside' at the north end of Solana Beach, which was a trailer park with little cabins where all the jockeys used to stay," Whayne said. "Also horseshoers and trainers. My daughter when she was 15 babysat (Hall of Fame jockey) Donald Pierce's children.
"We went to the races every day. Loved reading the Daily Racing Form. Loved the life. I got a job working the backstretch cafeteria, not because I couldn't have gotten something on the front, but because I wanted to see what it was like back there as research for a novel. I wrote it and came close to getting it published, but never did.
"It was kind of a circus in those days. The same kind of 'we're in this together' allegiance and loyalty and mutual helping of friends in need, which was plenty."
Times changed, Whayne opines, when D. Wayne Lukas arrived and the stable area atmosphere became much more businesslike. The Whaynes' direct connections in and to Del Mar shrank but their racing world expanded.
They went to Kentucky for the Derby in 1978 when Affirmed won and toured breeding farms afterward. They went to England and saw the "Darby" and had an audience with Hyperion, one of the greatest horses of all time. They saw the Arc de Triomphe at Longchamp "a couple of times."
"We were there in Europe mainly for the art and the music," he remembered, "but we'd always make it out to the nearest track, wherever it was, and we went to a lot of them."
Whayne's wife, Phyllis, died in 1986. He met Katherine Wilson when they were both in training to become docents at the San Diego Museum of Contemporary Art in La Jolla. They lived and travelled together for 23 years, leading museum tours to Seattle, Minneapolis, Las Vegas and Mexico City and building friendships all over the world before "Kat" died in March of 2013.
A book of Tom's poetry with photographs by Jane Paradise, "Of Strength And Grace," subtitled "Elegy for Love," was published last year.
The 68th running of the Del Mar Futurity will be the climax of the 76th Del Mar summer season. It has a tough act to follow since it was won last year by American Pharoah, who went on to end a 37-year drought and become the 12th Triple Crown champion in the history of the sport.
It'll be a first for Tom Whayne.