By Hank Wesch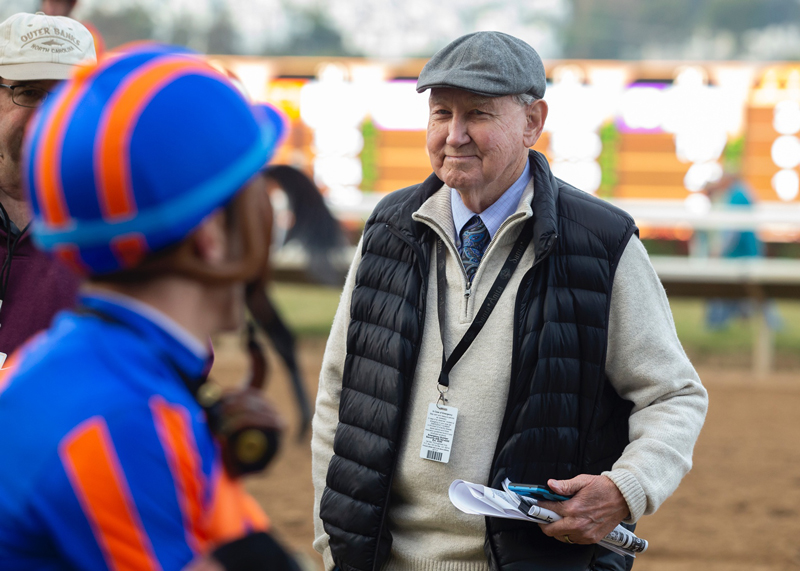 Hank Wesch © Benoit Photo
My first look at Del Mar came in June of 1969 on a clever misdirection ploy by Steve Scholfield.
Best friends through high school and college we had parted company in 1968 when "Scholf" left our home state of Michigan to seek his fortune in California and landed a job as the sports editor – and only full-timer in the department – at the Oceanside Blade-Tribune.
One year later, upon my graduation from Michigan State, he had talked his bosses into hiring me as a second full-timer and picked me up at Lindbergh Field for the drive up the coast for the start of my new life adventure. After we passed through downtown Del Mar he pointed to a patch of sand before the Pacific Ocean and said, "On your left, what they call dog beach." Then, after the road took an uphill rise, "Now look to your right."
And there it was. A sight to delight the eyes and warm the heart of any horse racing player/fan. Especially one whose experience had been at county fair or utilitarian harness tracks in Southern Michigan and whose only Thoroughbred reference was an inexplicable attraction to the Kentucky Derby telecast on the first Saturday in May from boyhood onward.
At that moment, I knew I'd be seeing a lot of the place. How much, I couldn't have imagined.
Would you believe 25 summers as turf writer for the San Diego Union and, after the merger, Union-Tribune? Would you believe 11 years as a member of the Del Mar Thoroughbred Club media department working for Dan Smith and Mac McBride writing the daily Stable Notes and weekly features during the racing season?
Being of sound state of mind and body, however, I've decided to step away from the position and go into full retirement when the current Bing Crosby Season ends. And my last assignment from Mac is to put down a few memories of the years, the good and even not-so-good times, the horses and people I've encountered.
# # #
I made several trips to Del Mar as a fan that summer of '69. At the end of it, I got the notification that Uncle Sam needed me. I managed, however, to make it to the track at least once a summer through two years of service and three years working at newspapers in Orange County.
And in September of 1974 I was hired to cover high schools for the San Diego Union. Realizing, at 27, a dream of becoming a sports writer for a major newspaper. Eleven years later, after covering the gamut of sports at all levels, I was asked to take on horse racing as one of my "beats." Which meant Del Mar in the summer, major stakes at Santa Anita and Hollywood Park the rest of the year on the Southern California circuit plus the Triple Crown races and Breeders' Cup.
The paper already had two staffers, Dushan Lazovich and Frank Nichols, doing handicaps for the Southern California tracks and Caliente in Tijuana, respectively. So I didn't have to worry about picking winners, just writing and reporting, starting with the Del Mar season of 1985.
A place that at that time was rife with legends and legends in the making.
# # #
Ron McAnally was the first major "name" trainer that I interviewed. A cold call to his home, a self introduction and a half hour or so in which he was as gracious, thoughtful and forthright as he would be for many others in the 36 years since. When I first called, the John Henry glory days had recently ended, but McAnally would have many to follow at Del Mar with the likes of Bayakoa, Paseana and one shooting star from South America in 2003.
Most of the Del Mar interviews were conducted on the balcony, overlooking the track, of Barn I where McAnally could be found mornings supervising workouts. So there I was, part of a group of owners and others on that balcony in August of 2003 when Candy Ride went through his final workout for the Pacific Classic.
McAnally called out the splits and word was passed down the line through Sid and Jenny Craig and others, like we were soldiers in the trenches in World War II. McAnally's pleasure at the end rippled along in a similar manner. Candy Ride won the "Classic" in what is still race record time under Julie Krone, replacing Gary Stevens who was injured a week before the event.
# # #
Charlie Whittingham was held in the highest esteem on the West Coast but with more than a sprinkling of skepticism east of the Mississippi when I first made the Del Mar scene. He was about to douse the doubters, however, by winning the 1986 Kentucky Derby with Sunday Silence, a colt he introduced to Bill Shoemaker the summer before at Del Mar.
Whittingham was a good interview but, from my experience, loathe to stand still for one. He was in his 70s and I in my late 30s, but he was taller and tougher, an ex-Marine who served at Guadalcanal, and hard for me to keep up with when on the move after a workout or stakes race. I heard a lot of the "Charlieisms" – my favorite being "You can't expect to soar with the eagles if you hoot with the owls" – from a pace or two behind and I usually had to jot his quotes down while trying to catch my breath.
# # #
The jockeys' room in 1985 was home to, among others, Shoemaker, Laffit Pincay, Jr., Chris McCarron, Eddie Delahoussaye and Patrick Valenzuela. Visits there after stakes races were invariably interesting.
Writers, especially rookies like me, were not exempt from Shoemaker's practical jokes or being told after a wire-to-wire win that "You could have rode that one." Pincay was as solid and assured in post race comments as he had been a few minutes earlier using his 117 pounds of muscle to seemingly lift and carry home a winner. McCarron could describe in detail practically every step his horse, and some of the competitors', had taken. Delahoussaye came up with words that weren't in the dictionary, but I often thought should have been, to describe a characteristic come-from-behind, nail-'em at the wire victory. His fellow Cajun, and Hall of Famer, Kent Desormeaux is doing a good job of carrying on that tradition today.
Valenzuela would invariably use the words "got lucky" in describing a win even when it was obvious that skill and ability, his or the horse's, were the overriding factors.
# # #
The late 1980s were times when D. Wayne Lukas and his main client, Chargers owner Gene Klein, were taking racing by storm through spending at the sales and registering stakes wins by the score. Del Mar was ground zero for the operation with Klein developing the Rancho Del Rayo facility a few furlongs from the track.
There was controversy in 1987 when Lukas saddled the 2-year-old filly Lost Kitty to win both the Del Mar Debutante and Del Mar Futurity, repeating a feat he'd accomplished with Althea four years earlier.
Klein joked (I think) that he preferred Thoroughbred athletes to NFL ones because the horses didn't come around asking for a pay raise after a standout season. Klein reached the top of the racing world in 1988 when his filly Winning Colors, trained by Lukas, won the Kentucky Derby, but was soon to make an abrupt exit from the business.
The following year I made my only trip to Keeneland on the day after the Breeders' Cup to cover the dispersal sale of Klein's horses. I probably shouldn't have been, but was astounded when the bidding on some started at $1 million. Klein put 114 head up for sale and seven went for upwards of seven figures topped by Open Mind ($4.1 million), Winning Colors ($4.1 million) and Lady's Secret ($3.8 million). The total dispersal was $29.6 million. Klein estimated he'd about broken even for his racing venture if he didn't count what his wife, Joyce, had put through the betting windows.
# # #
The 1990s through early 2000s at Del Mar were marked by: the inauguration of a $1 million race; the fall of the old grandstand and rise of the new; innovative marketing which generated booming business on track and off, and huge success for a San Diego County farm that hooked up with a rising star of a trainer.
I wrote extensively about them all, of course. Del Mar Thoroughbred Club founding father John Mabee and his wife Betty were a common thread through all with DMTC President and CEO Joe Harper the point man on the administrative stuff and Bob Baffert the trainer who stirred things to a fine froth on the track.
At the end of the inaugural Pacific Classic in 1991, an event he championed and ramrodded into being, my path to the winner's circle crossed with John Mabee at the top of the stairs of the grandstand that was to be torn down at the end of the meeting. I ducked under the gauntlet of outstretched arms reaching out to John and Betty while they touched as many hands as they could while squeezing through the crowd to where their Best Pal was being led.
Best Pal was the first in a line of high achievers for the Mabees' Golden Eagle Farm in Ramona. In the car en route there one day for a tour, Betty Mabee cautioned that the facility wasn't "a showcase like the farms in Kentucky." And it wasn't.
But it produced in both quantity and quality to the point that the Mabees won Eclipse Awards as the nation's top breeders in 1997 and '98 and were leading owners at Del Mar six times in the 1990s.
With the Mabees among his major clients, Baffert won consecutive training titles from 1997 to 2003.
People always ask me about Baffert, Del Mar's leader for overall wins and stakes victories by a trainer. I've known him since he made the transition from quarter horses to thoroughbreds and was wearing a white cowboy hat and billing himself as the poor man's D. Wayne Lukas.
He was a kick to be around then and has remained, to me, a kick to be around ever since. We've had clashes but they were all minor and quickly forgotten. Draw your own conclusions about Baffert. I conclude a 30-year working relationship, the kind I tried to have with every newsmaker I've dealt with, preps to pros, considering him to be a good man at heart, a helluva horseman and an overall credit to the industry through decades of being the most recognizable name and face in the business.
I had an intern shadowing me making my backstretch rounds one morning and introduced her to Bob, jokingly, as someone after my job. He laughed, pointed a finger at me and said, "This guy's got it made."
I didn't think he had noticed.
# # #
My newspaper career ended with the 2010 Del Mar summer season. A few months later I got a call from a publisher, who had been steered my way by Mac, with an opportunity to write a book on the history of the track.
I produced 37,500 words in about five weeks with time off for the removal of my gall bladder and made the spring deadline for release coinciding with the 2011 season.
By that time I had assumed the position in the media department I'm leaving after 11 years.
# # #
In 2016 I was, out of the blue, the recipient of the National Turf Writers and Broadcasters Association's Charles Haight Award for Career Excellence in Turf Writing. An acceptance speech was required at a dinner during Breeders' Cup Week at Santa Anita.
I had it written down on index cards and was doing fine until I looked up to see some members of the audience, even at the DMTC table, checking cell phones surreptitiously to check on Game 7 of the World Series between the Cubs and Indians.
A game which, when last I checked, was in a rain delay.
Fearing that I'd become less interesting than a baseball rain delay, I skipped a couple of cards and went straight to the ending. Cards, I realized to my horror when I sat down, which included thank yous to my family and friends.
Given a second chance in this forum I'm not gonna, as the song from "Hamilton" says, "Throw away my shot."
Out of a healthy septuagenarian wariness about what's put out on the Internet I'll refrain from naming names like I planned to do at the 2016 dinner. They all know who I'm talking about and have been told many times over how much I love and appreciate them.
My wife of 46 years, who has put up with a lot of bad puns and handled everything so well during the long hours, days and on occasion weeks, when I've been away doing my dream job. Two daughters, one son and their spouses. Four grandkids. Two special friends of more than 40 years each, their wives and families.
I ended the 2016 speech expressing gratitude for the honor and "I'll see you all next year at Del Mar," a reference to the 2017 fall season when the track was the site of the Breeders' Cup for the first time.
Retiring after Del Mar's second Breeders' Cup hosting seems appropriate. But I intend to extend my streak of at least one day at the track annually from its current 52 for as long as I am able.
So thanks for reading what I always intended to be at least a little informative, worthwhile and occasionally amusing writings in the newspaper or the DMTC website. And see you next year at Del Mar.
# # #