Friday, August 18th, 2017 ( 1 year ago )
Accelerate's a Solid Citizen with a Penchant for Del Mar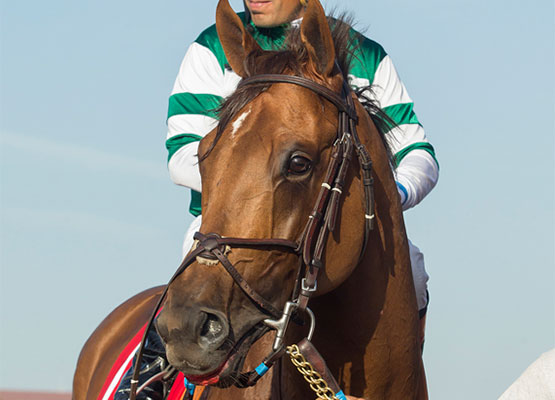 Accelerate © Benoit Photo
By Hank Wesch
Trainer John Sadler wasn't present when Accelerate was purchased for $380,000 at the Keeneland September sale in 2014 for his major client, Hronis Racing. But he had an idea that it might prove to be a good buy.
It's a family thing.
"I saw the first foal out of the mare (Issues) was a good early 2-year-old," Sadler said recently. "I didn't train him but I bought the second foal out of the mare and that was Daddy D T, who won a stake here at Del Mar at two (2014 Oak Tree Juvenile Turf) and was third in the Breeders' Cup Juvenile. So we liked him.
"Then the next one was Accelerate. The point being that I liked the family and (bloodstock agent) David Ingordo liked the physical look of him. I wasn't there at the part of the sale that he was in, but they told me he looked good and I said I liked him."
There's been quite a lot to like since the son of Lookin At Lucky started racing in the spring of his 3-year-old year, last April. Especially when the races have been at Del Mar.
Accelerate is 3-0 at the seaside track. He notched his first win, in his fourth career start, at Del Mar on July 28, 2016, romping home 8 ¾ lengths ahead of Curlin Road in a maiden special mile. A month later, Accelerate took the $100,000 Shared Belief Stakes, also at a mile.
Nearly a year, and five winless starts, later, Accelerate was sent out in the TVG San Diego Handicap against the World's No. 1 rated Thoroughbred, Arrogate – and stunned the world by going wire-to-wire for the full 1 1/16 miles. Arrogate was an inexplicable fourth of five, but will get a rematch with Accelerate in the $1 million TVG Pacific Classic, Del Mar's signature event, on Saturday.
What's the connection? How to explain the affinity for Accelerate and the seaside oval?
"I think it's more like timing," Sadler said. "I think when he really started getting good was when we ran him around two turns down here. He had two or three sprints before we stretched him out and his first route race was here and he won easily and impressively.
"We skipped his allowance condition and went straight to the Shared Belief and won that, which was the start of his rise.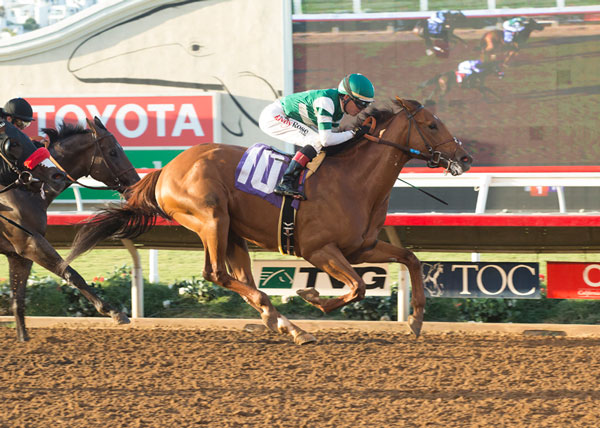 Accelerate wins Shared Belief Stakes in 2016
"Then we got real ambitious and put him in the Breeders' Cup Mile as a 3-year-old and he was third. Tyler (jockey Tyler Baze) thought he could have been second except for some bumping and Gun Runner ran third, so that's a pretty good line (in the PPs) there.
"This year for his 4-year-old campaign he was second and third with some bad trips. He got away slowly and things like that. So we knew he was capable of running in Group Is and he showed that (in the San Diego)."
There were three significant changes made before the San Diego. Blinkers were added in the equipment line. Victor Espinoza replaced Baze in the saddle. And he was hustled straight to the lead out of the gate for the first time in a year.
"We'd been thinking about blinkers for a couple of races and when he ran an off race we decided now's the time," Sadler said. "The rider change was more or less coincidence. Tyler had ridden him all along, and I just decided I wanted to try something different.
"As far as the style. He'd laid up close when he broke his maiden and I think that, combined with the blinkers, put him right into the race more than in most of his races. He has been a notoriously bad gate horse, two or three of his races he really got out poorly. The blinkers seemed to help him focus."
It was not the first time that Accelerate had bested Arrogate. In the first start for both, on April 17, 2016 at Los Alamitos, Accelerate finished second, beaten a half-length by Westbrook, a neck in front of Arrogate.
Arrogate went on to win seven straight and more than $17 million before Accelerate snapped the string in the San Diego. Now comes the rematch.
"When they run as big a race as he did in the San Diego, there's a little hesitation when you run them back in, essentially, three weeks," Sadler said. "We just decided to watch him closely and make sure he's doing well and basically right on his game when he goes back in there. Obviously, we think he is."
Asked about Accelerate's personality and stable-area demeanor, Sadler had strong praise.
"He's very workmanlike," Sadler said. "He's just like a solid citizen. He doesn't do anything wrong and he doesn't make a big show of himself either. He's the kind of horse you like to have, a nice horse to be around. He just does his job."
And recently, surprisingly well at the most opportune of times.