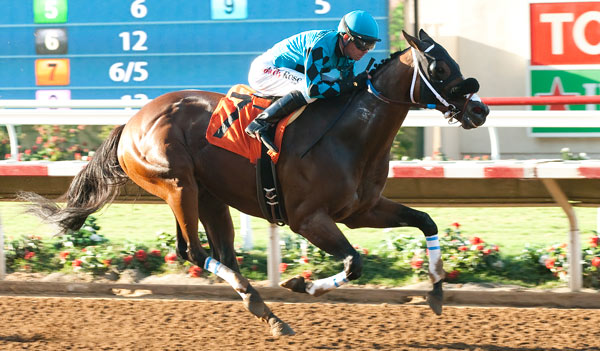 Nextdoorneighbor winning for the 11th time August 8, 2015 at Del Mar.
By Hank Wesch
You've probably heard of or know someone who has been referred to as a "salt of the earth" human being.
Meet Nextdoorneighbor, a "salt of the earth" Thoroughbred racehorse by the testimony of those who've crossed paths with the gelded Florida-bred son of Lido Palace who is still running and winning, lately here at Del Mar, at age eight.
"Everybody who ever rubbed him or rode him loves him," said Mike Machowsky, the first of 10 trainers who have had the pleasure of Nextdoorneighbor in their barns over the years, starting in the fall of 2009, that Nextdoorneighbor has been campaigning through the mostly claiming level ranks.
The other trainers, in order of appearance in the horse's life are: David Hofmans, Bob Baffert, Adam Kitchingman, Ron Ellis, Linda Mikus, Victor Garcia, Robertino Diodoro, Peter Miller and, as of August 8, Mike Pender.
Five of them won at least one race with him as Nextdoorneighbor has notched 11 victories in 44 lifetime starts. Miller claimed him for $8,000 on January 10, 2015 and in eight starts from February to August led Nextdoorneighbor to the winner's circle six times, with one second and one third. The run, under Rockingham Ranch ownership, produced earnings of $109,490 as Nextdoorneighbor boosted his career total to $307,789.
"The owner picked him and when an owner calls me to claim a horse, unless I really don't like the horse, I just claim them," Miller said. "So I did, and the race I claimed him out of he ran bad (last of six as favorite) and I thought, 'Oh, oh, here we go.'
"But he bled that day. And we thought if we could get him to San Luis Rey and calm his nerves and get him to settle down, he'd be better. It's kind of a day spa for horses and that was the key for him, I think."
The San Luis Rey Downs Training Center, located 23 miles north of Del Mar, has full facilities in a more rural setting and has been used successfully by many horses, most famously 2002 Horse of the Year Azeri.
Brought back to the races at Santa Anita in February, Nextdoorneighbor started his streak of success for Miller, winning four times at Santa Anita and twice at Del Mar this summer at claiming levels from $8,000 to $22,500.
"We loved the horse," Miller said. "He was a barn favorite. He's a real neat, cool, sweet, docile, friendly horse. He's got all the attributes. He's got a good personality. He likes attention. He likes being fed. A big, good-looking horse that you like to have around."
Jockey Tyler Baze was aboard for five of the eight starts, and four of the wins in the 2015 streak. Baze has ridden Nextdoorneighbor 10 times, and won six, since they were introduced on October 2 of 2014. Mention the horse's name and Baze's eyes twinkle and a smile plays at his lips.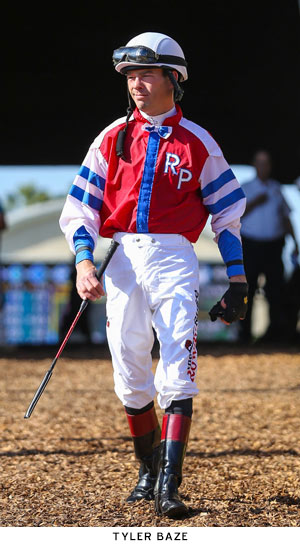 "The first eighth of a mile he puts us where we need to be, and if he gets the lead in the stretch, he's not going to give it up."
Machowsky was sent the horse, bred in Florida by John and Jerry Amerman, because Machowsky had trained his dam, Fencelineneighbor. He made two starts late in his 2-year-old year of 2009 and broke his maiden in his first start as a 3-year-old in January of 2010. An immediate jump to the Santa Anita Derby prep Sham Stakes didn't work when Nextdoorneighbor faded to seventh after setting or attending the pace for the first mile of the 1 1/8-mile run.
"That was a little too much, too soon," Machowsky said.
One other stakes, the Sir Beaufort at Santa Anita in December of 2010, resulted in a third-place finish. After that, the horse settled into diligent effort at the allowance and claiming levels that earned wide respect from horsemen.
The latest is Pender, who claimed Nextdoorneighbor for $22,500 out of his August 8 victory for Miller under Baze. The claim was made for the trainer's own Pender Racing LLC group and Shelbe Ruis.
What prompted the claim?
"His level of consistency," Pender said. "He may be eight years old, but he's back into the zone and racing well. He's the epitome of a class horse. We were ready to go for him when he ran here the first time (Opening Day, July 16 in an $18,000 claimer). But the majority of the (ownership) partners were kind of hesitant because of his age."
A change in stable can, and often does, result in a change in rider. But Baze adamantly hopes that's not the case.
"I had Craig (agent Craig O'Bryan) check in with them," Baze said. "And I saw Shelbe (Ruis) the other day at the Arco station and let her know I wanted to keep the mount. I hope it works out."
The Del Mar meeting is winding down to its last nine days, but Pender said Del Mar fans may get a chance to say 'Hi' to Nextdoorneighbor once again.
"We're looking at a couple of spots for him," Pender said. "In a perfect world, he'll run here again before the end of the meeting."