Thursday, November 26th, 2020 ( 10 months ago )
$300,000 Hollywood Derby Saturday Tops Sparkling Card at Del Mar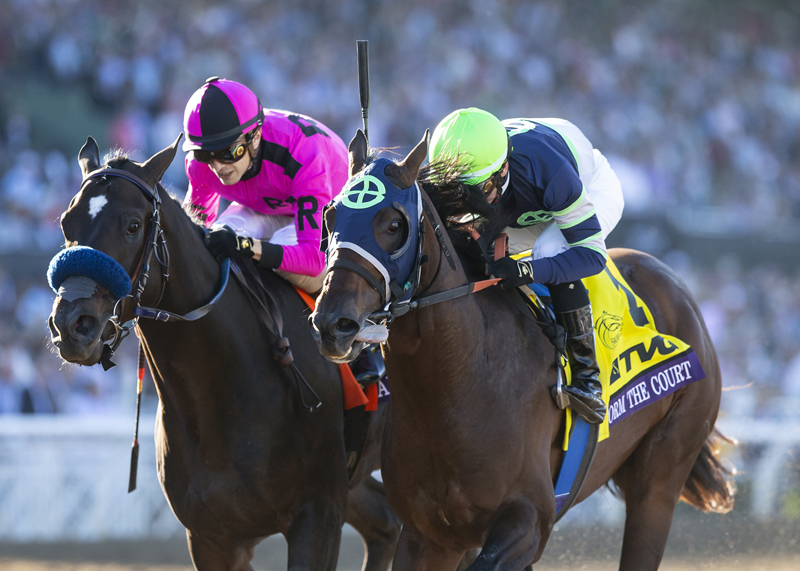 Storm The Court © Benoit Photo
Headed by the $300,000, Grade I Hollywood Derby, Del Mar will present one of the best racing cards seen at the shore oval in decades Saturday on the penultimate day of sport for the seventh Bing Crosby Season.
Nine races – averaging more than 10 horses apiece – including three graded turf stakes will make for a delightful afternoon of competition and wagering at the seaside oval with the fun kicking off at 12:30 p.m.
The Hollywood Derby, run at nine furlongs on the turf, has drawn 13 3-year-olds – eight colts, four geldings and one filly. All the males will carry 122 pounds, while the filly gets a three-pound sex allowance. It will be run as the ninth and final race on the program.
A trio of eastern-based trainers should have a big say in the headliner – Christophe Clement, Chad Brown and Thomas Bush. Clement has sent out a pair for the Grade I in Otter Bend Stables' Gufo and West Point Thoroughbreds, Freeman, Sandbrook or Manning's Decorated Invader. Brown has entered Klaravich Stables' Domestic Spending and Bush will be represented by the Mary Abeel Sullivan Revocable Trust's Get Smokin.
Here's the full field for the seventh local running of the race from the rail out with riders and morning line odds:
Wertheimer & Frere's Kanderel (Giovanni Franco, 30-1); Cannon Thoroughbreds' Smooth Like Strait (Umberto Rispoli, 7/2); Little Red Feather Racing or Naify's Scarto (Manny Franco, 10-1); Nguyen or Tran's Taishan (Jose Valdivia, Jr., 12-1); Exline-Border Racing, Bernsen, Hudock or Wilson's Storm the Court (Juan Hernandez, 8-1); Wachtel Stable or Gary Barber's California Kook (Ricky Gonzalez, 20-1); Roadrunner Racing or Sayjay Racing's Strongconstitution (Abel Cedillo, 20-1); Domestic Spending (Irad Ortiz, Jr., 5-1); Get Smokin (Mike Smith, 12-1); Decorated Invader (Joel Rosario, 3-1); R A Hill Stable or Reeves Thoroughbred Racing's Ever Dangerous (Victor Espinoza, 12-1); MyRacehorse.com or Spendthrift Farm's Lane Way (Drayden Van Dyke, 20-1), and Gufo (Flavien Prat, 4-1).
This actually will be the 79th edition of the Hollywood Derby with the first 72 presentations having taken place at the now-demolished Hollywood Park facility in Inglewood near LAX airport. When the race shifted to Del Mar in 2014, it got a big boost in its first local edition when soon-to-be Horse of the Year California Chrome won it smartly and thus ensured himself the first of his two HOY titles.
The chestnut colt Gufo, a son of the War Front stallion Declaration of War, shows four wins and a photo-finish second on his ledger for 2020. The stretch runner won the Grade I Belmont Derby last out on October 3 at the big New York track. Stablemate Decorated Invader has won five of nine starts and more than $500,000.
The Kingman gelding Domestic Spending has won three of four lifetime outings, including a tally in the Saratoga Derby Invitational in his most recent effort on August 15 at the upstate New York track.
Get Smokin, by Get Stormy, comes into the race off a score in the Grade II Hill Prince on the lawn at Belmont Park on October 18.
The local contingent is headed by multiple-stakes winner and $397,823 earner Smooth Like Strait and 2019 Juvenile champion Storm the Court, who has more than $1.3 million in the bank. That pair finished one-two in the Grade III La Jolla Handicap at Del Mar this summer, with the winner Smooth Like Strait coming back to capture the Grade II Twilight Derby at Santa Anita on October 18.
Earlier on the Saturday program there are a pair of grass stakes that also have drawn full fields.
The day's 7th Race is the seventh local running of the Seabiscuit Handicap, a $200,000 Grade II offering that has drawn 13 older runners for a mile and one-sixteenth on the green.
Topweighted for the test is the eastern invader out of the powerhouse Chad Brown barn Flavius, a Juddmont Farms homebred who'll pack 123 pounds and the nation's top money-winning jockey, Irad Ortiz, Jr., as he tries to add to his $541,151 bankroll.
Among his rivals are Agave Racing Stable, ERJ Racing, Madaket Stables or Rockin Robin Racing Stable's Bowies Hero, a multiple-stakes winner of more than $1.5 million; Sayjay Racing, Hall or Hubbard's One Bad Boy, last year's Queen's Plate winner; Peter Redekop's multiple-stake winner Anothertwistafate, who'll be making his first grass start, and Don't Tell My Wife Stables, Monomoy Stables or West Point Thoroughbreds' comebacking My Boy Jack, a now 5-year-old who was the buzz horse on the 2018 Derby Trail and who will be making his first start in more than a year.
Here's the full field for the Seabiscuit in post postion order with riders and morning line odds:
My Boy Jack (Victor Espinoza, 30-1); Paradise Road Ranch's Camino Del Paraiso (Tiago Periera, 15-1); Klaravich Stables' Spirit Animal (Manny Franco, 8-1); Bonne Chance Farm or Stud R D I's Imperador (Drayden Van Dyke, 15-1); Agave Racing Stable or Sam-Son Farm's Count Again (Juan Hernandez, 8-1); Lindley or Morton's Majestic Eagle (Mario Gutierrez, 15-1); R3 Racing or Calara Farms' Blitzkrieg (Abel Cedillo, 10-1); Anothertwistafate (Joel Rosario, 4-1); Baltas, Baltas, Ivarone, Ivarone, McClanahan, et al's Next Share (Jose Valdivia, Jr., 12-1); One Bad Boy (Flavien Prat, 12-1); Red Baron's Barn or Rancho Temescal's Tartini (Edwin Maldonado, 30-1); Flavius (5/2), and Bowies Hero (Umberto Rispoli, 6-1).
The afternoon's 5th Race is for 2-year-old fillies and is named the Jimmy Durante Stakes. Fittingly, the $100,000 Grade III test is run at a mile on the Jimmy Durante Turf Course. Both the race and the grass course were named for the multi-talented entertainer who for many years made Del Mar his summer stop of choice.
Again, trainer Brown's entrant well could be the one to beat in the juvenile feature. That would be Head of Plains Partners' homebred Fluffy Socks, shipped in from Belmont and with a stakes tally on the grass – and a close miss in another – already on her ledger. Once again top rider Irad Ortiz, Jr. has the call and they'll break from Post 8 in the 13-horse lineup.
Here's the field for the Durante in post position order with riders and morning line odds:
Red Baron's Barn or Rancho Temescal's Inner Beauty (Tiago Pereira, 20-1); C T R Stables, Wonderland Racing Stables, Bambauer, et al's Plum Sexy (Juan Hernandez, 6-1); Harris Farms' Closing Remarks (Umberto Rispoli, 15-1); Altamira Racing Stable, CYBT, Lantzman or Nentwig's Nimbostratus (Ricky Gonzalez, 12-1); Godolphin's Javanica (Flavien Prat, 6-1); Eclipse Thoroughbred Partners or Winners' Consternation (Drayden Van Dyke, 20-1); Perry or Ramona Bass' Pizzazz (Mike Smith, 6-1); Fluffy Socks (5/2); Red Baron's Barn or Rancho Temescal's Quattroelle (Tyler Baze, 8-1); Bridlewood Farm's Bay Storm (Joel Rosario, 5-1); Breeze Easy's Polished Lady (Victory Espinoza, 30-1); Slam Dunk Racing's Magical Thought (Abel Cedillo, 12-1), and Ryan, Drown or Team Hanley's Invincible Gal (Manny Franco, 6-1).