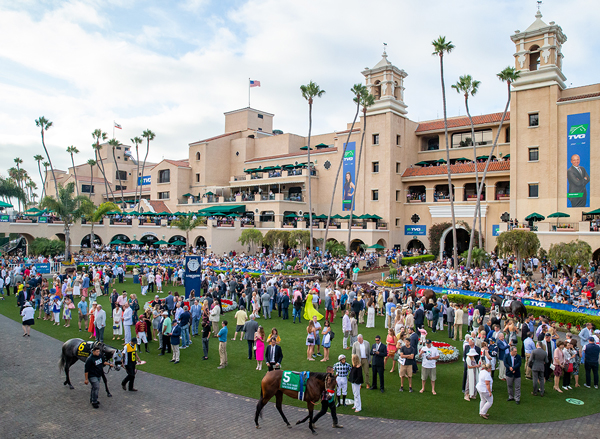 Building on its pre-meet enhancements and the sparkling success of its current racing season, Del Mar Thoroughbred Club today announced a pair of major increases to key stakes races on its 2021 schedule.
The Grade I TVG Pacific Classic, the shore track's centerpiece since it was introduced in 1991, has been raised back to its original level of $1,000,000 for its August 21 renewal. Additionally, the track's conclusion to its 3-year-old grass series – the Grade II Del Mar Derby slated for September 4 – has had its purse increased to $250,000 for its 77th edition.
The TVG Pacific Classic was scheduled to be presented this year for the 31st time with a purse of $750,000, which was an increase from its COVID-affected 2020 running when the mile and one quarter was dropped to $500,000. The Del Mar Derby ran with a $200,000 purse in 2020 and was designated to do so again this year prior to this current boost for the nine-furlong turf test.
Both raises put the races on equal footing with their 2019 levels. Prior to the meet, Del Mar had increased the values of virtually all of its other stakes from 2020 to equivalent – or in some cases higher – purse standards than the ones that existed in 2019.
"We had fairly aggressive projections going into the meet and I'm pleased to say our business has exceeded those numbers," said Tom Robbins, a Del Mar executive vice president and its director of racing and industry relations. "We are thrilled to restore our signature race back to its $1 million level, where it had been and certainly belongs."
Since 2010, Del Mar has joined with its broadcast partner TVG to augment the TVG Pacific Classic and keep it at the forefront of major races nationally.
"We have a spectacular partnership with Del Mar and the TOC and our team at TVG is very excited that our sponsorship of the Pacific Classic is one of the reasons for this purse increase," said Kevin Grigsby, SVP and executive producer of TVG & FanDuel. "Over the last decade TVG has become one of the largest sponsors of horse racing in the U.S. Along with our investments in distribution and technology, it is part of our commitment to reinvest in the sport."
The track always works in accord with the Thoroughbred Owners of California in setting and maintaining both its stakes schedule and its overall purse structure. Their chairman of the board, Gary Fenton, addressed the stakes purse increases:
"Thanks to our members, horsemen and horsewomen and the hard work from DMTC we're off to a tremendous start. With added purse account funds we felt returning all stakes, such as Del Mar's signature race, back to their pre-COVID purse levels was appropriate. The momentum of continued purse increases in 2021 with hopefully more to come in 2022 is a great sign of the health of Southern California racing."
The TVG Pacific Classic is a "Win and You're In" race entitling its champion a guaranteed spot in this year's $6 million Breeders' Cup Classic, a race that will be run at a mile and a quarter at Del Mar on Saturday, November 6.
The Del Mar Derby follows the Oceanside Stakes and the Grade III La Jolla Stakes to make up the longstanding trio of turf test for soph runners at the seaside oval. The La Jolla will be run on Sunday, August 8.
Del Mar's 82nd season will continue to race on a Thursday-to-Sunday schedule through to its closing day, Labor Day Monday, September 6.