Thursday, October 12th, 2017 ( 1 year ago )
2017 Breeders' Cup Betting Challenge
Registration Now Open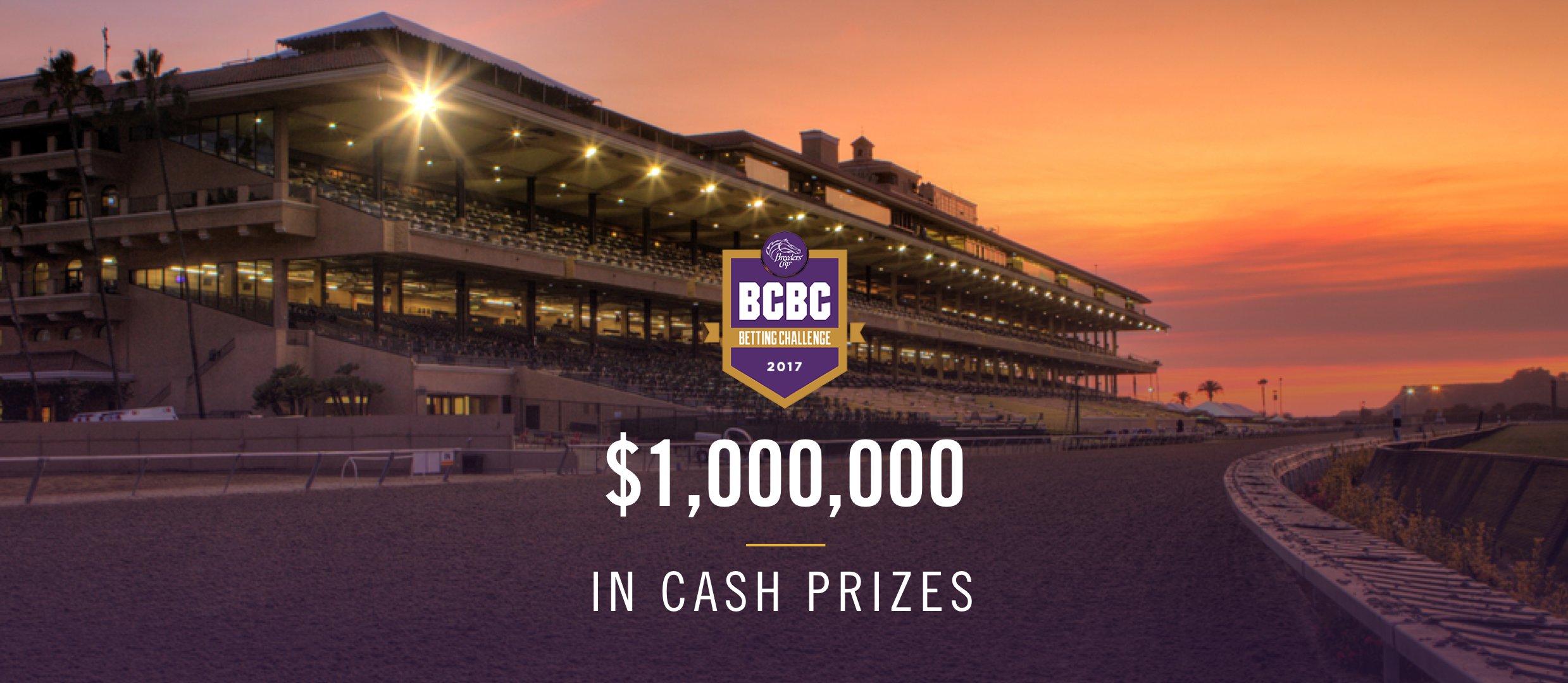 Play Live at Host Site Del Mar, at Satellite Sites Churchill Downs and Gulfstream Park or Online Via Participating ADWs for Thoroughbred Racing's Biggest Live-Money Tournament
The Breeders' Cup Betting Challenge (BCBC), Thoroughbred racing's biggest live money tournament, promises to be even bigger and better in 2017 and is open for registration now.
Now in its ninth year, the BCBC will crown the winner with the highest accumulated bankroll at the end of the two-day Breeders' Cup World Championships, which will be held this year at the Del Mar racetrack in Del Mar, Calif., on November 3-4. The 2017 BCBC will have an estimated prize pool of more than $1-million based on a minimum of 400 entries.
In addition to the Del Mar host site, individuals can also play in the tournament from official satellite locations at Churchill Downs in Kentucky and Gulfstream Park in Florida, and online from specifically designated ADW sites, including the Breeders' Cup Official Online Betting partner Twinspires.com.
To register or to find out more information about the BCBC go to www.dmtc.com/bcbc.
For the 2017 BCBC, a $2,500 buy-in and $7,500 betting bankroll ($10,000 total) is required of each player. All buy-in monies are applied to the prize pool which is paid out 100% to the players. Players can bet into the Win, Place, Show, Exacta, Trifecta and Daily Double pools with their $7,500 bankroll over the two days and keep all monies earned from their betting.
"We're extremely pleased with the response from players who have already signed up for the first-ever live BCBC at Del Mar, a spectacular facility which will surely make for a horseplayer's dream weekend," said Tim Schram, BCBC Tournament Director. "With our live-money format and multiple ways to play via live satellites and online ADW's, we are looking forward to another record-breaking year for the tournament."
A $3 million BCBC / National Horseplayers Championship (NHC) Tour bonus will be awarded to any horseplayer who wins both the BCBC and the NHC in Las Vegas in January of 2018. The 2017 NHC winner, Ray Arsenault of Thornhill, Ontario, can also win the $3 million bonus if he can capture this year's BCBC crown.
Other players eligible for $1 million bonus prizes by winning other sanctioned tournaments are: Vic Stauffer, Eric Moomey, Kevin McFarland, Florin Sima; Faron McCubbins, Stephen Thompson, David Lanzman, Christian Hellmers and Robert Talstra.
Players can earn a free entry into the BCBC by winning a contest at a live qualifying site or online at HorsePlayers.com. HorsePlayers.com, the official and exclusive online qualifying site for the BCBC, is guaranteeing four BCBC seats in contests each weekend in October. Low-cost Feeder contests run daily with entry fees as low as $20. Visit HorsePlayers.com for more information and to play now.
Last year's BCBC winner was Joey Appelbaum of New York City, who bankrolled a $13,000 exacta wager on Arrogate and California Chrome in the Breeders' Cup Classic to take the crown and a record winning prize of $364,000. A total of 396 players participated in the 2016 tournament.
---
About Breeders' Cup
The Breeders' Cup administers the Breeders' Cup World Championships, Thoroughbred racing's year-end Championships. The Breeders' Cup also administers the Breeders' Cup Challenge qualifying series, which provides automatic starting positions into the Championships races. The 2017 Breeders' Cup World Championships, consisting of 13 Grade I races with purses and awards totaling more than $28 million, will be held November 3-4 at the Del Mar Thoroughbred Club in Del Mar, Calif., and will be televised live by the NBC Sports Group. The Breeders' Cup culminates with the $6 million Breeders' Cup Classic, which was rated No. 1 in the world in the final 2016 Longines World's Best Horse Race rankings. Breeders' Cup press releases appear on the Breeders' Cup Web site, www.breederscup.com. You can also follow the Breeders' Cup on social media platforms Facebook, Twitter, Instagram and YouTube.
Media Contact: Jim Gluckson, Breeders' Cup, 212-230-9512, jim@breederscup.com