Friday, July 15th, 2016 ( 4 years ago )
2016 Opening Day Hats Contest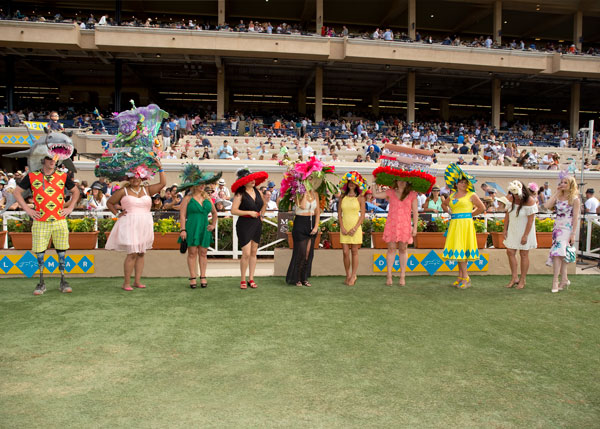 2016 Hats Contest © Benoit
More than 300 contestants entered the 22nd annual Opening Day Hats Contest at Del Mar. The Bing Crosby Grand Prize winner was Andria Elam, from the Best Fascinator category. "I spent two months on and off crafting my fascinator from millinery materials," said Andria, from Bonita. Andria, a frequent attendee at Del Mar but first time entrant, was inspired to enter by her love of fashion and horses.
She received the Bing Crosby Grand Prize which includes a Fairmont Grand Del Mar one-night stay and dinner for two at Addison Restaurant, featuring Chef William Bradley's multi-course tasting menu with wine pairings with a total value of more than $1,000. Also included was a halter from racing's #1 ranked horse, California Chrome, scheduled to run at Del Mar on July 23. The halter was donated by Chrome's owners.
Winners in each category below received $300 and $250 Studio Savvy Gift Basket. Second place finishers received $200 and third place, $100. Attached are pictures of the final group plus the Grand Prize winner.
From left to right:
Funniest/Most Outrageous
Second place winner ROB HANLY of San Marcos.
NADIA DAYZIE of Vista was first place winner with a large green under the sea themed hat.
Most Glamorous
MELISSA ORDAZ of Palmdale was second.
RENEE SALAS of Vista won first place with red rose and polka dot ribbons.
Best Flowers
First place winner TESSA ROBESON of Escondido with bright tropical flowers and gold skeletons drinking tequila.
LAUREN SILVEIRA from Laguna Beach was second.
Best Racing Theme
RACHEL BURTON of San Diego was first place with a starting gate, grandstand and Winner's Circle collage.
LORI SHELTON of San Diego, 2nd place.
Best Fascinator
Second place winner JANICE ASHTON of Newport Beach.
ANDRIA ELAM of Bonita sported a lilac and turquoise fascinator with curled feathers and purple veiling with a matching floral.