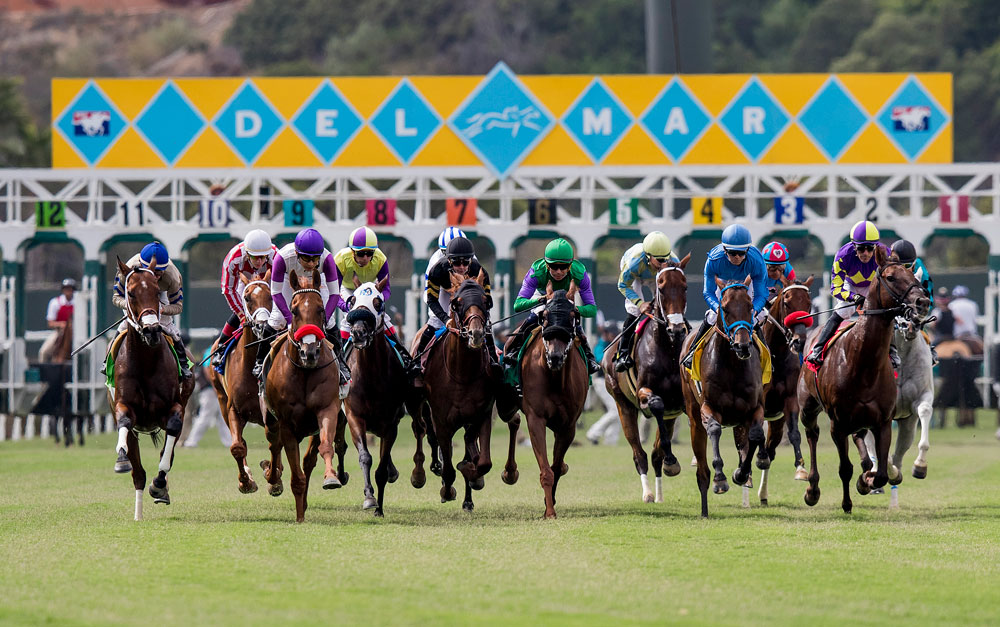 Del Mar will present its 10th fall racing session – dubbed the Bing Crosby Season to honor the track's iconic founder – starting on Friday, November 10 and highlighted by a stakes schedule that features 15 major events over the course of its 13-day run.
Topping the list of black-type tests again will be a pair of Grade I grass features – the $300,000 Hollywood Derby at nine furlongs for 3-year-olds on Saturday, December 2 and the $300,000 Matriarch Stakes for fillies and mares run at a mile on closing day, Sunday, December 3.
Also on the agenda are twin Grade II turf offerings for 3-year-olds and up – the $200,000 Hollywood Turf Cup at the marathon distance of 12 furlongs on Friday, November 24 and the $200,000 Seabiscuit Handicap at a mile and one-sixteenth on Saturday, November 25.
All told, the stakes roster carries gross purses of $2,050,000. Of the 15 events, 10 will be contested on the popular Jimmy Durante Turf Course, with nine of them overall providing Graded value.
Harkening back to its show business founder, the stand features a Hollywood theme for most of its stakes races, among them the Betty Grable, the Desi Arnaz, the Cary Grant, the Bob Hope, the Jimmy Durante and the Cecil B. DeMille, all of whom were part of the glamorous early days at the seaside oval.
"Our fall meet offers some excellent racing," said Del Mar vice president and racing secretary David Jerkens. "Coming on the heels of the Breeders' Cup at Santa Anita, it is well positioned to continue a positive racing flow in Southern California. Our Turf Festival – starting on Thanksgiving Day and following through to our close – offers eight grass stakes and has attracted marquee horses from across the country in the past and we're expecting more of the same this year."
The session will kick off with an overnight event – the $75,000 Let It Ride Stakes -- at a mile on the turf for 3-year-olds and up on November 10.
There will be a stakes doubleheader on Saturday, November 18 with the running of the $100,000 Desi Arnaz Stakes for 2-year-old fillies and the $100,000 Cary Grant Stakes for Cal-bred 3-year-olds and up. Both of those events are at seven furlongs on the main track.
Further, there will be a stakes tripleheader on Saturday, December 2 with the presentation of the rich Hollywood Derby, the $100,000, Grade III Jimmy Durante Stakes for 2-year-old fillies and the $100,000 Stormy Liberal Stakes for older horses at five furlongs on the turf.
First post daily throughout the stand will be at 12:30 p.m. with the exception of the November 23 Thanksgiving card when racing begins at 11 a.m., allowing fans time to enjoy a day of sport and still be home in time for turkey and all the trimmings that afternoon.
The complete list of stakes follows:
DATE
RACE / CONDITIONS
PURSE / DISTANCE
Fri. Nov 10
Let It Ride Stakes*
Three-year-olds, N/W S/S of $60,000 at 1 M o/o since April 1
$75,000 Added
1 Mile (T)
Sat. Nov 11
Kathryn Crosby Stakes*
Fillies & Mares, Three-year-olds & up, N/W S/S of $60,000 at 1 M o/o since April 1
$75,000 Added
1 Mile (T)
Sun. Nov 12
BETTY GRABLE STAKES
Fillies & Mares, Three-year-olds & up, Cal-Bred
$100,000 Guaranteed
7 Furlongs
Sat. Nov 18
DESI ARNAZ STAKES
Fillies, Two-year-olds
$100,000 Guaranteed
7 Furlongs
Sat. Nov 18
CARY GRANT STAKES
Three-year-olds & up, Cal-Bred
$100,000 Guaranteed
7 Furlongs
Sun. Nov 19
BOB HOPE STAKES (Gr. III)
Two-year-olds
$100,000 Guaranteed
7 Furlongs
Thu. Nov 23
RED CARPET STAKES (Gr. III)
Fillies & Mares, Three-year-olds & up
$100,000 Guaranteed
1 3/8 Miles (T)
Fri. Nov 24
HOLLYWOOD TURF CUP (Gr. II)
Three-year-olds & up
$200,000 Guaranteed
1 1/2 Miles (T)
Sat. Nov 25
SEABISCUIT HANDICAP (Gr. II)
Three-year-olds & up
$200,000 Guaranteed
1 1/16 Miles (T)
Sun. Nov 26
NATIVE DIVER STAKES (Gr. III)
Three-year-olds & up
$100,000 Guaranteed
1 1/8 Miles
Sat. Dec 02
HOLLYWOOD DERBY (Gr. I)
Three-year-olds
$300,000 Guaranteed
1 1/8 Miles (T)
Sat. Dec 02
JIMMY DURANTE STAKES (Gr. III)
Fillies, Two-year-olds
$100,000 Guaranteed
1 Mile (T)
Sat. Dec 02
STORMY LIBERAL STAKES
Three-year-olds & up
$100,000 Guaranteed
5 Furlongs (T)
Sun. Dec 03
MATRIARCH STAKES (Gr. I)
Fillies & Mares, Three-year-olds & up
$300,000 Guaranteed
1 Mile (T)
Sun. Dec 03
CECIL B. DEMILLE STAKES (Gr. III)
Two-year-olds
$100,000 Guaranteed
1 Mile (T)