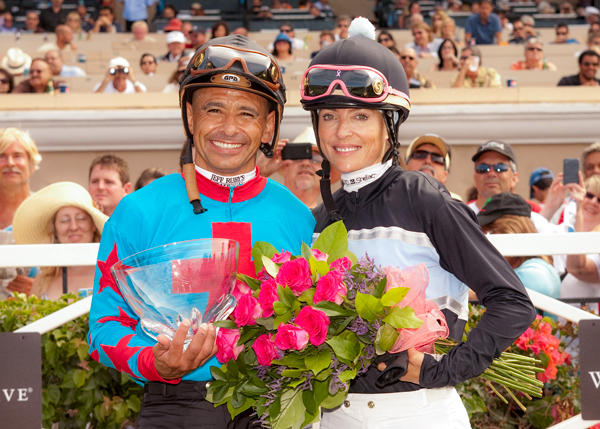 Mike Smith (L) and Chantal Sutherland © Benoit Photo
By Hank Wesch
In the spring of 2011, an idea for a promotion at Del Mar was formed in the fertile brain of track executive vice president and chief marketing officer Craig Dado.
Racing fans had been fascinated by the romantic connection between Mike Smith and Chantal Sutherland on the reality TV series "Jockeys." Smith, the Hall of Famer nicknamed "Big Money Mike," and Sutherland, a star and riding champion at Woodbine in her native Canada who had relocated to Southern California, appeared to be an ideal couple.
But series viewers saw a relationship that appeared headed to the alter instead wind up – as many do – with a heart-wrenching breakup.
Dado's idea was to stage a match race at Del Mar, the venue in 2003 for a match called the "Battle of the Sexes" between Patrick Valenzuela and Julie Krone, with one involving Smith and Sutherland called "The Battle of the Exes."
Saturday, August 7, marks the 10th anniversary of that battle. And the memories recently shared in separate interviews by Smith and Sutherland, are mostly, but not entirely, fond ones.
"When (Dado) first approached me, to be honest with you I wasn't much for it," said Smith, in his 20th season as a Del Mar regular. "I was willing, if it was something that was going to be good for Del Mar. But we (Sutherland and Smith) were not getting along, after being together for a long time, and I didn't want to put her, or me, in an awkward situation.
"But the more I thought about it, it seemed like a good idea. And she was all for it, so it was OK with me."
Feelings between them were, around seven months after the breakup, quite raw.
"It was still a real battle, on the ground and on horses," Smith said.
"We weren't talking at the time," Sutherland remembered in a phone interview from her home in Florida.
But an agreement was reached, announcements were made well in advance, and it figured to be another fun and interesting match race at Del Mar. Like the four that had preceded it:
Seabiscuit-Ligarotti on August 12, 1938, "The Race that put Del Mar on the Map"with Seabiscuit prevailing by a nose as the jockeys hand-fought through the stretch.
The "Showdown at the Seashore" on August 21, 1994 between female sprint stars Soviet Problem and Mamselle Bebette easily won by Soviet Problem under Chris McCarron.
"The Mule Duel at Del Mar" on September 8, 2002 with long-eared superstar Black Ruby defeating arch-rival Taz.
And the "Battle of the Sexes" on September 7, 2003 in which Valenzuela got a horse named Chester's Choice up in the last jump to edge Krone.
The mood changed, especially for Sutherland, at a press conference two days before the race. Attendees there were asked to pick a side of an aisle, wedding protocol style, declaring their affiliation with Team Mike or Team Chantal.
Smith, purloining Ricky Bobby's iconic line "If you ain't first, you're last," from the movie "Talladega Nights," proposed a winner-take-all deal for the riders' shares of a $24,800 purse. Sutherland agreed, but with the condition that, if he won, Smith would take her to the restaurant of her choice.
Smith allowed that he'd have to check with his new girlfriend before he could agree to something like that.
"I don't think he meant it to hurt me, but I was really hurt," Sutherland said. A suitably stinging retort, with a suggestion that they trade the horses that they'd been assigned to ride, popped into Sutherland's head but was not verbalized.
"I regret not saying it," Sutherland said. "I wish I would have been bold enough to say it then, like I would be today."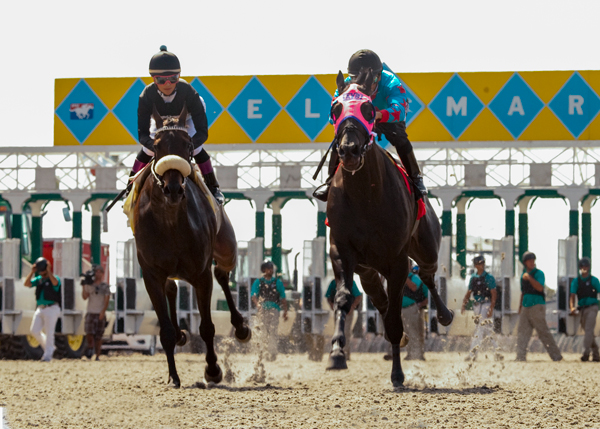 The equine participants were both 3-year-old geldings. Poker Face, trained by Peter Eurton, was the consensus better of the two and went off as the 3-5 favorite to Sutherland's even-money Parable.
Smith and Joker Face broke fastest from the gate, led by a length halfway through the mile race on the main track, led by four turning into the stretch and cruised home 2 ¼ lengths in front.
"I don't know if it came into play, but I had a whole lot of experience match racing and she really hadn't," Smith noted.
Smith, born in Roswell, NM, travelled throughout the southwest from the age of 11 until he was old enough to be a licensed professional, riding match races that, he said, got "pretty fierce" on occasion. "I'd ride 5-6-7 match races a day sometimes. Mostly quarter horses, but sometimes Thoroughbreds and not always straight, but 5 ½ furlongs around an oval."
Smith knew all the tricks, but didn't recall having to use any of them.
"My horse was a really nice colt and it turned out that he was much the best of the two that day.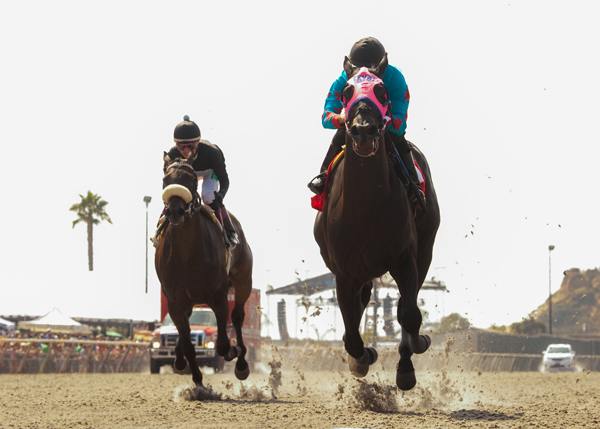 "It was a sigh of relief," Smith said of the victory feeling. "If I had of lost, I'd have had to come back to a room of 30-40 guys ready to de-pants me."
Del Mar gave away campaign-style buttons with pictures of the riders and "Team Mike" or "Team Chantal" on them. Fans, 19,712 on track, were allowed to choose and the "Team Chantal" supply dwindled considerably more than "Team Mike."
"I think I won the popularity contest," Sutherland said. "People still come up to me and say they have that button."
Ten years later, they're separated by the width of the continental United States, but still doing what they love and are very accomplished at doing.
Smith, who turns 56 on August 10, is still among the most-fit riders in any jockeys' room and still in demand for the biggest races. He's won more Breeders' Cup races than any other rider and will have an opportunity to add to the total when the event makes its second appearance at Del Mar on November 6-7.
Sutherland, 45, has settled in Florida and is riding the circuit there after stints headquartered in Canada and the Midwest.
Smith is married. Sutherland has been married, but is now single.
"It's 10 years later and I'm still plugging away and she's doing great," Smith said. "I couldn't be happier for her. She won four races a while ago and I texted her congratulations right away and she texted right back. She's a great rider and she's really good with horses.
"Time heals all wounds, it really does, and I've got no ill feelings toward her and I don't think she does towards me. She's still one of my best friends."
"If I see him in a restaurant or something, my heart still jumps a little," Sutherland admitted. "But I'm super happy here in Florida. I'm living in a really nice place, I go to the gym, I've got a personal trainer. I'm riding and winning some races."
Time, and racetrack management, will tell if match race promotions like the "Battle of the Exes" will ever be seen again at Del Mar or elsewhere. Smith and Sutherland are both of the opinion that such things shouldn't go the way of the dinosaur.
"I'd like see one that was built around the horses, rather than the people," Smith said.
And if there was ever a notion for a "Battle of the Exes II"?
"I'd be up for it. I'm always up for something fun," Smith said. "But I still wouldn't let her win."
"I'm only a plane ride away," Sutherland said.