Friday, July 23rd, 2021 ( 2 months ago )
10 Try Sunday's California Dreamin'; Superstition One to Beat in Daisycutter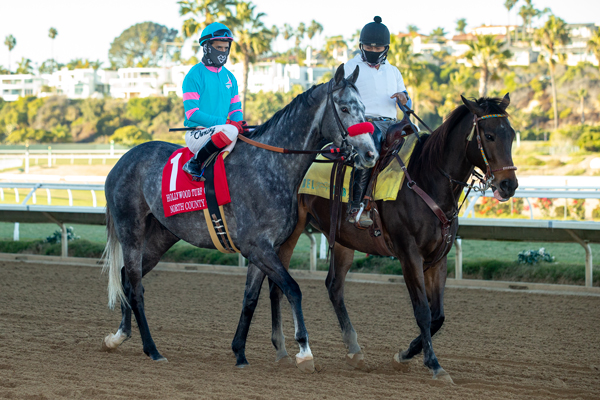 North County Guy © Benoit Photo
Del Mar will offer a pair of stakes Sunday – one a "major" event and the other an "overnight."
The "major" is the 16th edition of the California Dreamin' Stakes, a mile and one-sixteenth on the turf for California-bred 3-year-olds and up. It offers a purse of $150,000. The "overnight" is the $80,000 Daisycutter Handicap, a turf dash of five furlongs for older fillies and mares.
Topping the "Dreamin'" are a trio of older runners -- Messineo or Sands' North County Guy (a 6-year-old); West Point Thoroughbreds, Barker, et al's Galilean (a 5-year-old) and Flawless Racing, Flanagan or Jarvis' Brandothebartender (an 8-year-old).
Brandothebartender beat North County Guy by three quarters of a length when last they met on April 24 in the Crystal Water Stakes for California breds at Santa Anita.
North County Guy, a gray by The Pamplemousse, is a hard trier who has finished in the top three in 20 of his 30 starts, with 21 of them having come on turf. The gelding has put $441,247 in the bank for his efforts so far. Brandothebartender is by Tribal rule and has run in the first three spots in 30 of his 45 outings, 36 of them on the turf. He's banked $687,364.
Galilean, a full horse by Uncle Mo, won this race last year by half a length. The bay has six victories in 13 starts – two of those scores having come on the green -- and sports a $583,098 earnings statement. He'll be making his first start of the year Sunday.
Here's the complete field for the California Dreamin' with riders and weights: Nick Alexander's Desmond Doss (Abel Cedillo, 125); Matt Nelson's Wound Tight (Kent Desormeaux, 121); Don Valpredo's Unbridled Ethos (Ricky Gonzalez, 123); Harris Farms' Secret Club (Tyler Baze, 123); Dr. William and Jill Gray's Indian Peak (Flavien Prat, 121); Mr./Mrs. Larry Williams' Ward 'n Jerry (Trevor McCarthy, 123); Galilean (Joe Bravo, 121); Alfred Pais' Margot's Boy (Juan Hernandez, 121); Brandothebartender (Umberto Rispoli, 125), and North County Guy (Mario Gutierrez, 125).
The Daisycutter – a racing nickname for a good grass horse – has 12 horses placed in entry, though only 10 will wind up running.
Leading the crew is the 4-year-old Ghostzapper filly Superstition, who races for Perry and Ramon Bass and is trained by Hall of Famer Richard Mandella. The Kentucky-bred has finished in the top three in eight of her nine starts and shows an earnings ledger of $193,140.
Barber and Eclipse Thoroughbred Partners' Bulletproof One is extra quick and may take a fair bit of catching from the rail. The daughter of the fast horse Idiot Proof has won seven of 14 starts and $361,162 in purses.
Also to be considered in the sprint is the unbeaten 4-year-old Bruja Escarlata, a Street Boss 4-year-old who has won all three of her career outings. The Hronis' Racing's filly last went postward on March 27 at Santa Anita when she took an allowance sprint on the main track.
Here's the lineup for the Daisycutter with riders and weights: Bulletproof One (Gonzalez, 122); Altamira Racing Stable's or Rockingham Ranch's Querrelle (Hernandez, 119); Red Baron's Barn or Rancho Temescal's Gypsy Spirit (Edwin Maldonado, 120); Keith Abrahams' Constantia (Jose Valdivia, Jr., 122); Superstion (Prat, 121); David Bernsen, Jacobs or Lambert's Lenzi's Lucky Lady (Desormeaux, 119); Desert Sun Stable's Five Pics Please (Rispoli, 115); Jawl or Mathis' Never for Money (Giovanni Franco, 119); Red Barons Barn or Rancho Temescal's Rakassah (Jessica Pyfer, 119); Bruja Escarlata (Baze, 118), and the two also-eligibles Madden Racing, Kum or Tsai's Sadie Bluegrass (Bryan Penna, 118) and Sherman Racing, Akin or Harkins' Acting Out (Bravo, 118).
There will need to be a scratch from the main body of the race for either of the also-eligibles to run.
The Daisycutter goes as Race 7 on the 10-race program. The California Dreamin' is Race 9. First post for the afternoon is 2 p.m.