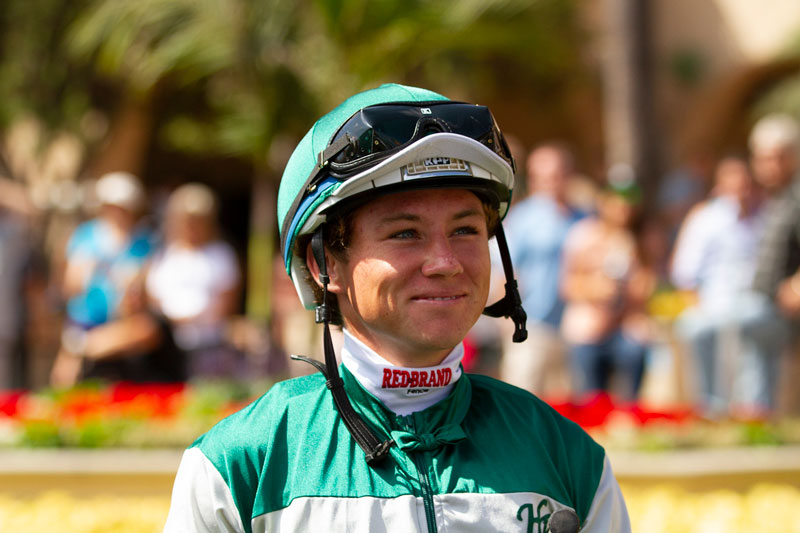 Drayden Van Dyke
Jockey Drayden Van Dyke wasn't gone from the Southern California racing circuit all that long. Only a few months, from late March to early July, when the 26-year-old from Louisville went back to his Kentucky roots, plying his trade at Churchill Downs, Keeneland and Turfway Park.
Statistically, it was not a triumphant return to his old Kentucky home. Wins came at roughly a 10 percent rate for just over 100 mounts with the highlight being a victory in the Jeff Ruby Steaks at Turfway aboard Like The King and a subsequent 12th-place finish on the same horse in his first Kentucky Derby opportunity.
"I did miss California a lot," Van Dyke admitted here Tuesday morning. "There's no place like it."
California riding exploits earned Van Dyke an Eclipse Award as the top apprentice of 2014. And he had career year here in 2018 when he won both the summer and fall Del Mar titles and, during the summer stand, won 11 stakes races – one third of his current seaside track total.
But, as Van Dyke pointed out in interviews shortly before leaving Kentucky, he has no regrets about the temporary self-transplant and expects it to have long term benefits.
"I enjoyed my experience in Kentucky, it was a good learning experience and now it's onwards and upwards," Van Dyke said.
"A change can be good for anybody."
Van Dyke was represented by Hall of Fame jockey Gary Stevens during part of his time in the Midwest. But with Stevens back at Saratoga, N.Y., working as an expert commentator on New York Racing Association and other broadcasts, Van Dyke's book is being handled by Brandon O'Bryan, a third-generation jockey agent. Brandon's grandfather George, a legend in the business who represented five Hall of Famers at one time or another in a lengthy career, passed away in February at the age of 100. Brandon's father, Craig, came out of semi-retirement last year to work with Juan Hernandez on a highly successful transition from the Northern to Southern California circuit.
"I can't wait to get to work with Brandon and see what we can do," Van Dyke said. "I'm excited to be back at Del Mar, excited that there's going to be fans around again. It's like old times. I'm in a really good state of mind and I want to build my business back up and get into a winning mode."