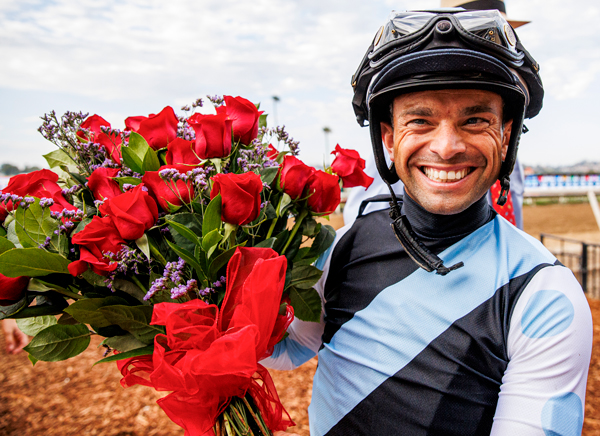 Umberto Rispoli © Alex Evers
Jockey Umberto Rispoli loves riding at Del Mar. And it shows. Since arriving at the seaside oval in the summer of 2020, he has never finished out of the top five in the jockey standings. Twice he's finish second, including a meet-long donnybrook with Flavien Prat in 2020 that Rispoli lost on the final day, 50-to-49. He was a distant runner-up to Juan Hernandez last summer.
Those close calls haven't dampened his enthusiasm and so far he leads the jockey standings at Del Mar's summer meet with seven victories going into Saturday's card. In fact, he looks back with pride on the riding dual with Prat in 2020.
"It was one of the finest battles they've ever seen here," Rispoli says. "I didn't expect that at that time because it was my first meet and I didn't know what was expected of me, but to finish the meet with 49 winners was pretty good."
At Santa Anita the winter/spring before arriving at Del Mar, Rispoli won 50 races so his career in the U.S got off to a rousing start. But then again the native of Italy came to America with some impressive credentials. He holds the record in Italy for most wins in a season and boasts several riding titles.
"The good target at Del Mar is to find a good horse that's going to the Breeders' Cup," he says, "and to have a solid meeting. Keep the bar for winning high. That's the key.
"I'm trying to win as many good races as I can," Rispoli continues. "If the title is an option, we can try to win the title but the priority is to find some nice 2-year-olds, win some big races and prepare for the road to the Breeders' Cup."
Rispoli has ridden in one Breeders' Cup during his brief career in the U.S. He finished second on Smooth Like Strait in the 2021 Breeders' Cup Turf at Del Mar.
In April of last year, business was waning up at Santa Anita so Rispoli decided to move his tack east. At first he was going to New York, but he called an audible and went to Kentucky instead. There he found even fewer opportunities. He had difficulty finding quality rides and after only a couple of months he decided to return to Southern California where his wife and two children had remained.
"It was tough for me when I came back from Kentucky," Rispoli says. "I lost a lot of business and you know, once you're gone you have to rebuild everything again. But Matt has been doing a great job and now we're riding for a lot of people."
Matt Nakatani is Rispoli's agent and over a year later Rispoli says business is good and he's setting his sights on closing the gap between him and his chief rival, Juan Hernandez, who he admires and respects as a fellow rider.
"Juan has done a terrific job to keep winning," Rispoli says. "But I would like to give him a challenge. Otherwise it's going to be boring. I think I can be a tough customer for him."
As for the rest of the jockey colony, Rispoli, who has ridden everywhere, from France to the Czech Republic, from Japan to South Africa, says the Del Mar jockey colony is on the improve.
"The colony is getting tough and stronger," Rispoli says. "At the end of the day you need to ride a good horse, that's what you need. You can be a good rider but if they put you on a 100-1 horse or 50-1 at the end of the day you're not going to win any races.
"I think the competition is open with everybody," he continues. "We just need to be focused. It's a short meet, intense, and the less mistakes you make the more races you can win."