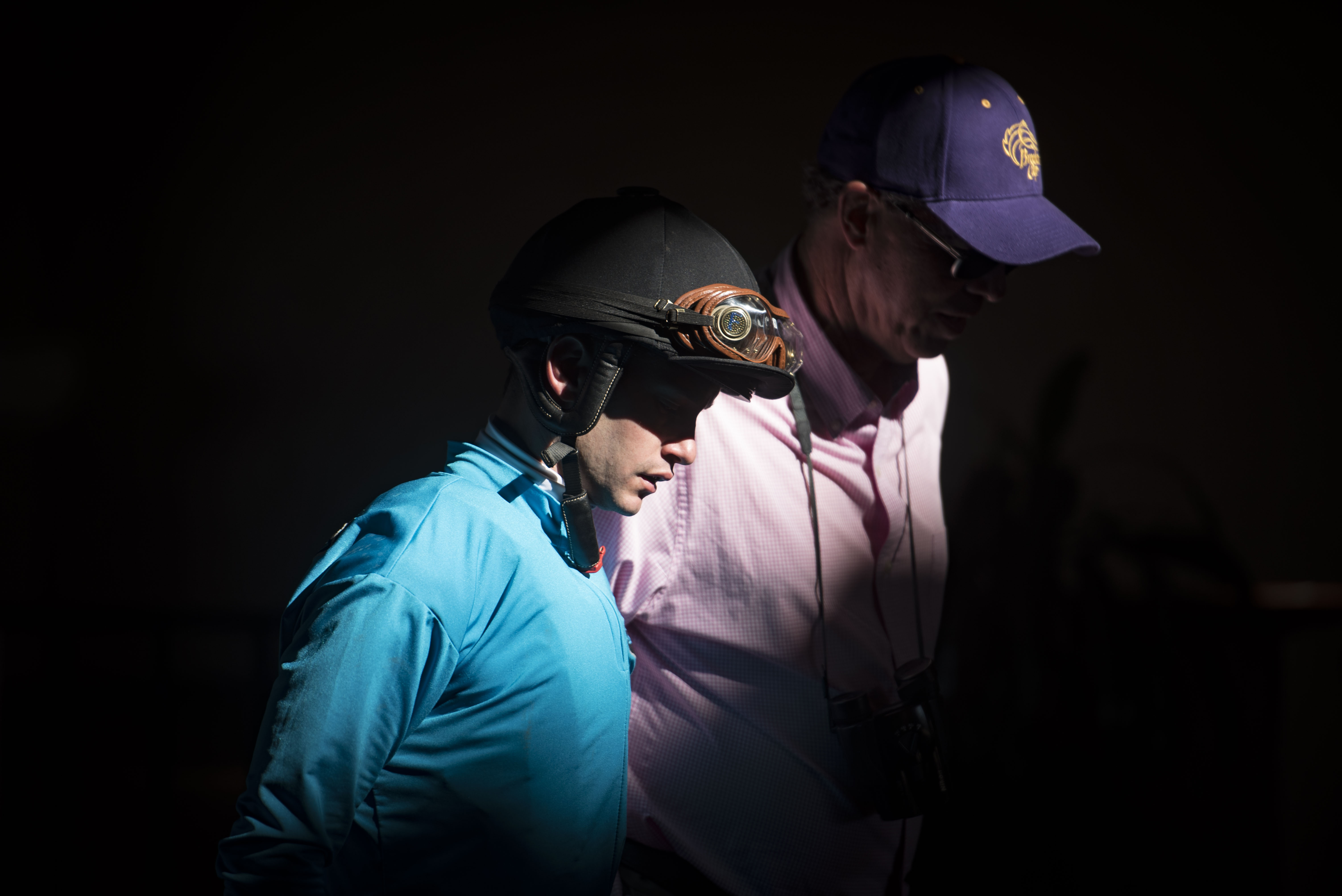 Flavien Prat & Agent Derek Lawson © Del Mar Thoroughbred Club
On deadline day this past Tuesday, jockey Flavien Prat notified Churchill Downs officials that he would be staying at Del Mar rather than heading to Louisville and attempting to win the Kentucky Derby for the second year in a row.
COVID-19 protocols necessitated that Churchill Downs require jockeys outside Kentucky to undergo testing on Saturday wherever they are and commit to being in Louisville no later than 11 a.m. on August 31 for additional quarantining and testing before the Kentucky Oaks and Derby on September 4-5.
"Flavien told me to figure out the pros and cons of staying and going and there were too many pros for staying," Derek Lawson, Prat's agent, said. "He'd have to get tested here (next Monday), fly all night on the 30th and get tested again once he got there.
"We wish all the jockeys who do go there good luck and a safe trip in the Derby. But we're going to hang here, try to win the (riding) title and shoot for the stakes record and wait until next year for another Kentucky Derby."
Seeking to defend his summer riding title, and make it three in the last four years, Prat enters the weekend trailing Umberto Rispoli by one victory, 28-27. Prat has eight stakes victories and, by staying at Del Mar, positions himself to ride most, if not all, of the 16 remaining in the last 11 days of the meeting.
The record for stakes victories in a season is 13, set by Rafael Bejarano in 2012.
Rispoli, riding at Del Mar for the first time, has been a force since the opening day of the meeting and lately has established himself as dominant on races over the Jimmy Durante Turf Course.
Of his 28 victories 21, including four stakes, have been counted over the Jimmy Durante Turf Course. The native of Italy made his affinity for grass racing plain to see on the second weekend of the meeting (a resumption after postponement) when he won seven of 14 turf races over a three-day period.