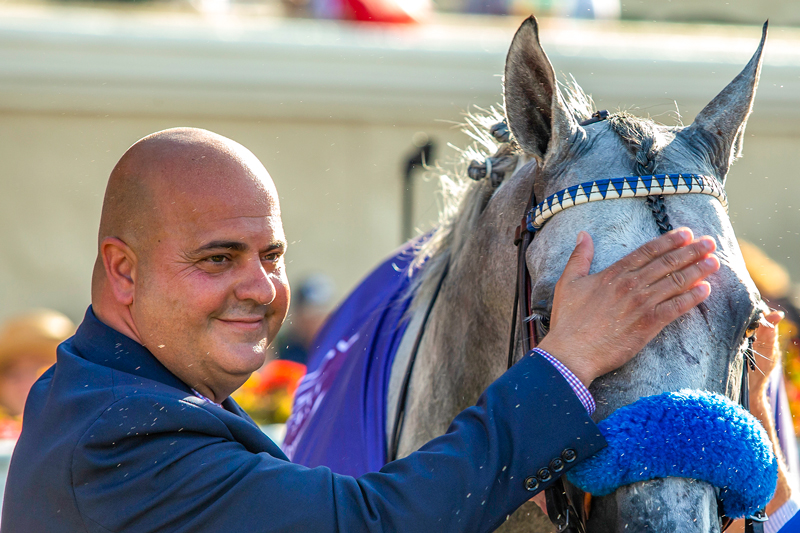 Papaprodromou and American Theorem © Benoit Photo
Trainer George Papaprodromou is having a meet to remember this summer at Del Mar. The native of Cyprus, an island country in the Mediterranean Sea, currently sits fourth in the trainers standings with eight victories, two of which are graded stakes wins.
"It's just my horses right now are doing well," Papaprodromou said. "They're on top of their form and pretty much ready to go."
It could also be the result of years of hard work, early wake-up calls and plenty of sacrifice. A lifestyle Papaprodromou knows all too well. He's been involved in horse racing since he was a kid.
"My whole family was into horse racing," Papaprodromou says. "My father, my grandpa. It was a family thing; I just grew up with it."
Papaprodromou has a string of 55 horses at Del Mar this summer but training was not his objective when he first came to the United States back in 1996.
"I was a jockey back there (in Cyprus) when I was a teen," Papaprodromou says. "I had just finished the Army, it's mandatory you have to go in the Army when you're 18. So I finished the Army and my dad was coming to the states to look at a couple of horses to buy, sires to take back home. I ended up coming with him and I decided to stay."
Papaprodromou says it was a struggle and he had to call a few audibles to stay afloat.
"I tried to ride but I was too big," he said. "I had the equipment so I galloped horses for some trainers here…(Bob) Baffert and (David) Hofmans."
Finally, he came up with a plan that would kick start his training career.
"I talked my dad into coming over here to train and then one day I would take over," Papaprodromou said. "We met with a few owners, got a couple horses and it went from there."
His father, Andreas Papaprodromou, raced horses on the Southern California circuit from 1997 to 2003. Then it was time for George to take over. There were some lean years for Papaprodromou. He won just nine races in his first four years. But he kept at it and in 2014 struck gold when he claimed a son of Bernardini for $50,000. Imperative promptly won the 2014 G2 Charles Town Classic, giving Papaprodromou his first graded stakes victory. The conditioner would go on to enjoy his best year ever in terms of earnings, until this year.
Papaprodromou surpassed his personal all-time earnings mark with his victory in the G3 La Jolla with Cabo Spirit last Sunday at Del Mar. He now has compiled $1,990,891 in purses in 2022 with at least two horses in the barn that have the potential to add significantly to the sum at the current Del Mar meet. With his win in the G1 Bing Crosby, Kretz Racing's American Theorem earned an all-expenses-paid trip to the Breeders' Cup Sprint at Keeneland in November. In the meantime the son of American Pharoah is being pointed to the G2 Pat O'Brien at Del Mar August 27. Kretz Racing's Cabo Spirit will be pointed to the Caesars Sportsbook Del Mar Derby September 3.