Monday, September 4th, 2017 ( 3 years ago )
On Labor Day, Carolyn Conley's Career-Change Story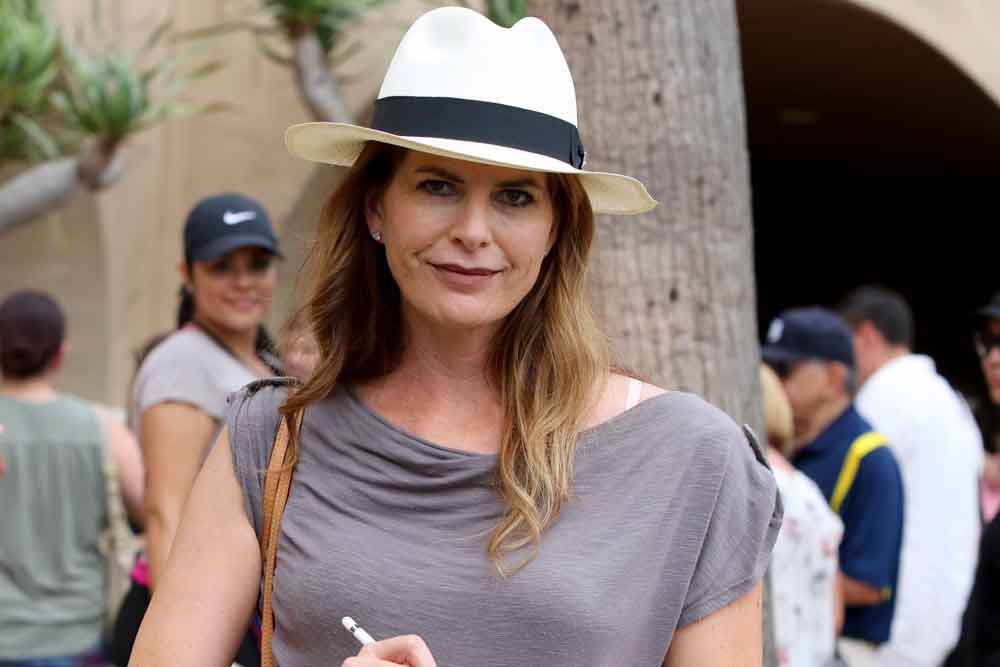 Racing fans know the face and voice of Carolyn Conley from her nearly two decades as a commentator and analyst.
As part of Santa Anita's Eclipse Award-winning broadcast team from 1996-2000. And as an on-air personality and Director of Brand Management for HRTV from 2006 until her resignation to pursue other interests in 2014.
Three years later, Conley, 47, has left the on-camera stuff behind and could be found mornings throughout the summer meeting in the decidedly unglamorous Del Mar stable area booking mounts as the agent for 21-year-old apprentice Laura "Midge" Werner.
In her first full meeting as an agent, Conley managed to book 68 mounts for the young Englishwoman and celebrate three wins, tied for 20th in one of the deepest and most competitive jockey colonies in America.
How did this career change happen? It started last April.
"I was really sick for a few years after I left my television career," Conley said. "When I became well again, I was looking for the next chapter, hanging around Clockers' Corner at Santa Anita. My friend Derek Lawson (agent for Flavien Prat) saw Midge and said 'I ought to get somebody to hustle this girl's book. She can really ride.'
"I saw Midge work a horse and I said, 'Derek, what about me?' He said, 'You'd be perfect,' and it has been full speed ahead ever since."
Conley grew up in Spokane, Washington, one of six children, and spent summers in high school working as a groom at the local racetrack, Playfair. She went on to gallop horses at Longacres and then to Southern California where she galloped for trainers Charlie Whittingham, Wayne Lukas, Richard Mandella and Bill Spawr.
She worked other jobs, among them steward's aid and in the racing office before employment as a production assistant for ESPN at Del Mar led to her television years.
While still with HRTV she was working on a documentary in Central Asia when a toxin somehow invaded her body and rendered her extremely ill for about a year.
Shortly after recovering from that, a thoracic tumor, which may have been an offshoot of the previous illness, was discovered. "I had massive thoracic surgery but I'm well again now,"
She's prowling stable areas early mornings with Werner, and newly-acquired veteran Stewart Elliott, negotiating mounts and seeing that commitments are met. Competing against but also receiving advice, and help from fellow agents.
"That's what I love about this business.," Conley said. "In all my years around it, I've continued to perceive it as a big community and these agents have been great to me.
"The veteran agents like Scotty McClellan and Vince DeGregory, Brian Beach, they've all helped me learn the ropes, and I really appreciate that. I feel very blessed to learn from guys like DeGregory, who has had jocks like (Angel) Cordero and (Laffit) Pincay. I feel like an apprentice myself."
Working behind the scenes instead of in front of the camera is fine with her.
"I do miss (TV) but I have to say that this is even more fun," Conley said. "Now I'm not watching the game and commenting on it, I'm playing it. I'm part of it.
"And I feel privileged to work with an athlete like Midge. She's not only physically capable and perfectly made for her job as a jockey, but she's also very sharp mentally. She makes good decisions, trusts her judgement and is very disciplined. So, with all those qualities combined, and being a great person, it's so much fun to be working with and for her.
"Cultivating talent is what these trainers do with these horses, right? It's what gets us up in the morning. I consider it to be a privilege to be a part of that process and I really enjoy using my connections in the industry to help Midge get her career started, because she's got the right stuff. She has the magic."