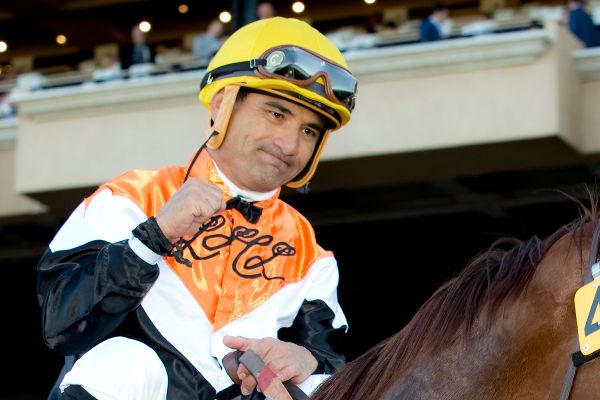 Corey Nakatani
Jockey Corey Nakatani officially announced his retirement Saturday afternoon via his son and agent Matt's twitter account, ending a career that includes 3,909 total wins and more than $234 million in earnings (top 12 all-time).
Nakatani last rode in August, 2018 at Del Mar. As result of a spill, he incurred a fractured back and later underwent surgery to fuse three vertebra in his neck. Initially intent on returning, Nakatani recently decided, after nearly 15 months of rehabilitation, that the risk of further injury was too great and retirement was the better option.
"The time has come," Nakatani said. "Although I never imagined this was how my career would end, I am very proud of my accomplishments and know that I competed at the very highest of levels, which gives me a sense of satisfaction. This game gave a young kid from Covina a purpose in life and I will forever be grateful for the opportunities it has given me. Without these amazing horses, I never would have considered my family and myself so blessed."
Nakatani, 49, won 10 Breeders' Cup World Championship races, most recently in 2012 aboard Tapizar in the Dirt Mile. In a career spanning almost 30 years, from 1989 to 2018, Nakatani recorded 120 Grade 1 wins, 341 Graded Stakes victories, and 10 Southern California Riding Titles. He was, at various points in his career, the go-to rider for several Hall of Fame trainers, including Bobby Frankel, Steve Asmussen, D. Wayne Lukas, Bob Baffert, Richard Mandella, Jerry Hollendorfer and Nick Zito.
Along with Tapizar, many more significant mounts and wins came aboard Lava Man, Sandpit, My Miss Aurelia, Sarafan, Thor's Echo, Aragorn, Silic, Sweet Catomine, Lit de Justice, Serena's Song, Lite Light, General Challenge, Sharp Cat, Reraise, Elmhurst, Jackson Bend, Regally Ready, Bolt d'Oro, and Shared Belief to name a few.
Nakatani retires with 108 stakes victories at Del Mar, second only to Chris McCarron's 134.
"My first riding title was at Del Mar (1994) and I have many memories of the support I received and the things I achieved there," Nakatani said by phone from the Los Angeles area Sunday morning. "Mr. (CEO Joe) Harper was amazing for the riders …I was fortunate to be, as a young kid, in the room with great, Hall of Fame riders, that I could learn from and being around them made me better.
"Del Mar will always have a special place in my heart. It was like a second home to me."
Sixteen of Nakatani's Del Mar stakes wins were in Grade I events. The first was aboard Approach The Bench in the 1994 Eddie Read Handicap, the ultimate was on Lava Man in the 2006 Pacific Classic and the last on Bolt d'Oro in the 2017 Del Mar Futurity.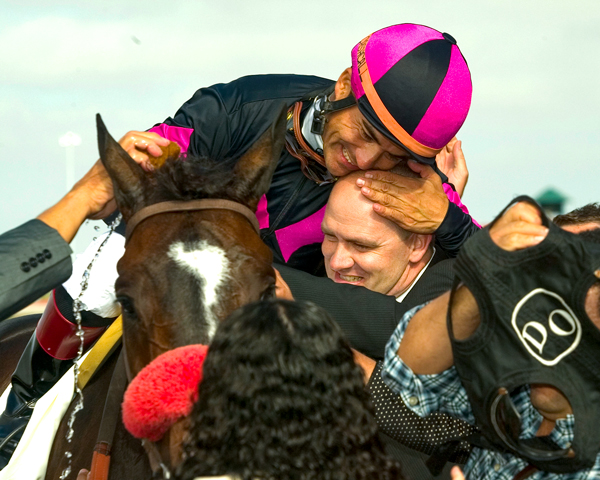 Nakatani aboard Lava Man for the 2006 Pacific Classic © Benoit Photo
"Lava Man is one of my favorite horses I ever rode," Nakatani said. "I was fortunate enough to get on him and we were a match made in heaven."
Nakatani was the regular rider on Lava Man when the former claimer won three straight Hollywood Gold Cups, two straight Santa Anita Handicaps and then the Pacific Classic which made him the first horse to win the three signature handicaps in Southern California in the same year.
"I want to extend profound thanks to the many I worked with over the years…all of the owners, trainers, and so many other people that all helped me along in my tremendous career," Nakatani said. " I also want to thank the fans. My fans were truly the best and I continue to hear and receive support, even now. I also want to thank my family."
Nakatani is a father of four, all of them involved in horse-related businesses.
A Winner's Circle ceremony will take place next Saturday, November 30 at Del Mar.