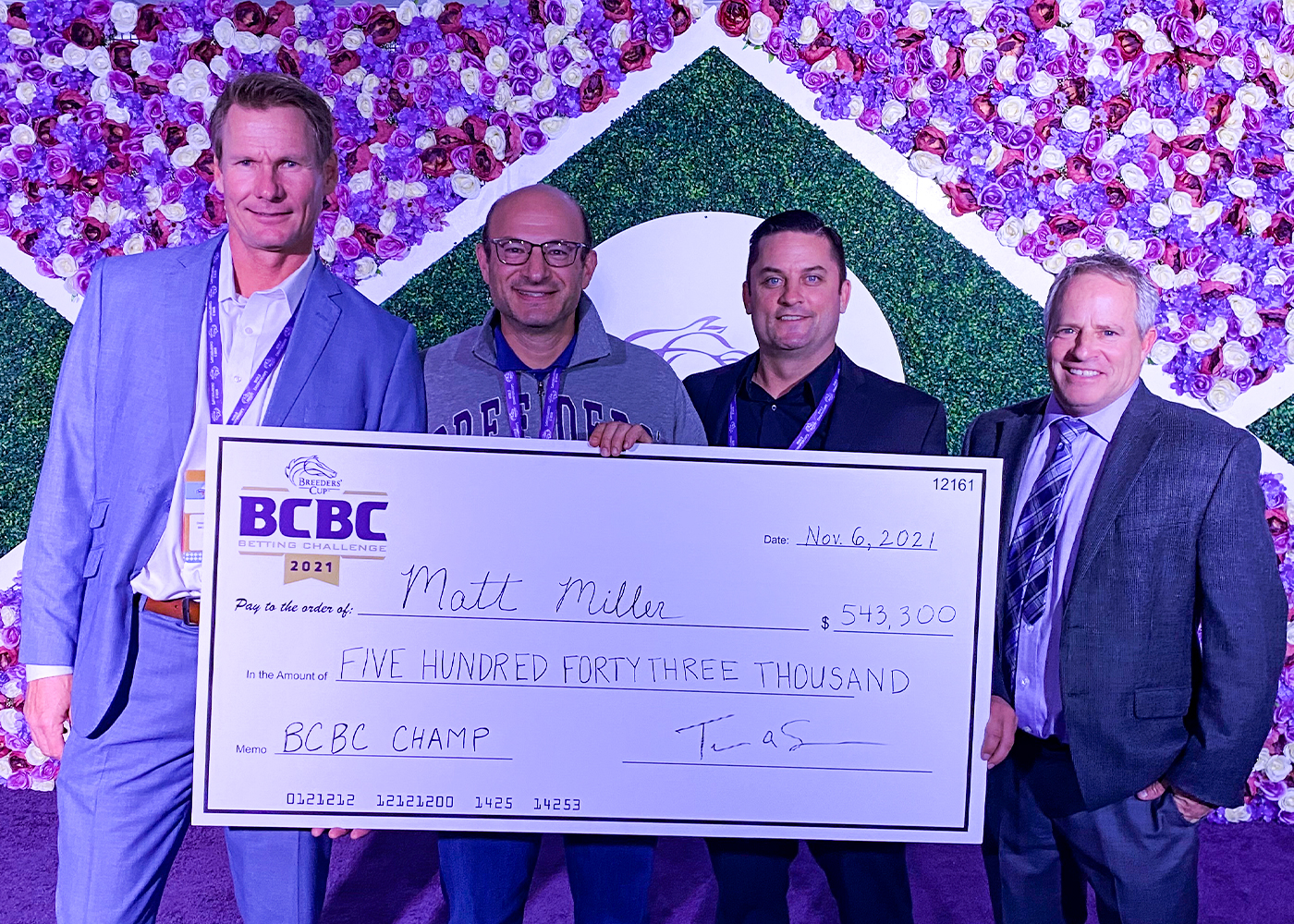 Left to right: Chris Bahr, Del Mar Director of Events and Promotions; Matt Miller, 2021 Breeders' Cup Betting Challenge Champion; John Reynolds, Breeders' Cup Betting Challenge Tournament Coordinator, and Tim Schram, Breeders' Cup Betting Challenge Tournament Director.
'All-In' Wager on Knicks Go in Longines Breeders' Cup Classic Lifts Chicago Attorney to Top Prize in Racing's Biggest Live-Money Tournament
Nailing a $33,000 win wager on Knicks Go in the $6 million Longines Breeders' Cup Classic (G1), Matt Miller, an attorney for a health care consulting firm from Chicago, won last Saturday's 2021 Breeders' Cup Betting Challenge (BCBC).
The 13th annual Breeders' Cup Betting Challenge, Thoroughbred racing's biggest live-money tournament, held Nov. 5-6, featured a record 534 of the nation's best horseplayers wagering on the 38th Breeders' Cup World Championships two-day program of 22 races at Del Mar racetrack in Del Mar, Calif.
The tournament players generated an all-time BCBC-record wagering handle of $6,920,092. Of that total, $3,524,136 was bet at Del Mar, which was 18.5% of the $19,032,307 on-track handle over the two days.
Miller, 50, finished with a total score of 142,800 points. Combined with his first-place prize of $400,500, Miller amassed a grand total of $543,300. Jonathon Kinchen, NYRA/Fox Sports television handicapper, finished second in the BCBC for the second consecutive year. Kinchen earned 95,974 points, and adding his $267,000 runner-up prize, garnered total winnings of $362,974. Dennis Montoro of New York, finished third with 91,245 points and $146,850 in prize money, for total winnings of $238,095.
In the 2021 BCBC, each player was required to fund a $2,500 buy-in and a $7,500 betting bankroll ($10,000 total). All buy-in monies were applied to the prize pool, making the total prize pool $1,335,000. Players made real wagers (win, place, show, exacta, trifecta, and daily double) with their $7,500 bankroll and kept all monies earned from their wagering.
In addition to those playing at Del Mar, players competed from satellite locations Gulfstream Park in Hallandale Beach, Fla., Monmouth Park in Oceanport, N.J., and Santa Anita Park in Arcadia, Calif. Players also participated online at TVG.com (the official wagering partner of Breeders' Cup), Xpressbet.com, NYRA Bets, and for the first time, from HPI.com in Canada.
Miller, who was introduced to the racing game from his maternal grandfather at Arlington Park, was taking his fifth consecutive shot at the BCBC, and was looking to improve upon his 13th-place finish in the 2017 contest at Del Mar. He focused his wagering strategy on daily double wagers and single win bets.
On Friday, Miller built his bankroll to approximately $24,000 by hitting a $600 daily double combining Breeders' Cup Juvenile Fillies Turf (G1) winner Pizza Bianca with TVG Breeders' Cup Juvenile presented by Thoroughbred Aftercare Alliance (G1) winner Corniche.
On Saturday, Miller increased his earnings to approximately $40,000 with a $24,000 win wager on 3-5 Life Is Good, his "lock of the day" in the Big Ass Fans Breeders' Cup Dirt Mile (G1). After a few losses, Miller sat in fourth place with a balance of $33,000 going into the Longines Breeders' Cup Classic.
"From the very start of the tournament, I was absolutely set on betting Knicks Go, figuring I could get 2.5 to 3-1 odds," said Miller, who got a little better than he figured as Knicks Go went off at 3.2-1. Knicks Go won the Classic going wire-to-wire, and Miller turned his $33,000 all-in wager into $142,800, and the 2021 BCBC Championship.
"I get a hard time from my friends and family for looking at everything in life in terms of risk and reward and then strategy," Miller admitted. "But that's what this tournament is all about. Having the sense (and to some degree luck) to know when the time to strike is right, the conviction to bet when I have a strong opinion, and the patience required to remain still when I don't have a strong opinion. The feeling of winning the event I personally hold in greater regard than any other because of what it tests is beyond amazing."
A list of the top 15 BCBC finishers appears below. Complete tournament results are available here.
2021 BCBC Results
Place
Name
Final Bankroll
Prize
Total
1
Matt Miller
$142,800
$400,500
$543,300
2
Jonathan Kinchen 2 (NHC)
$95,974
$267,000
$362,974
3
Dennis Montoro 2
$91,245
$146,850
$238,095
4
Christy Moore 2
$83,900
$100,125
$184,025
5
Chris Grutsch
$74,550
$80,100
$154,650
6
Bill Chenvert
$61,247
$66,750
$127,997
7
Charles Thompson
$51,510
$53,400
$104,910
8
Chris Podratz (NHC)
$40,022
$46,725
$86,747
9
Braden Selvig
$38,716
$40,050
$78,766
10
Edward Diamond
$37,405
$33,375
$70,780
11
Eric Kurzhal
$33,140
$26,700
$59,840
12
Vaughn Blair
$30,232
$23,363
$53,595
13
Ryan Flanders 2 (NHC)
$29,780
$20,025
$49,805
14
Karl Barth
$27,920
$16,688
$44,608
15
Joseph Costello (NHC)
$27,360
$13,350
$40,710