By Jim Charvat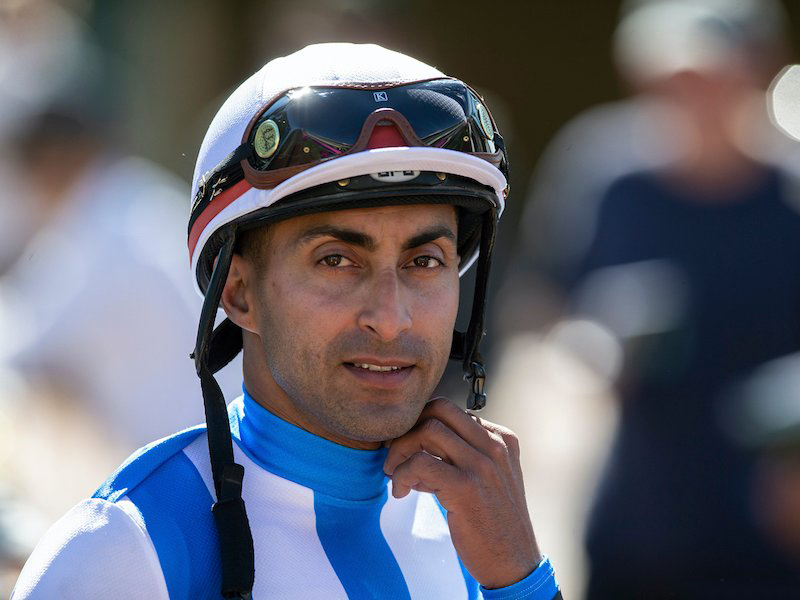 Edwin Maldonado
Chances are these days if a horse bursts out of the gate and seizes the lead early, jockey Edwin Maldonado is riding him. The veteran rider has built a reputation of being a terrific gate rider and his talents have been on display all summer.
Maldonado is about to complete his 13th year at Del Mar and he has once again put together a nice meet. Going into the final weekend Maldonado has won 19 races and compiled $1,304,910 in earnings. His biggest win of the meet came on Pacific Classic Day when he rode Ceiling Crusher to a six-length victory in the G3 Torrey Pines.
Maldonado, who turns 41 in December, has already exceeded last summer's totals in wins, mounts and earnings at Del Mar. He's tied for fifth in wins this summer, ranks fifth in mounts with 148 and sixth in earnings. He attributes his success to being confident in himself.
"I think it's within you," Maldonado says. "It's inside you. Believe in yourself, be confident. You create your own destiny, I believe. So for me I've been paying attention more, working harder, being more focused on my job."
Maldonado finished sixth in the Del Mar jockey standings last fall and ninth in the summer of 2022. He also posted Top Ten finishes at Santa Anita's two meets earlier this year. He came into this meet with that self-confidence buoyed by an increased number of calls from various trainers.
"This meet was great because I ended up riding for everybody," Maldonado says. "That's what it's all about. If you can ride two or three for everybody, you're set. I think that was the key to this year, to try to diversify."
He calls the victory aboard Ceiling Crusher the highlight of his summer as well as his victory on Bus Buzz in the Real Good Deal Stakes last month. Both were wire-to-wire. Maldonado says he learned how to get a horse to accelerate quickly out of the gate from Patrick Valenzuela and his approach is just the opposite of what you might think it would take to get a horse on the lead. No niggling, no chirping, no hustling.
"I just try to stay quiet," Maldonado says. "Let the horse do the running. The less you're in the way the better. If you tend to move around too much they tend to pay attention to you instead of focusing down the middle of the racetrack."
Maldonado has become a fixture in the Del Mar jockey colony and plans to be back this fall.
"It's more relaxed," Maldonado says about Del Mar. "The people here are so kind. It's just like a mini-vacation for me, like a getaway."