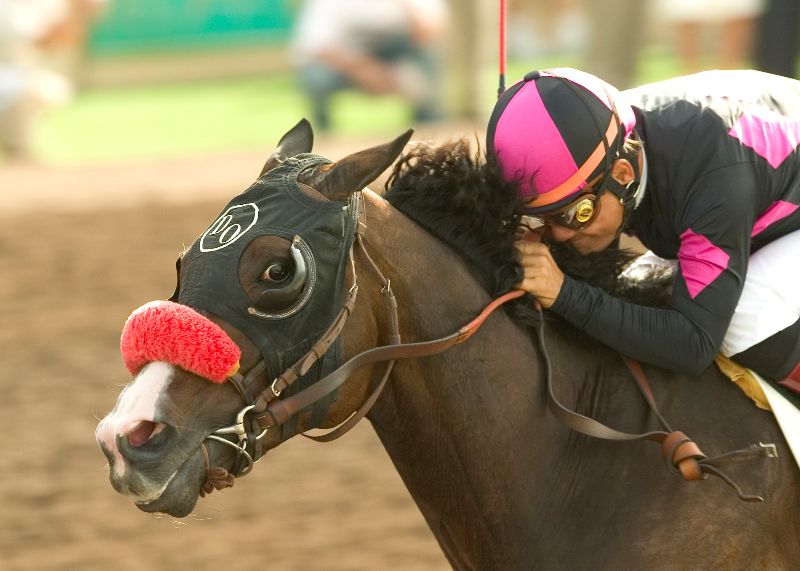 Lava Man Winning 2006 Pacific Classic
Lava Man, the rags to riches gelding who ran his way into the Hall of Fame and in "retirement" has become a mentor to young horses as a stable pony extraordinaire, has found yet another role to fill in this, his 20th year – he'll lead this Saturday's parade to the post for the 31st TVG Pacific Classic.
The old pro who went skyward from the claiming ranks to a Grade I headliner during his five-year racing career won 17 times and earned $5,268,706. Among his victories was a sweep in 2006 of the "California Triple" of the Santa Anita Handicap, the Hollywood Gold Cup and the Pacific Classic.
Though sent to pasture following his running days, he showed his people that he wanted to be back at the track and trainer Doug O'Neill welcomed his charge back to his barn where he happily goes about his business of escorting racehorses trackside and has earned the nickname "Coach."
Recently, Lava Man went on the road with O'Neill's Triple Crown aspirant Hot Rod Charlie, keeping him company during his runs in the Kentucky Derby and the Belmont Stakes.
Lava Man will follow in the footsteps of a Del Mar icon named Star Fiddle. The speedster won the first Del Mar Futurity in 1948 and then in 1958 was brought out of retirement to lead the parade to the post for that same race, a role he continued to 1972.
The TVG Pacific Classic will go as Race 10 on Saturday's 11-race program with a post time of approximately 6:30 p.m.