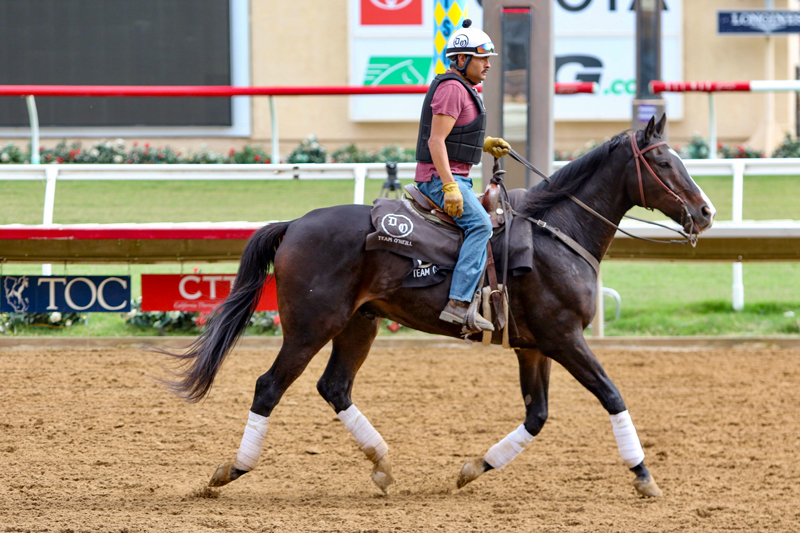 A fixture at Del Mar for the past two decades is missing this fall. Lava Man has been retired for a second time, leaving behind an illustrious career and a giant sentimental void in the Doug O'Neill barn.
He was arguably the most popular 'pony' in horse racing, outside of big Harley at Churchill Downs. The 21-year old Lava Man posted an impressive resume during a racing career that spanned seven years, followed by a career as the lead pony in the O'Neill stable, a position he held until last Saturday when, after leading Hot Rod Charlie to the gate in the Breeders' Cup Classic, he was officially retired. Tuesday he arrived at Old Friends Farm in Kentucky where he will live out his days.
Lava Man is no stranger to Del Mar patrons, having raced here from 2005 to 2008, winning the Pacific Classic in 2006. That year the Cal-bred son of Slew City Slew won seven straight races, five of them graded stakes and four of those Grade 1's. He also became the first horse to win California's three major races in the handicap division in the same calendar year: the Hollywood Gold Cup, the Pacific Classic and the Goodwood Handicap, now called the Awesome Again.
By the time Lava Man retired, he had amassed over $5.2 million in earnings and is arguably the best Cal-bred that ever raced. This from a horse that once ran in a $12,000 maiden-claiming race at the San Joaquin County Fair. O'Neill claimed him for owner Steve Kenly for $50,000, widely considered one of the best claims ever.
Lava Man would race for O'Neill for a little more than five years, from late 2004 through 2009, though he only raced once in that final year after which he was retired in January of 2010. Now, 12 years later, he's retired from a second successful career.
"For the last six months we've been talking," O'Neill says. "We being Sabas Rivera, one of my assistants, who has been instrumental in his transformation from a great racehorse to a great pony.
"He's 21 now," O'Neill continues. "He still has a lot of life, mentally strong as ever. We just thought it was time to let him enjoy his last few years. We thought it would be something if he could take Hot Rod Charlie to the post for the Breeders' Cup Classic and 'drop the mic', if you will."
Next to the Cody's Wish story, Lava Man was one of the more sentimental moments of this year's Breeders' Cup, especially for his legion of fans.
"I'm just so grateful it all worked out," O'Neill adds. "I miss the big guy but I'm just so happy he's at a great place."
Lava Man was a pony in O'Neill's barn for 12 years and the process to get him there took a lot of work.
"He had to be retired from racing due to some physical issues," O'Neill remembers. "He had just turned 9-years-old and he just didn't appear happy to be retired at that point, so we decided to bring him back as a pony. He turned out to be the best pony any barn could ever ask for.
"It's a lot of patience," O'Neill says of the process of transforming a racehorse to a pony. "There's the big western saddle, a different bridle, just a different mindset. They're on a different diet. They're not on the high grain diet like the racehorses.
"Initially, he'd be out there chaperoning another horse and a worker would go by and he'd want to jump into it," the trainer said. "So we had some mindset issues we had to tweak but with Saba's patience and horsemanship he converted him into arguably one of the best ponies around."
Not every racehorse is a candidate for being a pony in a racing stable.
"It takes a toughness and confidence," O'Neill says. "You couldn't have a sensitive minded racehorse do that job.
"As brilliant a racehorse as he was he was equally a brilliant pony and companion," O'Neill finished. "He was everybody's best friend around the barn. He's going to be very missed but never forgotten."