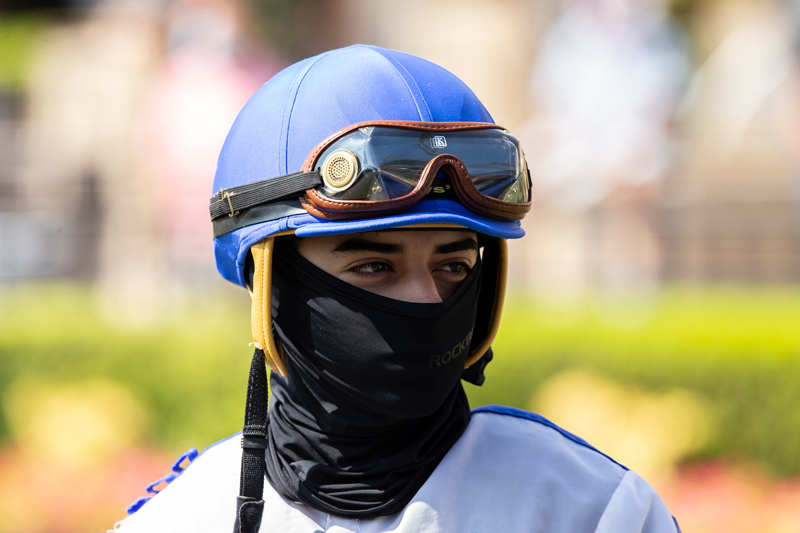 J.C. Diaz © Benoit Photo
Jockey Jean (J.C.) Diaz, Jr. has tested positive for the coronavirus but is asymptomatic and began self isolation at his Los Angeles area apartment Friday.
As part of Del Mar's protocols and procedures for dealing with the pandemic, all jockeys' room riders and personnel were tested in San Diego this week on either Wednesday or Thursday at Scripps Hospital in La Jolla. Before he came on site at Del Mar, Diaz was notified Friday morning that his test of a day earlier had been positive for the virus.
If Diaz remains asymptomatic – that is showing no signs of the virus – by the end of the isolation period, he could return to riding on Friday, November 13. Diaz, a 20-year-old native of San Juan, Puerto Rico, will miss the first two weekends of the Bing Crosby meeting.
"I take my hat off to Del Mar and all the people involved," said Tony Matos, Diaz's agent. Matos has been booking mounts for riders since 1966 and lists Hall of Famers Angel Cordero and Laffit Pincay, Jr. among his former clients.
"Just like at Santa Anita, Del Mar is doing a great job with testing and procedures," Matos said. "We all want to follow the rules and do whatever we can to keep everyone as safe as possible."