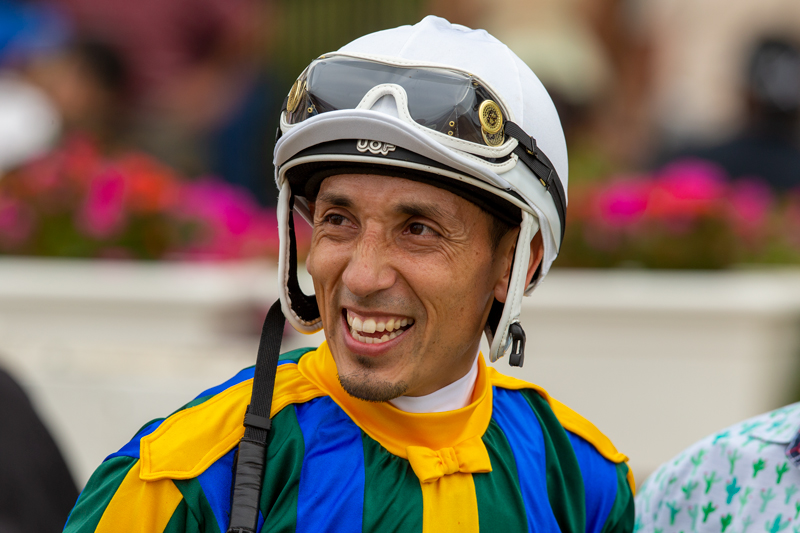 Hector Berrios © Benoit Photo
Several riders are giving Del Mar a shot for the first time this summer. It's a daunting task for any rider to move his tack to a new track. It takes starting over, getting out in the mornings, pressing the flesh and getting your name out among the trainers.
Hector Berrios is doing just that, walking the backside with jockey agent Michael Burns, introducing himself to as many trainers as will talk to him and listen to his pitch. This is the first time riding fulltime at Del Mar for the 35-year old jockey and so far his hard work has paid off with 16 mounts through Saturday. He in turn has rewarded his backers with five wins and a second. Two of those victories were stakes races, Saturday's G1 Clement Hirsch aboard Blue Stripe and opening weekend's $100,000 Wickerr Stakes on Irideo.
"It's beautiful here," Berrio says. "I would like to stay for the remaining of the summer. I've gotten to know a lot of people and have been asked by several trainers in the mornings to breeze horses. It keeps me upbeat and very happy."
Berrios brings some impressive credentials with him. In his home country of Chile, he won eight Triple Crown races and four Derbys, compiling over 2,500 career wins in his native land. On one day in 2006, Berrios won with 9-out-of-10 mounts.
He first came to the U.S. in 2011.
"I came to Southern California to try it out," Berrios says. "I then returned to Chile for several years and returned four years ago to Florida."
He had some success riding at Gulfstream Park. In 2020 he compiled over $2.5 million in earnings. Then the opportunity presented itself to ride at Del Mar and he jumped at it.
"I'm here because trainer Amador Sanchez was bringing a stable of horses here," Berrios says. "We took advantage to come and hopefully stay here a long time."
He's also riding for Marcello Polanco, who trains Irideo and Blue Stripe, a couple of Argentine-breds. Polanco is also from Chile and has hung out at the racetracks there. He thinks Berrios is something special.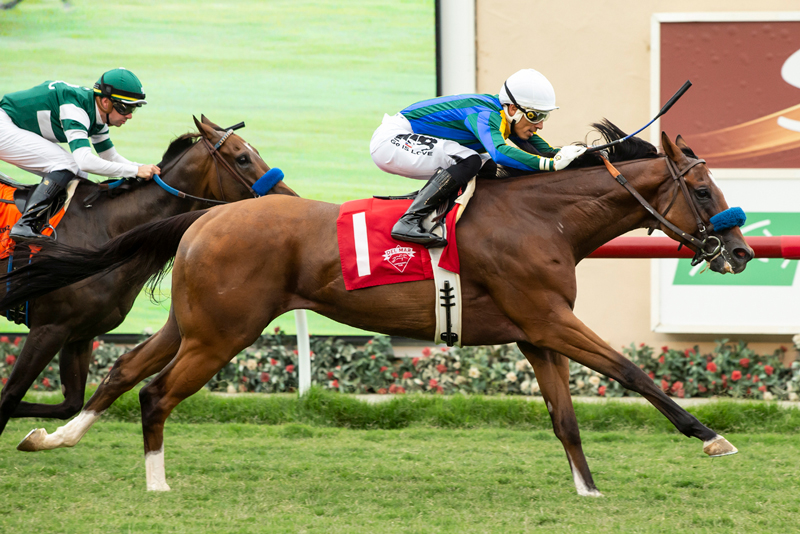 Irideo Winning Wickerr © Bneoit Photo
"He's got good hands and good clock in his head," Polanco says. "I didn't give much instruction (in the Wickerr) just told him we like to see the horse in the middle of the pack for the first part of the race. He stayed on the rail and the way he made a move is unbelievable."
Berrios joins a jockey colony with such veterans as Mike Smith and Victor Espinoza and a young group of rising stars in Juan Hernandez and Florent Geroux. But he says he's not intimidated.
"Everyplace is the same," Berrios says. "There are good jockeys but here I feel that trainers respect more the commitments in the mounts."
Berrios has been riding since he was 17 and while he set his sites on the U.S., he says that's not true of all of his fellow Chilean jockeys.
"A majority of jockeys in Chile want to race in Sweden," Berrios says. "Many jockeys don't attempt to come here because they have to start from ground zero. I was number one in Chile and came here and had to start from scratch."
Judging by Saturday's Grade 1 win, Berrios appears well on his way.