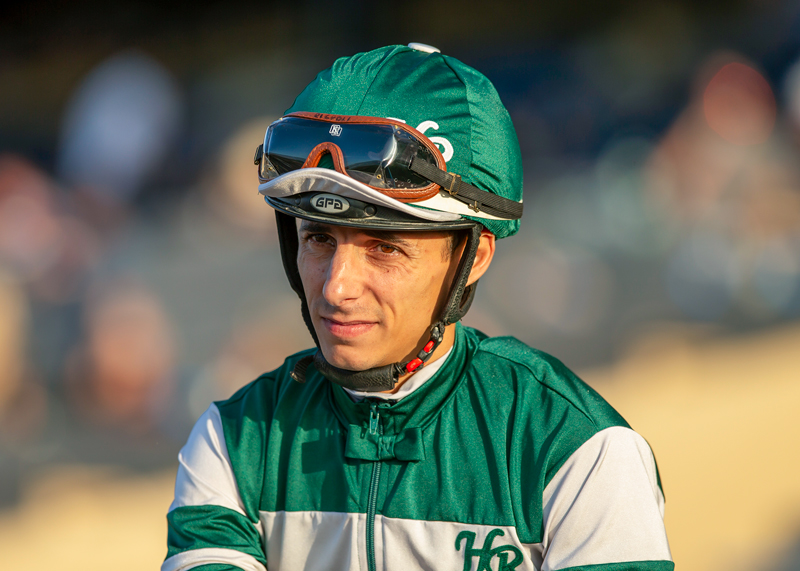 Antonio Fresu © Benoit Photo
Antonio Fresu is one of the new kids in the Del Mar jockey's room. He's also one of the most accomplished. He's only been in the United States for a short time and has already established himself as a reliable rider with good instincts.
He made his North American debut last September at Saratoga. Since then he's made quite an impression everywhere he rides, at Santa Anita, at Los Alamitos and now at Del Mar, where he won his first mount of the summer meet aboard the Cal-bred, Economical in a claiming race July 22.
"It's a beautiful place," Fresu says of Del Mar. "The track is amazing and the facility is really good. I started really well, winning my first ride of the meet for Doug O'Neill. It was really nice to place in a couple of stakes and win with a nice 3-year-old colt."
That 3-year-old is Raging Torrent, who won at first asking for O'Neill.
Fresu is good with horses because he's been around them all of his life. The 31-year-old native Italian was brought up in a family of horsemen.
"I'm the fourth generation of riders," Fresu says. "My father was a jockey in Italy; so were my uncle, my granddad and my great grandfather. They actually didn't want me to be a jockey. They say it's a hard life and now after a few years I have to say they were right."
Fresu went to the racing school in Italy in Pisa and admittedly says he started a little bit late.
"My first ride I was almost 20-years-old," he notes. "After a few years in Italy I was doing really well and they suggested I go to England. So I went to the UK for a couple of years and that's when I started to go to Dubai."
Fresu became one of the top riders at Meydan Racecourse in the United Emirates, home of the Dubai World Cup, winning the 2021 Dubai Golden Shaheen with Zenden.
"That's where I met Doug O'Neill," Fresu says. "He was asking me to come to the U.S. last year but I didn't take the chance. But this year I did because he said he had a good friend, Tom Knust, who could be my agent. It was a good move."
"He's just a tremendous horseman," O'Neill says about Fresu. "Horses just run for him. He's got that 'it' factor. He's able to reserve a horse without fighting him and then down the lane he's very strong and horses are encouraged by him.
"Sometimes you get riders who are strong finishers but horses aren't in sync with them and they take their run away," O'Neill continues. "But he's a strong finisher and horses really run for him."
Fresu says he's still making the adjustment to life in America.
"I think the hardest part is the transition," Fresu says. "My life, being in Europe and Dubai, being here is very different so you need to adapt yourself. Once you adapt yourself you're happy and you can go back to your work and do good things because I think if you don't live well, you're not going to work well."
Things appear to be working very well for Fresu. Coming into Saturday, he is fourth in the Del Mar jockey standings with six wins, nine seconds and six thirds from 47 mounts and $522,330 in earnings.
"I have a passion for the horses," Fresu says with a smile. "They are amazing animals."