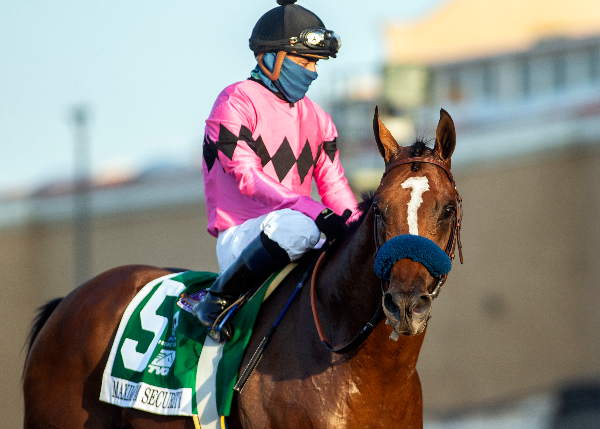 TVG Pacific Classic winner Maximum Security
Fifteen trainers with Del Mar connections put forth a total of 35 horses as pre-entries for the 14-race Breeders' Cup Championship races on November 6-7 at Keeneland were announced Wednesday.
Topping the list, of course, was Hall of Fame trainer Bob Baffert with six pre-entries in four events. Authentic, Improbable and Maximum Security, winner of the TVG Pacific Classic here in August, comprise a formidable trio for the $6 million Longines Classic which is the climax of the two-day extravaganza offering a total of $28 million in purses.
Additionally, Baffert plans to send out Del Mar Debutante winner Princess Noor in the $2 million Juvenile Fillies; Classier, an impressive recent debut winner at Santa Anita, in the $2 million TVG Juvenile presented by the Thorough Aftercare Alliance; and Gamine in the $1 million Filly and Mare Sprint.
Encinitas resident and reigning Del Mar summer season training champion Peter Miller pre-entered four. Topping the quartet is Pat O'Brien Stakes winner C Z Rocket, who could go in either the $1 million Big Ass Fans Dirt Mile or the $2 million Sprint. The other three are: Ebeko ($1 million Juvenile Turf Presented by Coolmore America); Texas Wedge ($1 million Turf Sprint), and Turf Sprint also eligible Bulletproof One.
Mike McCarthy also has four pre-entries: CeCe ($2 million Longines Distaff), Rombauer (Juvenile), Speech (Filly and Mare Sprint) and Rushie (Dirt Mile). CeCe was third in the Clement L. Hirsch here in August.
Hall of Famer Richard Mandella, John Sadler and Richard Baltas have three Breeders' Cup hopefuls each. By far Mandella's best is Eddie Read Stakes winner United ($4 million Longines Turf), but he also has Pizzazz ($1 million Juvenile Turf Sprint or $1 million Juvenile Fillies Turf) and Bombard (Turf Sprint). Sadler intends to send out 2019 Pacific Classic winner Higher Power (Classic), 2019 Clement Hirsch winner and 2020 runner-up Ollie's Candy (Distaff) and 2020 Green Flash Stakes winner Chaos Theory (Turf Sprint), if the last named draws in from the also eligible list. Defending Bing Crosby meet training champion Baltas' contingent consists of Venetian Harbor (Fillly and Mare Sprint), 2020 Mabee runner-up Lady Prancelot ($2 million Filly and Mare Turf) and Tetragonal (Juvenile Fillies Turf also eligible).
Simon Callaghan, Doug O'Neill and Mark Glatt have two candidates each. Callaghan pre-entered Harvest Moon in the Distaff and Del Mar Juvenile Fillies Turf winner Madone in the Breeders' Cup counterpart. O'Neill's representatives are Wildman Jack in the Turf Sprint and Juvenile also eligible Hot Rod Charlie. Glatt has a pair with upset potential against formidable opposition in Pacific Classic runner-up Sharp Samurai (Dirt Mile or Mile) and 2020 Pat O'Brien winner Collusion Illusion (Sprint)
Hoping to hit the bullseye with one Breeders' Cup shot are: Phil D'Amato (Red King, $4 million Turf); Tim Yakteen (Mucho Unusual, Filly and Mare Turf), Victor Garcia (Big Runner, Turf Sprint), Hall of Famer Neil Drysdale (Oleksandra, Turf Sprint), Peter Eurton (Harlan Estate, Juvenile Turf also eligible), and Bob Hess (Lasting Legacy, Sprint also eligible).