Thursday, July 25th, 2019 ( 1 year ago )
Crosby is Trainer's First Del Mar Race; Far From His First Rodeo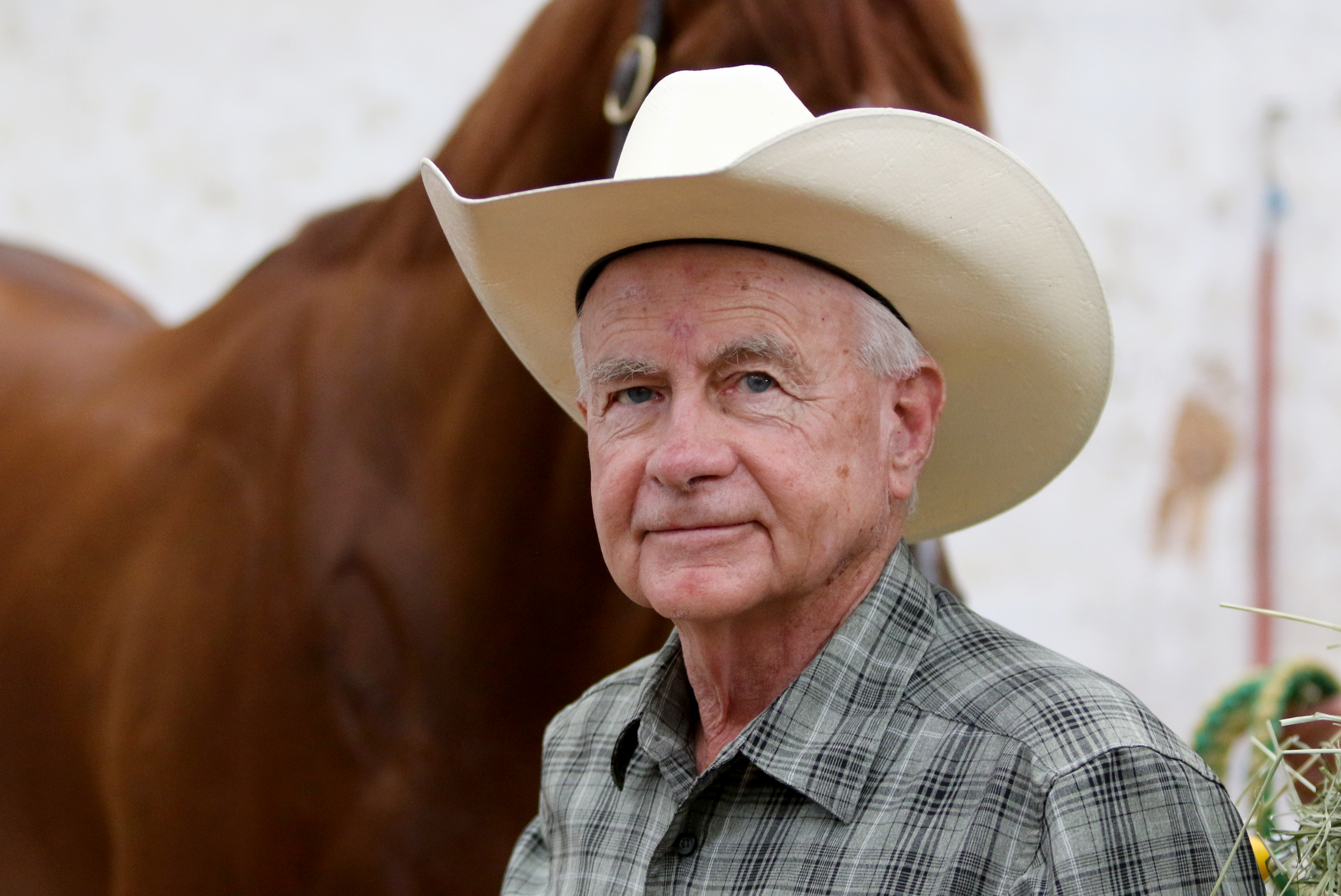 Shawn Davis
Firmly formed white cowboy hat perched perfectly on his head, looking every inch the cowboy he was, and still is at 78, Shawn Davis sat astride a tack box in Barn Y here Thursday morning and talked about the horse in the stall to his right.
Davis, a Rodeo Hall of Fame member who also trains Thoroughbreds, is experiencing Del Mar for the first time. He's here with Chief Cicatriz, who'll go up against the fastest sprinters on the grounds in Saturday's Grade I $300,000 Bing Crosby Stakes.
"This horse has never been able to prove what I think he can do," Davis said. "We were going to bring him here after he won the Aristides Stakes at Churchill, but then he had some problems we needed to take care of and it has taken us until now to get him to where he's ready to run and really prove himself."
A 6-year-old gelded son of Munnings, Chief Cicatriz has 10 wins from 15 career starts at tracks throughout the Midwest and as far West as Turf Paradise in Phoenix. The stocky chestnut's lone graded stakes win was the Aristides. A Crosby score would add $180,000 to his $344,543 in career earnings and, as a "Win And You're In" qualifier for the Breeders' Cup Sprint, secure a spot in the $2 million race in November at Santa Anita.
Chief Cicatriz had issues after shipping for races in the past. But Davis said the horse arrived here comfortably on Sunday, July 14 and has been "loving" the 11 days on site. He worked four furlongs in :49.00 last Saturday.
"We were planning on flying him here and then the flight canceled, so we decided to drive him," Davis said.
Starting at Shakopee, Minnesota, traveling at night, the van stopped at facilities in Idaho and Montana where Davis has connections. For the stopover at Las Vegas, a friend at the South Pointe Hotel and Casino provided an entire air-conditioned barn.
"So we got to exercise him all the way and it was a very relaxed trip," Davis said.
The Crosby assignment will represent by far the toughest so far.
"It's a very competitive field and there isn't a bad horse in the race," Davis said. "He likes to be close to the front. He will settle, but the speed has to go by him. Then he'll go when he's asked to run."
Davis grew up in Whitehall, Montana and was competing in rodeos at kindergarten age. He did some racehorse jockey work but specialized in saddle bronc riding as a rodeo professional and won back-to-back world championships in 1967-68.
A broken back suffered in 1969 proved to be a setback, but not the career-ender it might have been and Davis returned to qualify for the national finals 12 times and was inducted into the Pro Rodeo Hall of Fame in 1979.
When his days of competition ended, Davis hired on as coach of the College of Southern Idaho rodeo program – he was on the CSI faculty with former San Diego State basketball coach Fred Trenkle – and turned it into a national championship winner. Elected president of the Professional Rodeo Cowboys Association in the 1980s, Davis was instrumental in negotiating the deal that moved the National Finals Rodeo from Oklahoma City to Las Vegas where it has boomed in public interest, aesthetic and financial success beyond wildest dreams.
For the present, however, he's here with one horse, enjoying a first trip to Del Mar.
"The whole area is wonderful and we've been treated very well since we've been here," Davis said. "It's very classy. It's what I think horse racing should be."
The field from the rail: Calexman (Geovanni Franco, 15-1), Desert Law (Rafael Bejarano, 12-1), Cistron (Victor Espinoza, 5-2), Line Judge (Drayden Van Dyke 8-1), Air Strike (Norberto Arroyo, Jr., 4-1), Chief Cicatriz (Ruben Fuentes, 12-1), Recruiting Ready (Flavien Prat, 2-1 ) and Jalen Journey (Mike Smith, 6-1).
---
Written by Hank Wesch