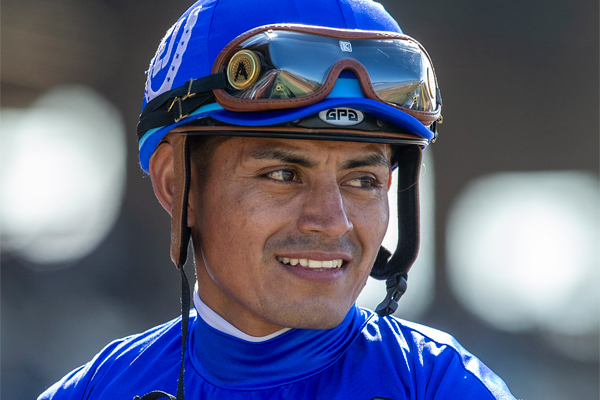 Abel Cedillo © Benoit Photo
The motivation for Abel Cedillo to leave a good business and comfortable situation based at Golden Gate Fields in San Francisco, and venture full-time to Del Mar this summer, is common to most jockeys.
"My dream is to ride big races like the Kentucky Derby and the Breeders' Cup and for that, I thought this is a good place to come," Cedillo said Thursday morning outside the stable area racing office.
Initial indications – nine wins in the first 16 days of the meeting to be fifth in the jockey standings – are that he might have come to the right place.
"I'm really happy with everything so far, I've been given a lot of opportunities by owners and trainers," Cedillo said.
A native of Guatemala, Cedillo immigrated to Florida late in the first decade of the century to a Thoroughbred farm in Ocala where his father was working. Upon arrival, "I never had a dream to ride horses," Cedillo said. But after being around them for a while, as a groom, hot walker and general stable hand, the idea began to form.
An uncle – noting that Abel had the physique to be a jockey - gave encouragement and instruction and overcame Cedillo's inclination to simply work with the animals from ground level.
So, in time, when stalls were cleaned and other morning tasks finished, Cedillo was given opportunities on horseback and learned how to gallop, then breeze and eventually ride races.
Cedillo started out professionally at Calder Race Course near Miami, but found the Florida jockey colony tough to crack and moved to the opposite end of the country, Golden Gate Fields in San Francisco where he has been based since his apprentice season of 2010.
It was there that Cedillo recorded most of his 1,143 career wins, No. 1,000 being recorded on December 30 of last year. It was there that he recorded his first graded stakes victory aboard Pepper Crown in the Grade III San Francisco Mile. And there that Cedillo accounted for most of the more than $19.8 million in career purse earnings.
And it was there that a call from agent Tom Knust, who was willing to get Cedillo going on the more lucrative Southern California circuit, provided the initiative for the 30-year-old with a wife (Jasmin) and 2-year-old son (Abel, Jr.) to embark on his summer venture here.
"I was here about three years ago for around two weeks and then left," Cedillo said. "I'm here to stay now and I'm going to work harder and harder to get better and better."
Doug O'Neill and Mark Glatt have been Cedillo's biggest supporters. Cedillo came highly recommended by Jonathan Wong and other Northern California-based trainers.
"When he rode here the first time he didn't have a lot of success but we used him a lot because my dad thought he was a really good rider," Ryan Glatt, Mark's son and assistant said. "He's ridden three horses for us (at the meeting) and won three, so we're going to keep using him."
Cedillo has a travel assignment for Glatt on Sunday aboard Law Abidin Citizen in the Longacres Mile in Washington.