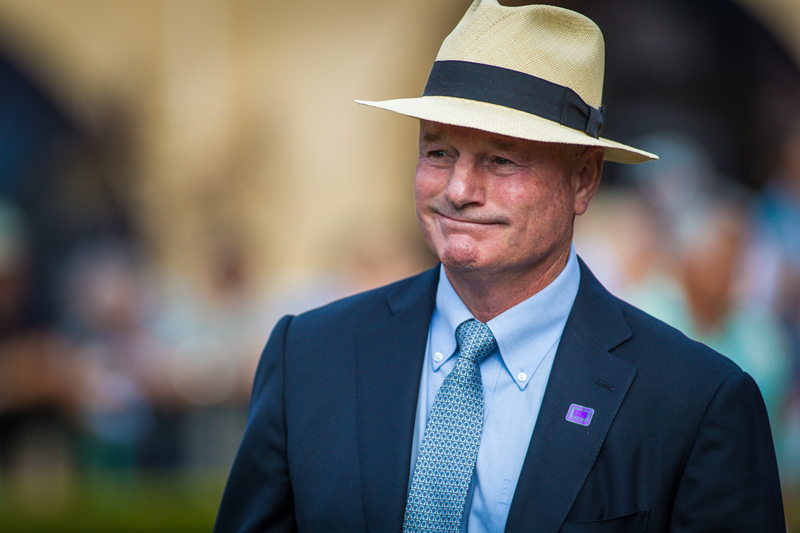 Richard Mandella
Just a quick glance at her resume is proof enough that Beholder belongs in the Racing Hall of Fame. Anyone who saw her run between 2012 and 2016 would have no problem putting the daughter of Henny Hughes among the greatest. And a brief chat with her trainer, Richard Mandella, will convince any second-guessers.
Beholder took her place in the National Museum of Racing's Hall of Fame in Saratoga, New York Friday alongside fellow inductees Tepin, Hillsdale and Royal Heroine, as well as human inductees Oscar White, James Cox Brady, Marshall Cassidy and Ben James Ali Haggan.
"I wish I was there," Mandella said, back at the track after a recent bout with Covid. "The filly was so good to us for so many years. She'd be a favorite in anybody's mind. Just warm feelings thinking about her."
Mandella trained Beholder her entire racing career for owner B. Wayne Hughes and Spendthrift Farms. It included four Eclipse Awards, three Breeders' Cup wins and 13 graded stakes, 11 of them Grade I's including a trouncing of the boys in the 2015 TVG Pacific Classic at Del Mar. Mandella says it's one of the best memories he has of Beholder.
"She won (her prior race) the Clement Hirsch so easily," Mandella said. "I said right there in the winner's circle: 'We're going to try the colts next.' Often you say those things but it doesn't work out, but it did."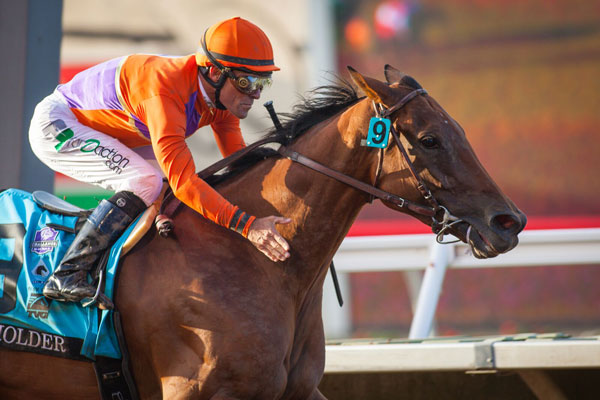 Beholder wins 2015 TVG Pacific Classic © Benoit Photo
The TVG Pacific Classic triumph came after victories in the Breeders' Cup Juvenile Fillies at Santa Anita in 2012, the G1 Santa Anita Oaks in 2013 and her second Breeders' Cup win in the Distaff in 2013. It also came in the middle of an eight race winning streak that included Grade I wins in the Zenyatta (twice) and Vanity Mile.
"Of her years, that was her peak," Mandella said. "She was her best that year."
She was named Eclipse Award Champion 2-Year Old Filly in 2012, Champion 3-Year Old Filly in 2013 and Champion Older Dirt Female in 2015 and 2016. She won a Grade I at ages two, three, four, five and six.
"It was a lot of fun," Mandella said, "but it was also a lot of responsibility. If you ever got her beat, which we did a few times, you feel pretty guilty about it when one's that good."
Of course, that didn't happen very often.
"No, she always ran well," Mandella noted. "A few beats, had a few excuses but she didn't need a lot of excuses, she was really great."
Her final Breeders' Cup win came in what is arguably the best Breeders' Cup race of all time, a nail-biting stretch long duel with Songbird in the 2016 Distaff. It was the final race of her illustrious career in which she piled up earnings of over $6 million.
Now Mandella has one of Beholder's babies in his barn, a 2-year old filly named Teena Ella by War Front.
"She's up to a half mile," Mandella said. "She's not ready to run but she's shown good promise."
Just like her mama.