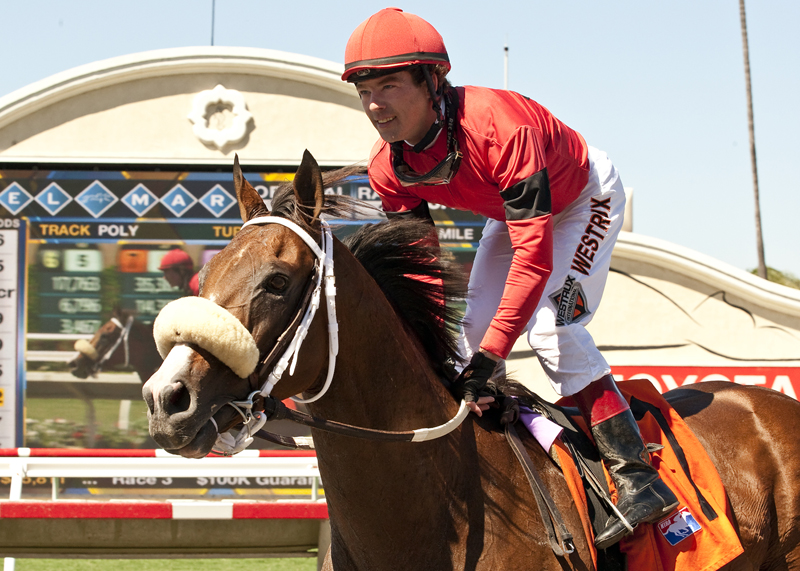 Tyler Baze © Benoit Photo
As the days during which racing was suspended at Santa Anita mounted up last winter, taking a toll on all horsemen, Tyler Baze was faced with a dilemma.
Ride out the storm of troubles in Southern California, his home and base of operations for most of his 20-year career. Or leave the work-less days and Southern California behind, ride off into the eastern sunrise and establish himself on a different circuit.
Baze, 37, a father of three, chose the latter.
"I've got bills to pay like everybody else," Baze said. "I got a call from an agent at Oaklawn Park whose jock had to go back to Mexico and he said he had a ton of business that he could line up for me.
"I figured why sit around. I looked at it as an opportunity to meet new trainers, and expand my business. They might know my name, but I hadn't ridden for them. You never know what doors might open."
Made a one-day trip to the Hot Springs, Arkansas track and got a win and a second on mounts. He returned to Southern California to gather necessities and was back at Oaklawn a day later to begin a Midwest stay that lasted through the summer. He returned during the recently completed Santa Anita meeting and is now riding the Bing Crosby meeting at Del Mar.
"It was a great experience," Baze said. "I won races for a bunch of different trainers - (Tom) Van Berg, Bill Mott, Brendan Walsh, Jack Sisterson, Steve Asmussen.
"The weather was mostly good. There was a lot of driving involved, but that was a lot of fun."
There's a difference between driving in the Midwest and Southern California, Baze said.
"Here, if you're doing a lot of driving, you're doing a lot of sitting in traffic. There, you set the cruise control on 79 (mph) and talk to people on the phone. I talked to my mom and dad every day. Probably talked to them more than I had in the last 20 years."
Asmussen offered to give "first call" to Baze on horses at Ellis Park in Kentucky through the summer. That kept him away from Del Mar – where he has 38 stakes victories – for the first time in several years.
"Missing Del Mar last summer was kind of sad," Baze admitted. "I probably could have made more money here than I did at Ellis. But I considered it to be a privilege to ride first call for Steve Asmussen. We gave each other our word and we both stuck by it. That means something to me.
"But when it was time to come home, it was time to come home."
Equibase statistics show Baze as No.36 in the country for 2019 with 83 wins from 709 mounts and earnings of $5,047,599. He has 2,669 career victories from more than 19,500 mounts and earnings of more than $119.8 million.
Baze won eight stakes races during the Del Mar summer and fall meets in 2018. He's hoping to notch his first of 2019, with his first opportunity, aboard Spitefulness (5-1) for Phil D'Amato in Sunday's $100,000 Desi Arnaz.
The Midwest venture was a success. But he's glad to be back.
"My family, my kids, mean everything to me," Baze said. "I still have to miss some things, like my daughters' soccer games on Saturday. But she calls me and tells me about scoring a goal and I get to see her and my other kids soon afterward."