Sunday, November 26th, 2017 ( 1 year ago )
Stable Notes
Nov 26, 2017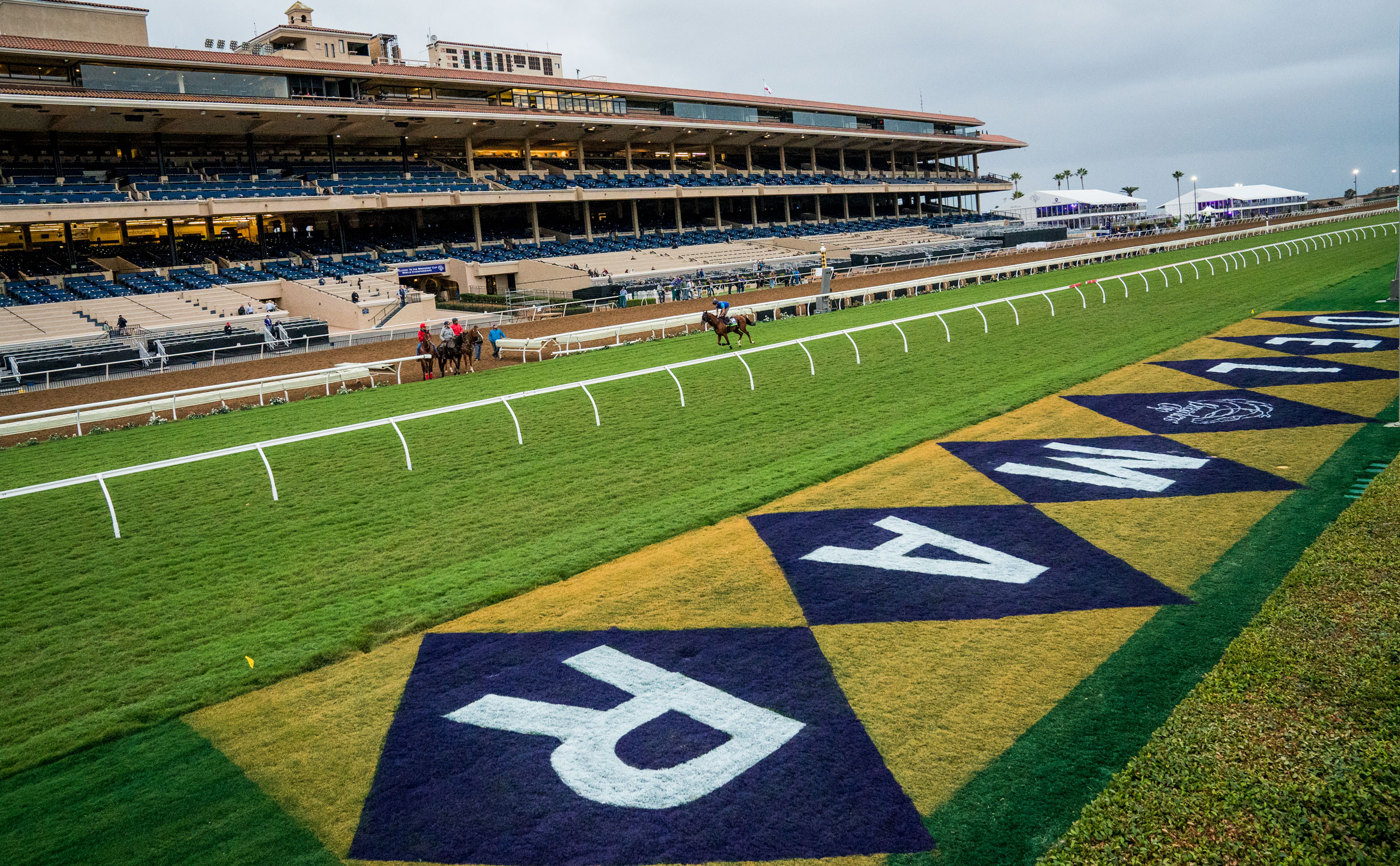 Del Mar © Eclipse Sportswire
FOND MEMORIES LINGER FOR SOME AS DEL MAR'S CROSBY SEASON ENDS
Maybe it was the contented aftereffects of the Thanksgiving meal he'd had the night before, but Hall of Fame trainer Richard Mandella chose, unprompted, to reflect on the Bing Crosby Fall meeting Friday when there were still three days to go.
"I hate to see this ending, I love it down here this time of year," Mandella said. "I love it period, but this time of year it's about as close to perfect for racing as it can be. The weather's so good, the town's kind of quiet and easy to get around. I can't say enough about it."
The weather may have turned to more overcast, foggy and chilly than usual, but many horsemen and, hopefully fans, will take away good feelings and memories from the fourth autumn session "Where the Turf Meets the Surf." The one in which Del Mar hosted the Breeders' Cup for the first time.
Peter Miller certainly will.
"Everything has gone much better than I could have expected or even hoped for," Miller said Sunday while supervising a string of workers to the track.
The Encinitas resident recorded the first two Breeders' Cup victories of his career when Stormy Liberal and Richard's Boy ran 1-2 in the $1 million Turf Sprint and, three races later, Roy H won the $1.5 million Sprint.
The Breeders' Cup behind, Miller has dominated the trainer standings, notching 18 wins entering the final day of the meeting, more than double the totals of his nearest competitors and even edging, by one, the victories of meet-leading jockey Flavien Prat with nine races to go.
Miller will claim his third training title in the four Bing Crosby seasons. He won the inaugural in 2014 with 15 wins to runner-up Mike Puype's 10. Miller tied for second in 2015, his 13 wins coming up two short of Doug O'Neill, then overpowered everyone a year ago, posting 16 wins to eight for his closest pursuers.
Gratifying though such success may be, Miller said he focuses on the day-to-day and doesn't let things like his current 31 percent win and 56 percent in-the-money rate affect him.
"That (success) means an 0-for-20 is probably right around the corner," Miller said. "This business is such a roller coaster that I try to maintain an even keel. That's not easy to do, but I try to never get too high or too low. You're never as good, or as bad as you think you are."
Miller has three representatives on the closing day entries. Mesa Sky is the 3-1 favorite in the second race. Belvoir Bay is a 20-1 morning line long shot in the Matriarch Stakes, which goes as the seventh, and Alliana is at 5-2 in the eighth.
---
MATRIARCH FIELD REDUCED BY ONE WITH SCRATCH OF MRS McDOUGAL
The field for today's Grade I $300,000 Matriarch Stakes was reduced to 11 by the late scratch of Mrs McDougal.
"She grabbed a quarter when she galloped this morning," Hall of Fame trainer Richard Mandella said. "She came off the track and we knew we'd have to scratch."
Mrs McDougal, a five-year-old Medaglia d'Oro mare, had made four starts for Mandella since being transferred from the East Coast stables of Chad Brown with the best result being a third in the Osunitas Stakes here on July 21. A winner of five of 15 career starts, Mrs McDougal drew the No. 1 post and was 15-1 on the morning line for the Matriarch.
---
ROMAN HAS LAST SHOT AT SHARE OR SOLO JOCKEY TITLE
Apprentice Evin Roman notched two wins on Saturday to move within three of meet-leading rider Flavien Prat (17-14) atop the jockey standings.
Roman, 19, continued a sensational streak started last spring by winning his fourth Southern California title of the year at the Santa Anita fall meeting in October. Numerically, he has a chance to extend it even further. Roman has mounts in six of nine races on the closing day card while Prat, limited by a suspension, is booked on only the three graded stakes on the program.
The rundown: Roman – Wild Edie (1st, 5-1), Native Treasure (2nd, 6-1), Sturdy One (5th, 15-1), Upperclassman (6th, 5-1), Uno Trouble Maker (8th, 12-1) and Golden Dragon (9th, 12-1); Prat – Hunt (3rd, Seabiscuit Handicap, 3-1), Lull (7th, Matriarch, 5-1) and Inscom (9th, Cecil B. DeMille, 7-2).
---
ALL-TIME STAKES-WIN LEADERS, JOCKEYS AND TRAINERS AT DEL MAR
Heading into the final day of Del Mar's fall race meet, here's the pecking order among the top dozen riders and trainers for most stakes wins at the seaside oval.
JOCKEYS – 1) Chris McCarron (134); 2) Corey Nakatani (108); 3) Gary Stevens (98); 4-5) Laffit Pincay, Jr. and Victor Espinoza (96); 6-7) Eddie Delahoussaye and Alex Solis (95); 8) Bill Shoemaker (94); 9) Kent Desormeaux (81); 10) Patrick Valenzuela (68); 11) Mike Smith (65), and 12) Rafael Bejarano (56)
TRAINERS – 1) Bob Baffert (124); 2) Ron McAnally (77); 3) Charlie Whittingham (74); 4) Robert Frankel (70); 5) Richard Mandella (62); 6) John Sadler (59); 7) D. Wayne Lukas (48); 8) Julio Canani (42); 9) Neil Drysdale (41); 10) Doug O'Neill (36); 11) A.T. (Tommy) Doyle (33), and 12) Jerry Hollendorfer (31).
---
RACING OFFICE PROJECTS SOLID AVERAGE FIELD SIZE NUMBER OF 8.5
The exact figure won't be determined until after the last race is run, but Racing Secretary David Jerkens expects the average field size number, not counting the Breeders' Cup cards, will be 8.5.
"That's right at where we were last year, and we're very pleased," Jerkens said. "We're pleased overall with the meetings in general and how we were able to carry the momentum over from the summer to the fall.
"I think the fall meeting (run for the past four years) is firmly entrenched with Southern California horsemen and they realize we're here to stay. At first there were some questions about stabling and shipping, but we've seen a significant uptick in the numbers of horses stabled here."
Jerkens said that there were around 300 runners stabled at Del Mar for the inaugural 2014 season and around 500 during the current meeting, not counting those who were here only for the Breeders' Cup opening week.
The "Ship and Win" program, which offers bonuses for horses brought in from out of state, also saw significant increases. Thirty-one horses qualified for the program in the fall of 2016. This year the number was 58.
---
CLOSERS – Daddy Is a Legend, the 2-year-old filly whose burst from seventh turning into the stretch to a one-length victory in Saturday's closing Jimmy Durante Stakes was one of the most impressive performances on the day, came out of the race in good shape and is headed to Santa Anita. "She lost a front right shoe somewhere in the race," owner Jim Hill said Sunday morning. "We hope there will be something for her at Santa Anita, but they haven't released their full stakes schedule yet." … Thanks to all Stable Notes readers. Mark your calendars for Del Mar 2018. The summer meeting starts on Wednesday, July 18 and concludes on Labor Day, Monday, September 3, a total of 36 racing days. The fall meeting begins on Friday, November 9 and concludes on Sunday, December 2, a total of 15 racing days.
---
DEL MAR STATISTICS
Jockey Standings
(Current Through Saturday, November 25, 2017 Inclusive)
| | | | | | | | |
| --- | --- | --- | --- | --- | --- | --- | --- |
| Jockey | Mts | 1st | 2nd | 3rd | Win% | In-money% | Money Won |
| Flavien Prat | 82 | 17 | 10 | 14 | 21% | 50% | $2,117,550 |
| Evin Roman | 82 | 14 | 6 | 12 | 17% | 39% | $468,753 |
| Tyler Baze | 78 | 10 | 8 | 6 | 13% | 31% | $482,185 |
| Kent Desormeaux | 51 | 10 | 5 | 4 | 20% | 37% | $1,496,435 |
| Rafael Bejarano | 59 | 9 | 10 | 9 | 15% | 47% | $508,365 |
| Drayden Van Dyke | 71 | 8 | 9 | 6 | 11% | 32% | $713,859 |
| Mike Smith | 28 | 6 | 3 | 3 | 21% | 43% | $1,919,695 |
| John Velazquez | 18 | 6 | 1 | 2 | 33% | 50% | $2,811,175 |
| Corey Nakatani | 43 | 5 | 7 | 5 | 12% | 40% | $659,952 |
| Tiago Pereira | 48 | 4 | 5 | 6 | 8% | 31% | $270,054 |
Trainer Standings
(Current Through Saturday, November 25, 2017 Inclusive)
| | | | | | | | |
| --- | --- | --- | --- | --- | --- | --- | --- |
| Trainer | Sts | 1st | 2nd | 3rd | Win% | In-money% | Money Won |
| Peter Miller | 59 | 18 | 7 | 8 | 31% | 56% | $2,170,738 |
| Jerry Hollendorfer | 38 | 8 | 4 | 8 | 21% | 53% | $907,720 |
| Doug F. O'Neill | 53 | 8 | 1 | 7 | 15% | 30% | $393,654 |
| Philip D'Amato | 49 | 6 | 7 | 6 | 12% | 39% | $313,565 |
| Vladimir Cerin | 24 | 5 | 6 | 2 | 21% | 54% | $169,259 |
| Richard Baltas | 38 | 5 | 5 | 5 | 13% | 39% | $218,507 |
| James M. Cassidy | 22 | 4 | 4 | 5 | 18% | 59% | $236,233 |
| Steven Miyadi | 16 | 4 | 1 | 0 | 25% | 31% | $175,545 |
| Dan Blacker | 13 | 3 | 3 | 1 | 23% | 54% | $90,710 |
| Patrick Gallagher | 16 | 3 | 1 | 1 | 19% | 31% | $137,700 |
Winning Favorites Report
(Current Through Saturday, November 25, 2017 Inclusive)
Winning favorites -- 49 out of 133 -- 36.84%
Winning favorites on dirt -- 24 out of 73 -- 32.88%
Winning favorites on turf -- 25 out of 60 -- 41.67%
Winning odds-on favorites -- 2 out of 8 -- 25.00%
In-the-Money favorites -- 93 out of 133 -- 69.92%
In-the-Money odds-on favorites -- 6 out of 8 -- 75.00%