Sunday, December 4th, 2016 ( 1 year ago )
Stable Notes
December 4, 2016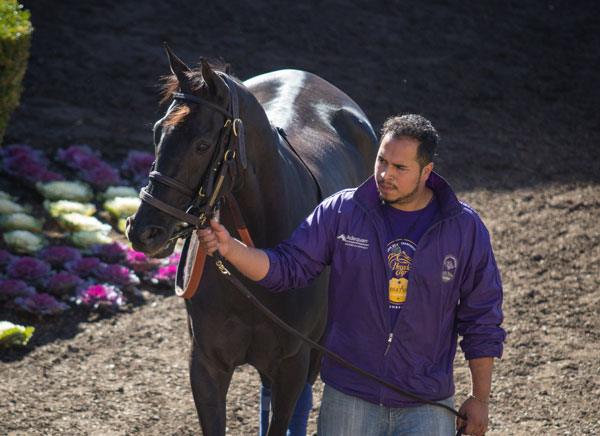 Zindaya schooling at Del Mar © Zoe Metz for Del Mar Thoroughbred Club
FOLLOWING THE BROWN DERBY COULD IT BE A BROWN MATRIARCH?
In the wake of a 1-2 finish from three starters in Saturday's Grade I $300,000 Hollywood Derby, trainer Chad Brown's crew at Del Mar was preparing another trio Sunday morning for the Grade I $300,000 Matriarch on closing day of the Bing Crosby meeting.
Brown assistant Cherie DeVaux, in charge of the six-horse, six-handler contingent that the nation's leading trainer dispatched here while he stayed in New York, said that Hollywood Derby winner Annals of Time, runner-up Beach Patrol and Camelot Kitten (7th) all came out of the race in good order.
Stablemates Zindaya, Mexican Gold and Roca Rojo will take their turn Sunday in the Matriarch, a one-mile turf event for fillies and mares.
"Everybody looks really good this morning," DeVaux said. "I talked to Chad and he was very happy with the results, of course. He watched the race at his house in New York."
Annals of Time, a son of Temple City making only his fourth lifetime start, closed with a rush under Javier Castellano, splitting rivals in midstretch and pulling away to a 1 1/2-length victory in 1:47.73 for 1 1/8-miles on turf.
With three representatives to try and follow, DeVaux's attention was somewhat divided during the race. Watching replays, she was able to focus more closely on the winner, an $80,000 auction purchase in October of 2014 who, with the $180,000 from the Hollywood Derby, has career earnings nearing $300,000.
"The one thing I noticed was how impressive Annals of Time ran for being so lightly raced." DeVaux said.
The "lightly-raced" winners' profile provided by Annals of Time best fits Mexican Gold of the Brown threesome in the Matriarch. A 4-year-old daughter of Medaglia d'Oro, Mexican Gold made six starts in Europe through October of 2015 before being imported. Mexican Gold, who'll be ridden by Irad Ortiz, Jr., has produced a win at Saratoga in September and third-place finish in the Grade III Athenia at Belmont Park in October in two 2016 starts for Brown.
Roca Rojo won the Athenia, besting Mexican Gold by 1 3/4- lengths in the 1 1/16-mile race. Zindaya comes in off a victory in the Grade II Goldikova at Santa Anita on November 6 and has shipped cross-country twice since then, training for the Matriarch at Belmont Park in New York.
Roca Rojo is 7-2 on the morning line, Zindaya 9-2 and Mexican Gold 8-1 behind favored Miss Temple City (7-2).
DeVaux said she doesn't favor any one of the three. She said it even with Mexican Gold's head on her shoulder and occasionally nuzzling DeVaux's neck.
"I think they all have a pretty good shot. I think they're all evenly matched," DeVaux said.
DeVaux's 35th birthday was Friday and the Hollywood Derby victory was the catalyst for an extension of the celebration. A continuation of what has been a good week, DeVaux said.
"Generally when you ship in places, people do help you," DeVaux said. "But everyone here has been above and beyond anything I expected."
---
RIDING CHAMPIONSHIP GOES DOWN TO THE WIRE
Drayden Van Dyke won Saturday's final race as a replacement for Fernando Perez on Fabozzi ($28.20) for trainer Mark Glatt to reach double figures in the win column and move to one behind the injured Flavien Prat and Norberto Arroyo, Jr., in the rider standings entering the final day of the meeting.
Arroyo and Prat have 11 wins, Van Dyke 10, Victor Espinoza nine, Tyler Baze, Martin Pedroza and Kent Desormeaux eight.
In terms of numbers of mounts, Van Dyke has the advantage with seven scheduled mounts on the nine-race card. Baze and Arroyo six each and Desormeaux five.
Going by morning line odds, Arroyo's best chance is California Silver, the 9-5 favorite in the second race. Van Dyke has Buzzer Beater, the 7-2 third choice in the sixth race. Baze is aboard 2-1 second choice Country Road in the second, Desormeaux has St. Joe Bay (4-1) in the eighth.
Should it go down to the final race, Van Dyke will be aboard 5-1 Bobby G for Doug O'Neill, Arroyo on 8-1 Tastemaker for Cliff Sise and Baze on 10-1 I'm Living Proof for Patrick Gallagher.
---
LOOKING AHEAD TO DEL MAR 2017
The 78th summer season of racing at Del Mar begins on Wednesday, July 19, 2017 and continues through Labor Day, Monday, September 4.
The fourth Bing Crosby fall meeting starts on Wednesday, November 1, is highlighted by the Breeders' Cup World Championships November 3-4, and concludes on November 29.
See you then.
---
CLOSERS – If Miss Temple City, the 3-1 favorite in the Matriarch, comes through it will complete a sweep of the Grade I Stakes for progeny of the stallion Temple City. Annals of Time, a 3-year-old son of Temple City, prevailed in Saturday's Hollywood Derby.
---
DEL MAR STATISTICS
Jockey Standings
(Current Through Saturday, December 3, 2016 Inclusive)
| | | | | | | | |
| --- | --- | --- | --- | --- | --- | --- | --- |
| Jockey | Mts | 1st | 2nd | 3rd | Win% | In-money% | Money Won |
| Norberto Arroyo, Jr. | 75 | 11 | 14 | 8 | 15% | 44% | $490,063 |
| Flavien Prat | 55 | 11 | 10 | 11 | 20% | 58% | $446,287 |
| Drayden Van Dyke | 49 | 10 | 7 | 5 | 20% | 45% | $519,358 |
| Victor Espinoza | 29 | 9 | 3 | 3 | 31% | 52% | $386,278 |
| Tyler Baze | 69 | 8 | 8 | 9 | 12% | 36% | $388,344 |
| Kent Desormeaux | 56 | 8 | 6 | 5 | 14% | 34% | $375,872 |
| Martin Pedroza | 39 | 8 | 4 | 2 | 21% | 36% | $220,255 |
| Santiago Gonzalez | 59 | 7 | 6 | 11 | 12% | 41% | $327,825 |
| Mike Smith | 33 | 7 | 3 | 4 | 21% | 42% | $475,329 |
| Joseph Talamo | 50 | 6 | 4 | 5 | 12% | 30% | $329,390 |
Trainer Standings
(Current Through Saturday, December 3, 2016 Inclusive)
| | | | | | | | |
| --- | --- | --- | --- | --- | --- | --- | --- |
| Trainer | Sts | 1st | 2nd | 3rd | Win% | In-money% | Money Won |
| Peter Miller | 42 | 15 | 7 | 3 | 36% | 60% | $525,667 |
| Doug F. O'Neill | 47 | 7 | 11 | 5 | 15% | 49% | $429,595 |
| Mark Glatt | 27 | 7 | 6 | 0 | 26% | 48% | $239,045 |
| Richard Baltas | 38 | 7 | 2 | 5 | 18% | 37% | $277,228 |
| Mike Puype | 25 | 5 | 4 | 3 | 20% | 48% | $149,127 |
| Jerry Hollendorfer | 27 | 5 | 2 | 3 | 19% | 37% | $215,163 |
| Steven Miyadi | 17 | 5 | 2 | 1 | 29% | 47% | $101,949 |
| Bob Baffert | 13 | 4 | 3 | 0 | 31% | 54% | $279,420 |
| John W. Sadler | 14 | 4 | 1 | 1 | 29% | 43% | $120,659 |
| Philip D'Amato | 31 | 3 | 5 | 1 | 10% | 29% | $231,005 |
Winning Favorites Report
(Current Through Saturday, December 3, 2016 Inclusive)
Winning favorites -- 39 out of 120 -- 32.50%
Winning favorites on dirt -- 28 out of 77 -- 36.36%
Winning favorites on turf -- 11 out of 43 -- 25.58%
Winning odds-on favorites -- 13 out of 19 -- 68.42%
In-the-Money favorites -- 79 out of 120 -- 65.83%
In-the-Money odds-on favorites -- 17 out of 19 -- 89.47%
---
Contact: Dan Smith 858-792-4226/Hank Wesch 858-755-1141 ext. 3793