Saturday, August 16th, 2014 ( 3 years ago )
Personal Diary, Nakatani
Win Grade I Del Mar Oaks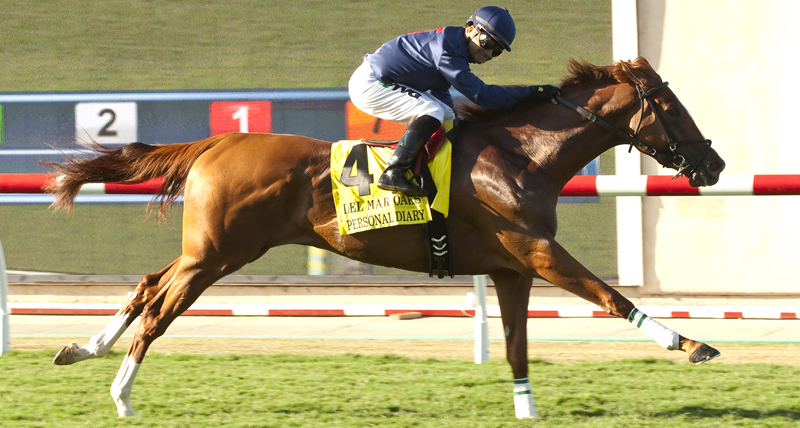 Out of action for the previous three days while battling the flu, jockey Corey Nakatani emerged from his sick bed for a single mount Saturday and he didn't squander the opportunity, guiding 9-1 Personal Diary to a sparkling victory in the featured Grade I $300,000 Del Mar Oaks for three-year-old fillies.
Nakatani, who hadn't ridden since last Sunday, rallied Personal Diary from eighth and last in the early stages of the nine-furlong grass race to power home in the stretch by a convincing 2 ¾ lengths in Del Mar's championship race of the summer season for sophomore fillies.
Stellaris, off at 11-1 under Kent Desormeaux, was second, a neck in front of the early pacesetter My Conquestadory. Eastern invader Sea Queen, the 7-5 favorite of the crowd of 23,505, was a nose farther back in fourth. Istanford and Maibaby were withdrawn.
Personal Diary is a Kentucky-bred daughter of City Zip owned by G. Watts Humphrey, Jr. of Harrodsburg, Kentucky and the St. George Farm Racing LLC of Ian Banwell of Charlotte, North Carolina. She is conditioned by Victoria Oliver, who was recording her first success in a Grade I race.
Personal Diary ran the distance in a strong 1:47.56 and returned $20.20, $7 and $5.00 after scoring her second win in ten starts and first this year. First money of $180,000 pushed her earnings to $278,136.
Stellaris paid $10.80 and $6, while My Conquestadory returned $4 to show.
There were no perfect tickets in Saturday's Pick Six so Sunday's program will have a carryover of $106,845. Post time for the first race is 2 p.m. with the Pick Six on races five through ten.
---
COREY NAKATANI (Personal Diary, winner) – "I'm feeling better; still not there yet, but better. I'm 10 times better than I was before. (Nakatani had not ridden since last Sunday due to a severe bout with the flu. His mount in the Oaks was his only one of the day.)
"I didn't get any instructions. Just go out there and do your thing. The race came up about the way I thought it would and my filly put me in the right spot. From there it was just a matter of making sure we did it good. She's a nice filly and it's going to be fun to see where she goes from here."
KENT DESORMEAUX (Stellaris, second) – "She's the kind that can run all day. Now that I know her, I wished I would have moved her sooner. But she's a really nice filly and I'd say 'mission accomplished.' Michael (trainer Michael Stidham) wanted to see if she belongs and she sure does."
VICTOR ESPINOZA (My Conquestadory, third) – "He (trainer Mark Casse) told me to ride it the way it came up. If she broke good, see what she can do. She broke running and I didn't want to take her out of the race so I just let her go. When we came into the stretch and that other filly (Sea Queen) came up to me, I thought I was done. But my filly fought back. She didn't want that one to get by us."
RAFAEL BEJARANO (Sea Queen, fourth) – "I had a beautiful trip. I was right where I wanted to be. But then she was out of gas. It just wasn't there today."
VICTORIA OLIVER, (Personal Diary, winner) – "She's always been a very nice filly. She's had some troubled trips or she could have had a couple more wins. Today (Corey) Nakatani rode her perfect and it was her day. I thought she was good enough, absolutely. This is my first Grade I and it feels great."
(She's been at Keeneland for the last four years and Monmouth before that. Trainer for 17-18 years, learned under Elliott Walden. She came out here this year with eight horses at the behest of an owner. Her husband, Phil Oliver, won the Osunitas last year with Closing Range for St. George Farm, encouraging a return.)
---
FRACTIONS: :23.31 :46.80 1:11.15 1:35.45 1:47.56
The stakes win was the second of the meet for Nakatani and his fourth in the Del Mar Oaks. He now has 101 stakes wins at Del Mar in this, his 26th season riding at the shore. It is second-most among all riders to Chris McCarron's 134.
The stakes win was the first ever at Del Mar for Oliver.
The owners of Personal Diary are G. Watts Humphrey, Jr. of Harrodsburg, KY, and the St. George Farm Racing outfit of Ian Banwell of Charlotte, NC.