Thursday, August 21st, 2014 ( 3 years ago )
Past Provides Precedent
For 3-Year-Olds in TVG Pacific Classic
By Hank Wesch
Most horsemen will tell you that a 3-year-old Thoroughbred in the spring is like a 15-year-old boy in human terms. Very few of them would ever be capable of competing with "men."
The consensus, however, is that, as the year moves along, 3-year-olds mature rapidly. By mid-summer, most of them would equate to an 18-year-old, give or take a few months. Of course, there certainly have been some 18-year-old humans who were able to perform on a par with their elders.
LeBron James, anyone?
Then, by September, many 3-year-old horses have stepped up to a level that most believe makes them equal to older rivals. Think of them as 21- or 22-year-olds, and plenty dangerous going against most any foe any time.
So by late August, traditional time slot for the $1 million TVG Pacific Classic, a 3-year-old male horse with ability has a reasonable chance when given the assignment of taking on older rivals. As statistics from the Pacific Classic would indicate.
Thirteen 3-year-olds have been sent postward in 23 runnings of the Pacific Classic so far. Four of them won: Best Pal in the inaugural, 1991, General Challenge (1999), Came Home (2002) and Dullahan (2012).
"That's a pretty amazing statistic," said trainer Ron Ellis upon being informed of the numbers. "I would have thought it would be a tall order for a 3-year-old to run against older horses in a race like this. I think I'm convinced otherwise."
That 4-for-13 -- roughly 31 percent -- number approximates the rate favorites win races. But none of the Pacific Classic-winning 3-year-olds went favored and the payoffs -- $11.80 for Best Pal, $7.20 for General Challenge, $23.00 for Came Home and $12.60 for Dullahan – certainly seem generous in hindsight.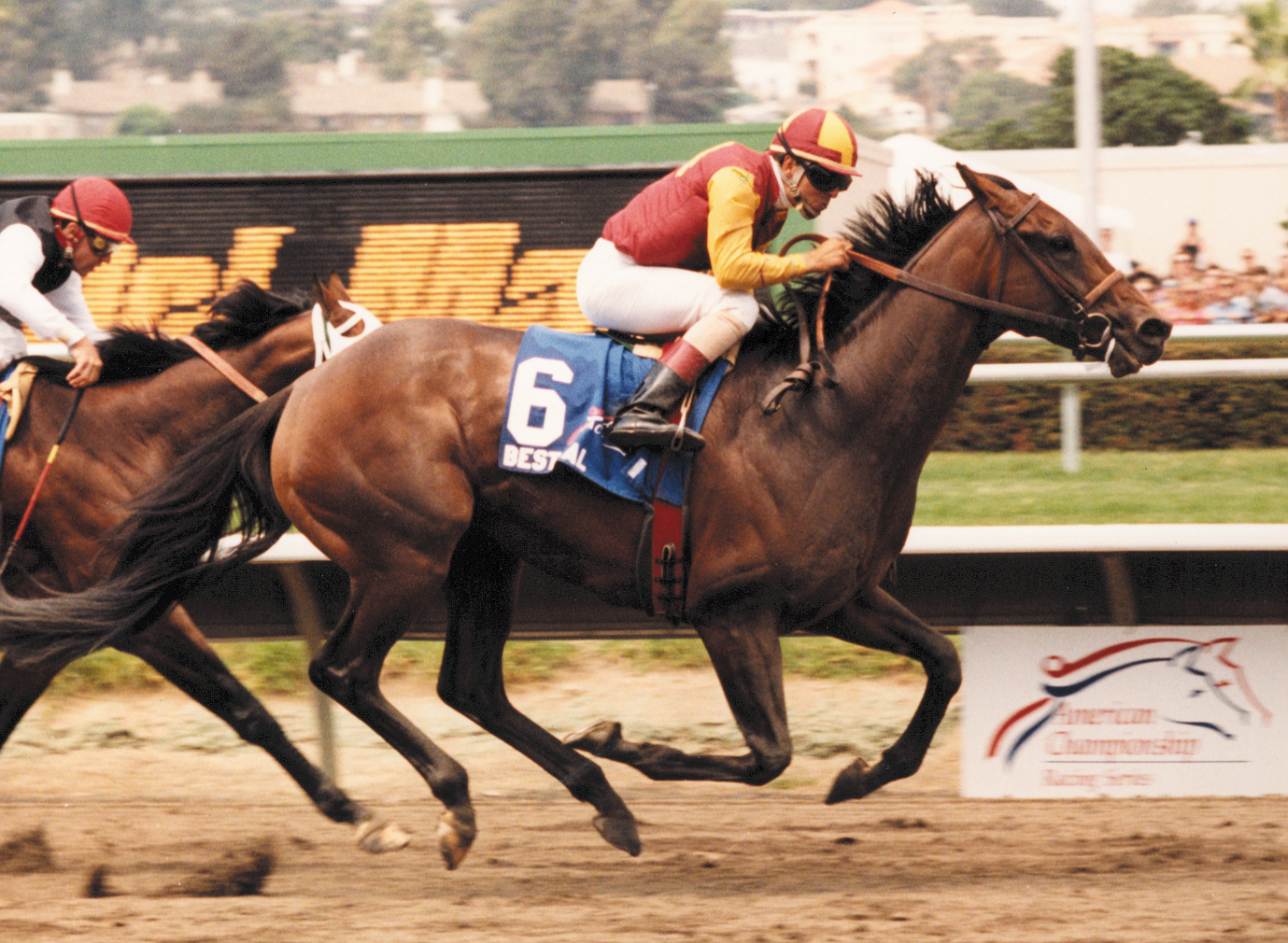 Three-year-old Best Pal beat older rivals in the first Pacific Classic on August 10, 1991.
"Best Pal, I gave a shot. And I knew Dullahan loved the Polytrack," said Ellis, who saddled Rail Trip to a third-place finish behind Dullahan in 2012. "The others, I would have discounted their chances because they were 3-year-olds going up against older horses."
Del Mar's executive vice president for racing Tom Robbins – who has been at the track to oversee all of the previous runnings of the Pacific Classic -- knows something about 3-year-olds taking on older horses.
"First of all, they all have to at some point," he noted pragmatically. "But when they start to do that, it is a very exciting time of year. You begin to get a real line on these up-and-comers; you get to see where they truly stand when you put them in with the proven commodities. It adds great dimension to the ranks. It's that special spice in the racing stew."
Robbins' brother Jay had a 3-year-old on the rise in 2000 that he thought worthy of a shot against older in the Pacific Classic. He ran his colt and saw him finish second to Skimming, who was winning his first of two straight editions of the race.
Jay Robbins' 3-year-old was named Tiznow and, to confirm the trainer's faith, the big bay California-bred went on that year to capture the Breeders' Cup Classic en route to a title as Horse of the Year. Then, to underscore his ability further, he came back to win the Breeders' Cup Classic again the following year and was named best older horse in America.
An advantage, on paper at least, for a 3-year-old in the Pacific Classic is the weight-for-age conditions under which it is run. Three-year-olds carry less weight than older horses according to weight-for-age rules, which take in the calendar date, among other things.
Best Pal carried 116 pounds, eight less than his older rivals in early August, 1991. General Challenge and Came Home were weighted seven pounds below rivals in their winning years and Dullahan had a six-pound spot in 2012.
"To me, the weight break is not a significant thing going a mile and a quarter," Ellis said. "It wouldn't sway me if I was thinking of running a 3-year-old against older."
The 13 trainers who ran their 3-year-olds in the race might want to argue that point with Ellis – especially the four who met them in the winner's circle afterwards -- but then, in the end, a difference of opinion is what horse racing is all about.
The 24th running of the Pacific Classic will be held this Sunday. Two 3-year-olds – the unbeaten Eclipse Award champion juvenile of 2013 Shared Belief and Toast of New York, winner of the $2 million United Arab Emirates Derby in March in Dubai – are expected to run.
Success for them would not be unprecedented.
8/21/14 ###