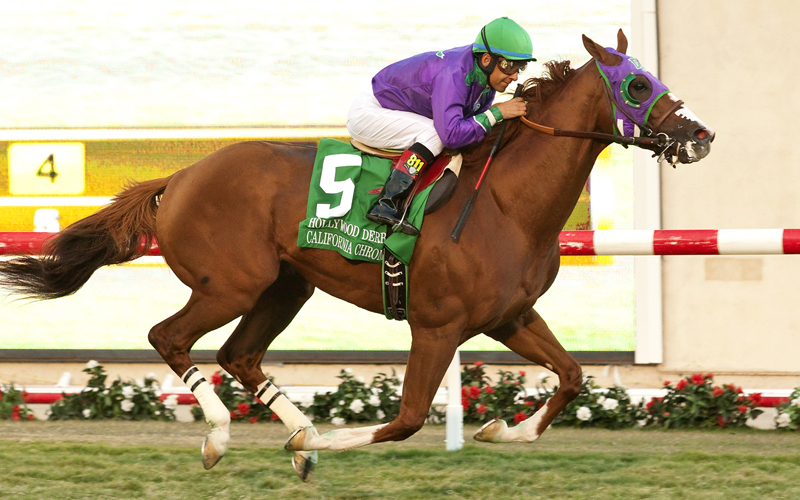 Three-year-old star California Chrome cruises to victory in Del Mar's Grade I Hollywood Derby.
Del Mar's first "Bing Crosby Season" was declared a smashing success by all involved following Sunday's close to the four-week meeting which saw strong handle and attendance marks established for Southern California's newest season of Thoroughbred sport.
Daily average handle numbers rang in at a husky $10,410,497 per day, a 15.0% increase over the same digits at last year's final Hollywood Park session.
Daily average attendance numbers registered at 9,055 per afternoon, a 187% increase over Hollywood's 2013 numbers, and the second-highest attended meet in California to Del Mar's 36-day summer session.
Daily average purses rose an estimated 15% to approximately $523,000 during the 15-day stand when compared to the Hollywood numbers.
"When we were approached about picking up these fall dates, we said we thought we could do a pretty good job with it," said Del Mar Thoroughbred Club president and CEO Joe Harper. "Well, we did that – and a whole lot more. We're just tickled how well this meet went – for Del Mar, for our horsemen and for racing in general. We need all the positives we can muster in our business and I think Del Mar in the fall is a huge plus."
Harper ticked off a list of upbeat elements that made the new season a winner in virtually all aspects:
• Spectacular fall weather that averaged 70-degrees and was sun-splashed throughout.
• Average field size of 8.35 horses per race, including turf fields that averaged 9.11 runners per race for 47 races (36% of all races presented) on the track's expanded new course. Additionally, the track lured 35 new horses to the meet through its ongoing "Ship and Win" program.
• Prominent national horsemen like H. Graham Motion, Christophe Clement and Mark Casse shipping horses in or setting up permanent camp, notably for the track's lucrative stakes program.
• Safe and consistent racing on the track's two racing strips with not a single catastrophic loss or any major injuries over the course of the entire meet.
• A local fan awareness to the new meet that was enhanced as the session moved along. For the track's final three big race days – its Saturdays -- the crowds averaged 19,892, culminating with a meet-high 21,889 on November 29 when superstar 3-year-old California Chrome won the track's Hollywood Derby.
• A general air of congeniality and conviviality permeating the meet, a low-key vibe that had many fans and horsemen harkening back to a "good-old-days" theme whenever they spoke of the new season.
"Del Mar has proven to be a wonderful host for the lion's share of the old Hollywood Park fall dates," said Mike Pegram, chairman of the Thoroughbred Owners of California. "We had terrific racing, a first-class purse structure, enthusiastic crowds and a very positive response by all our horsemen to a winning environment. We are already looking forward to coming back next year."
Jim Cassidy, the president of the California Thoroughbred Trainers, voiced similar praise for racing at the shore in November.
"We applaud Del Mar for its successful commitment to a first-class racing season based on teamwork with horsemen," he said. "We also salute them for investing in advertising and promotion, showing that if a track properly informs the public and stimulates interest, attendance and handle grow accordingly."
Del Mar went back to its roots with its "Bing Crosby Season" presentation. The iconic Crosby was the track's founder back in 1937 and its marketing team called on his "old Hollywood" era to showcase itself to a racing-friendly audience and to separate itself from its summer party atmosphere. The "new-old" look was met with enthusiasm in the San Diego area and recognition of an additional sporting and entertainment entity in town grew stronger as the meet moved along.
On the racetrack the competition for the riding and training crowns was stiff. Peter Miller, who was the shore track's training champ in 2012, then tied for honors this past summer with Jerry Hollendorfer, won the first fall training title with 15 winners. Riding honors went to Victor Espinoza by a nose over Elvis Trujillo. Espinoza, who was Del Mar's riding king in 2000, 2005 and 2006, beat his rival 12 wins to 11.
The track will spend several months this winter converting its main track back to a dirt surface after having raced on the synthetic Polytrack since 2007. It has purchased more than 25,000 tons of "El Segundo sand" – the same dirt currently in use at Santa Anita Park – for installation on its track in time for its summer season. It will be the first time that the main racetracks in Southern California have the same racing surface.
Del Mar's fall meet for next year will stretch out to five weeks between October 29 and November 29 and include it being the California simulcast host for Breeders' Cup, which will be presented in 2015 at Keeneland. Racing again will be offered on a Thursday through Sunday basis.
"I've had people tell me that in a few years our fall meet is going to be one of the most desirable in the country," Del Mar's Harper added. "They say it is going to grow in reputation, be a place where fans and horsemen are going to want to be. From what I've seen so far, I am not going to argue."
11/30/14 ###