Friday, August 29th, 2014 ( 3 years ago )
Del Mar Futurity Has Admirable Record
As Kentucky Derby Indicator
By Hank Wesch
In its 11th running, in 1958, the Del Mar Futurity produced a winner, English-bred Tomy Lee, who would wear the blanket of roses on the first Saturday in May the following year through a victory in the Kentucky Derby.
It took the Breeders' Cup Juvenile, inaugurated in 1984, 23 years to have a horse, Street Sense, complete the Derby double. There have been no others in the seven years since.
Major fall stakes for 2-year-olds raise hopes in racing fans that they might be witnessing the emergence of at least a contender and possibly a winner of racing's Holy Grail the following spring. It's only natural to build hopes. It's part of the game that those hopes often go unfulfilled.
But a look at the history of the Del Mar Futurity, which will be run for the 67th time on Wednesday (September 3), shows an admirable record for providing horses to watch when the Triple Crown series begins.
Tomy Lee is one of three Del Mar Futurity champions to go on and win the Derby. The others are Gato Del Sol (1981 Futurity, 1982 Kentucky Derby) and Silver Charm (1996 Futurity, 1997 Derby).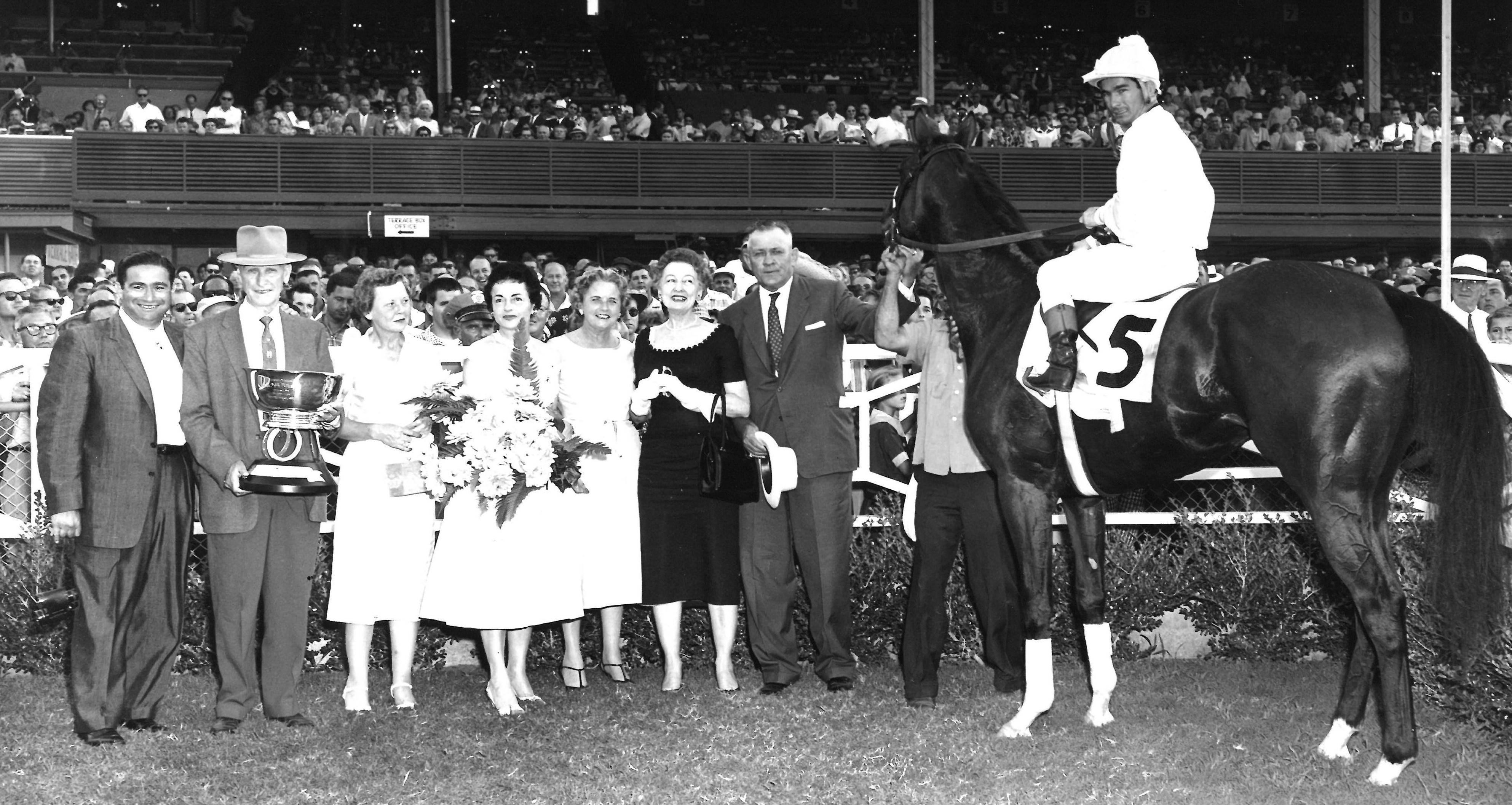 Tomy Lee returns to the winner's circle under Bill Shoemaker following the 1958 Del Mar Futurity.
The following spring they would combine again to win the Kentucky Derby.
Two others that went unplaced in the Futurity prevailed in Louisville eight months later. Canonero II, fifth to June Darling in 1970, returned $19.40 to win as a part of a six-horse mutuel field in 1971 and would have easily paid triple figures as an individual interest under today's rules.
California Chrome, sixth to Tamarando at odds of nearly 6-1 in last year's Futurity, had grown, matured and become accomplished enough that the Art Sherman-trained California-bred went off as the 5-2 favorite in this year's Kentucky Derby and delivered a smashing 1 ¾-length win. A victory in the Preakness followed before a deadheat for fourth in the Belmont Stakes ended a Triple Crown bid.
California Chrome had offered a small hint of things to come with a victory in Del Mar's Graduation Stakes for California-breds before the Futurity setback.
"He liked the racetrack and he handled it well," Sherman said recently in recalling that victory. "He was still a little green when he got here. He never really developed and got strong until he was a three-year-old.
"He was a decent horse at two, but not the kind that you could say 'Wow, next year he's going to win the Derby.' He could have won the Futurity if he'd had a good trip, but he got off badly, got shut off … just a horrible trip. You always need racing luck and he didn't have any that day."
California Chrome is the latest of 28 horses since 1949 to run in both the Futurity and the Kentucky Derby. In addition to the five Futurity runners who won in Louisville, seven others finished in the money there or in other Triple Crown races.
Royal Orbit, second to Tomy Lee in 1958, won the 1959 Preakness and Bagdad, third in the Futurity, was second to Sword Dancer in the Belmont Stakes. Diabolo, the 1974 Futurity victor, was third to Foolish Pleasure in the 1975 Derby. Desert Wine, second to Roving Boy in the 1982 Futurity, was runner-up to Sunny's Halo, beaten two lengths, in the 1983 Derby. Best Pal, the 1990 Futurity winner, was beaten a length by Strike The Gold. Timber Country, third in the 1994 Futurity, finished third to Thunder Gulch in 1995 in Kentucky and 1995 Futurity third-place finisher Cavonnier lost by a nose to Grindstone in 1996 in one of the closest Derbies ever.
Your Host, the 1949 Futurity winner, went off as the 8-5 favorite in Kentucky and led entering the final quarter mile under John Longden before fading to ninth behind Middleground. Your Host later added considerably to racing history by siring the great Kelso.
In recent years, trainer Doug O'Neill has experienced the high of winning a Del Mar Futurity and the low of missing the Derby with the same horse. And the low of losing the Futurity with one horse, and winning the Kentucky Derby with a stablemate.
In 2005, O'Neill saddled Steviewonderboy, owned by entertainment mogul Merv Griffin, to victories in the Del Mar Futurity and Breeders' Cup Juvenile -- making the colt the future book favorite for a Derby he wouldn't make.
"Steviewonderboy had such a great mind. I think it takes a brilliant two-year-old who also has a brilliant mind to win a race like the Del Mar Futurity," O'Neill said. "Steviewonderboy just got stung by the injury bug early on in his three-year-old campaign or I think he would have been a factor in the Derby."
In 2012, O'Neill won the Kentucky Derby and Preakness with a horse, I'll Have Another, who finished second to Creative Cause in the 2011 Best Pal Stakes at Del Mar, but O'Neill opted not to run him in the Futurity.
"In I'll Have Another's year we had another horse for Paul Reddam named Basmati," O'Neill recalled. "So we sent I'll Have Another back to the Hopeful and kept Basmati (5th) here for the Futurity."
I'll Have Another finished sixth of 10 behind Currency Swap in the Hopeful on a sloppy track at Saratoga.
"The Futurity's a great race, and if you've got a good one it'll give you a gauge of where you're at, that's for sure," O'Neill said.
8/29/14 ###