Hollywood Fashion Contest
When: Wednesday, November 1 @ 11:00 am - 1:30 pm
Where: Plaza de Mexico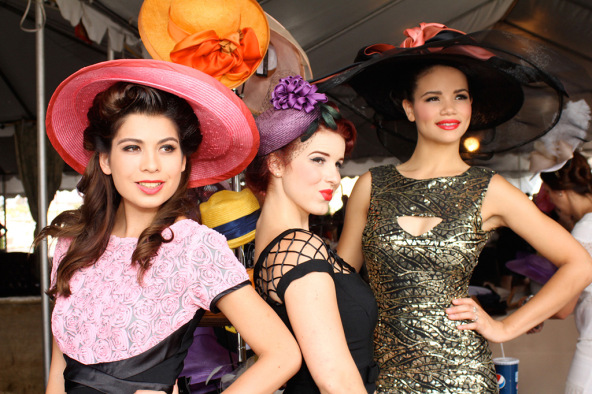 Hollywood Fashion Contest
Explore your sense of Hollywood fashion by entering the Hollywood Fashion Contest on Opening Day, always one of San Diego's biggest parties. Everyone is invited to dress up in their most fashionable attire. Revert back to styles from the dazzling vintage Hollywood era or go glamourous modern diva, your favorite Hollywood Celebrity or a fabulous duo from past or present.
Compete for more than $3,500 in prizes including a one night stay in the Fairmont Grand Del Mar Hotel and dinner for two at Addison Restaurant valued at more than $1,000. Sign up between 11:00 a.m. and 1:30 p.m. in Plaza de Mexico located inside the Stretch Run admission gates. All entrants will receive two free admission passes to return during the Bing Crosby Racing Season.
Categories include:
1) Most Glamorous
Be a glamorous fashion star with a vintage or new glamorous look you've been waiting to show off. Follow Hollywood glamour for inspiration, go theatrical or bring your own incredible glamtastic style to the party.

2) Best Dressed Couple or Debonaire Man
Enter as a high fashion modern duo or a famous Hollywood star pairing from one of the Classics! Men, this is your chance to shine. Think charisma and character and go bold.
3) Best Celebrity Look-alike or Famous Character
Do you resemble a famous old Hollywood movie star like Marilyn Monroe, Bing Crosby, Greta Garbo, Betty Grable, Humphrey Bogart or any modern day celebs? Or dress up as a classic movie characters?
Prizes:
Grand Prize: 1 Night Stay at Fairmont Grand Del Mar and Dinner for Two at Addison Restaurant values at $1,000+
1st Place in each category: $300 plus a $250 Gift Basket from Studio Savvy
2nd Place in each category: $200
3rd Place in each category: $100
Vintage looks courtesy of Studio Savvy Salon / Photos courtesy of Valentine Studios